Corps to Career: Becoming a U.S. Diplomat
Before joining the Peace Corps, Gabriel Cortez was working full time at a restaurant in Arizona and completing his bachelor's degree at Northern Arizona University.
Throughout his undergraduate career, Cortez felt called to public service—interning in Congress, the Department of Health, and the Department of State.
After graduation, Cortez joined the Peace Corps and, in 2016, left for his service in Ukraine. After three years of service as a TEFL (Teaching English as a Foreign Language) Volunteer, he started the competitive application process to become a Charles B. Rangel Fellow with the Department of State—a program designed to find driven individuals in the field of international affairs and train them to become Foreign Service Officers.
Read our Q&A below to find out how Peace Corps service helped Cortez realize his lifelong dream of becoming a diplomat.
What made you decide to apply to the Peace Corps?
In 2013, I interned at the U.S. House of Representatives in Washington, D.C. While I was there, the Peace Corps hosted a meeting at the Capitol featuring Congressional members who were also Returned Peace Corps Volunteers (RPCVs). I had some knowledge of the Peace Corps, but I didn't know anyone who had served. When I attended the meeting, I had the chance to speak with RPCVs about their amazing experiences serving as Volunteers. I will never forget speaking with Representative Joe Kennedy, who served in the Dominican Republic, and the encouraging words he shared. I fully credit that discussion and that event with sparking my interest in joining the Peace Corps.
Did you choose to go to Ukraine as a TEFL teacher? If so, why did you choose that part of the world to serve?
I did choose to serve as a TEFL Volunteer in Ukraine. Education has always been a passion of mine (and was my original major in college). I love to teach and inspire others, so it was the perfect sector for me. There were several reasons I chose to serve in Ukraine, the most important being the critical events that were occurring in the country. In late 2013, Ukrainians marched on Maidan Square in Kyiv, demanding a new path forward for their country. I was completely inspired by the Ukrainian spirit and their desire to see a brighter future and knew I wanted to serve there.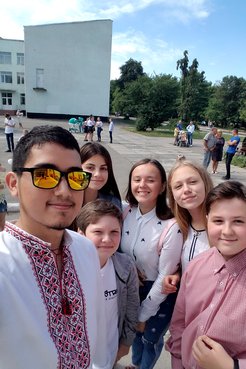 Describe your work as a Volunteer in Ukraine.
As a TEFL Volunteer, I worked at a secondary school in a small town five hours west of Kyiv. I was an English teacher and taught English to students from 4th to 11th grade. I also hosted several different English clubs for my school and the community. In addition to my primary teaching job, I conducted workshops for teachers, managed educational summer camps, organized cultural fairs and events, and much more.
I enjoyed my time in Ukraine so much I decided to extend my service by nearly a year to serve as a Peace Corps Volunteer Leader (PCVL), a position that allowed me to travel throughout Ukraine and lead different kinds of trainings and seminars. In this role I worked with other Volunteers in the Ukraine post's Intercultural Competence Diversity and Inclusion Group to develop new diversity and inclusion trainings for Peace Corps staff, Volunteers, and for Ukrainians in the communities we served. Being a Volunteer Leader also allowed me to travel to Volunteers' sites and support their projects. Seeing the unique and amazing projects being conducted across Ukraine was inspiring and impactful.
What skills did you gain as a Peace Corps Volunteer?
Resiliency was a skill I developed throughout my service. The first few months as a Peace Corps Volunteer (PCV) are extremely exciting and adventurous, but there is a lot to process. A new language, a new place, new customs—it can quickly become overwhelming. Developing resiliency skills is crucial to being a successful PCV. On the days where I felt my language abilities were lagging, or the weather was -20 degrees, I was able to cope by being adaptable.
You are currently a Charles B. Rangel Fellow with the Department of State. Can you explain what that is, in your own words?
I am a 2019 Charles B. Rangel Fellow with the Department of State. The Charles B. Rangel International Affairs Program is designed to find passionate and driven individuals in the field of international affairs and train them to become Foreign Service Officers (FSOs)—the diplomats of the United States. The program offers two internships, one in Congress to learn about Congress' role in foreign policy and also an internship at a U.S. Embassy or Consulate abroad. Fellows are provided funding for graduate school and receive training through study programs, mentoring, and professional development activities. After completing the Foreign Service entry requirements, master's program, and internships, the fellows begin A-100, which is a training for all diplomats. After A-100, they officially become members of the Foreign Service.
I applied for the fellowship a few months before I closed my service in Ukraine and was beyond ecstatic when I received the good news. It is a phenomenal program, one that offers unparalleled opportunities.
Describe the application process and expectations of you as a Rangel Fellow.
The fellowship is highly competitive, with many applicants possessing experience with foreign languages, working or studying abroad, and demonstrating a passion for public service. The initial application process is like applying to graduate school. There are the usual questions, some essay prompts, as well as a statement demonstrating financial need. I rewrote my essay questions numerous times, always trying to improve it and ensure I was getting the important points across.
After being selected as a finalist, applicants are flown to Washington, D.C. to take part in numerous exercises, including a writing prompt and an interview. Applicants are then graded based on the 13 Dimensions, which are characteristics the State Department defines as key attributes for a successful Foreign Service Officer. After an exciting but long day, the applicants are sent home and notified the next day if they are accepted into the program. The next two years are jam packed with security clearance applications, internships, graduate school, and programs designed to get fellows ready for their career as an FSO.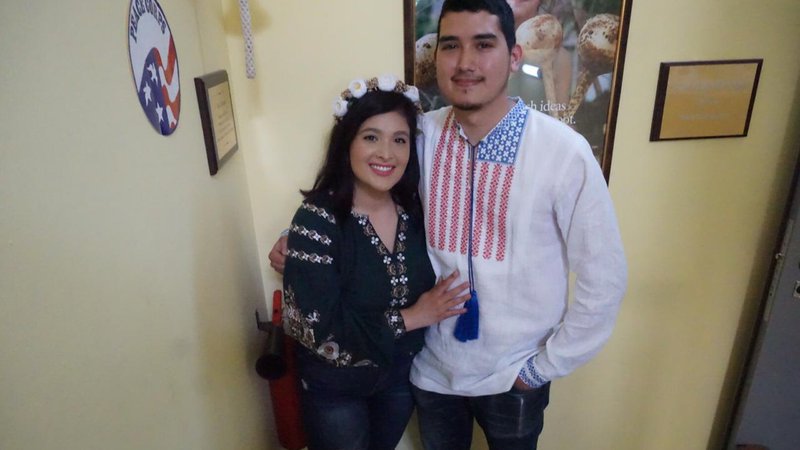 What made you want to be a U.S. diplomat?
One of the greatest attributes of the United States is the diversity of its people. Americans come from different states, backgrounds, religions, and more. As a Mexican American, I find so much joy traveling abroad and sharing my background with others across the globe. As a PCV in Ukraine, I was sometimes the only American the Ukrainians in my town had ever met. I took those opportunities to share my own culture and the ideals and values of the United States. As a diplomat, I am looking forward to continuing to represent the United States abroad.
Did Peace Corps help you in your current career? If so, how?
The Foreign Service is my dream career, and my Peace Corps service was a huge asset when I applied for the Rangel fellowship. Like Foreign Service Officers, PCVs serve abroad for two years, learn new languages, and undertake hardships to serve their country. Skills I had developed, including resiliency, are also crucial for any FSO. My Peace Corps service demonstrated to the State Department that I was prepared to become an FSO.
Because of my experience living and working in Ukraine, I was presented with the opportunities to continue working on U.S.–Ukraine issues after service. I landed internships with the U.S.-Helsinki Commission and the U.S. Mission to NATO largely due to my experience working in Ukraine.
Lastly, being an RPCV has helped tremendously throughout graduate school. My service helped shape my worldview, share lessons learned with my colleagues, and apply the knowledge I gained as a PCV.
What advice would you give to Peace Corps Volunteers or applicants who also want to work as diplomats in the Foreign Service?
Take the Foreign Service Officer Test (FSOT)! You can take the test once a year and you might be surprised by how well you do. If you are interested in obtaining a master's degree and joining the Foreign Service, apply to one of the amazing fellowships. The Rangel and Pickering fellowships are phenomenal programs for RPCVs interested in becoming FSOs with the State Department, while the Payne fellowship is fantastic for RPCVs interested in USAID and development work.
Finally, don't do something because you think it is required to get into the Foreign Service. Learn the language you want to learn, get the degree you want to get, there is no single path to become an FSO. Do what you love to do and the opportunities will present themselves.
---