Becoming a U.S. citizen and then a Peace Corps Volunteer
I became interested in the Peace Corps while studying abroad in Kenya and Rwanda in 2014 as a student at Western Washington University (WWU).
While in East Africa, we worked on a tree nursery project with a community organization. We developed relationships first, just as we do in Peace Corps, and our work grew organically during our time there. While in Rwanda I also met a WWU alum serving as a Peace Corps Volunteer. Her work in the local health center and her stories of daily life inspired me. I specifically remember her story about helping her community raise rabbits to help bridge the nutritional gap. Like any good Peace Corps story, it came with a twist: she was allergic to rabbits.
After learning about everyday life and the adventure of Peace Corps, I knew I wanted to serve. But there was a problem: although I had lived in the U.S. since the age of two, I was a Canadian citizen and therefore didn't qualify. Through my research I also learned that Canada didn't have opportunities for the grassroots level of international work offered by Peace Corps.
With my goal of joining the Peace Corps in mind, I finished college and found opportunities to volunteer in the greater Seattle area while I worked towards applying for citizenship. I found an opportunity with an adult literacy nonprofit and helped teach a citizenship class over a period of six months.
My ten students came from ten different countries, yet we all had the same dream of holding an American passport. For some, becoming a citizen meant being able to bring family members to America; for others it meant gaining the ability to vote. One student in particular, Tenzin, stood out. She was never late to class, always brought an article or fact about becoming a citizen to share with the class, and if she didn't know the answer to a question she would say "Freedom!" Her tenacity and determination was inspirational and helped me through my own process. Working with the class allowed me to gain co-teaching experience that I now use every day in my service and strengthened my knowledge about the citizenship process.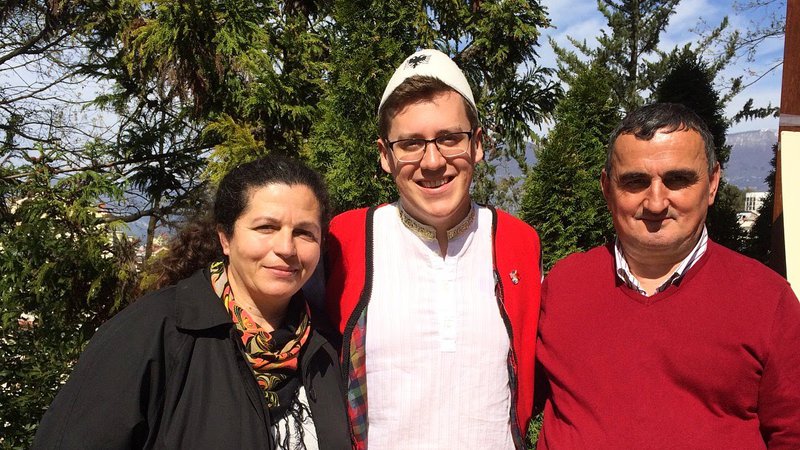 For me, the citizenship process was relatively speedy and painless. After completing the application for naturalization in September 2016, I had a biometric appointment. Then the United States Customs and Immigration Services (USCIS) sent me a letter with an appointment for my interview. I walked in confident in my knowledge, breezed through the ten questions, and to my surprise, got sworn in as a citizen during a ceremony held later that same day—January 10, 2017. Three weeks later I applied to Peace Corps, and one year later I was sworn in with the 21st group of Albanian Volunteers.
Becoming a Volunteer requires determination and a whole lot of flexibility. The medical appointments, the litany of items to check off, and the goodbyes I had to schedule weeks in advance made the process challenging, but, day by day, becoming a Volunteer felt more and more real. For me, one of the biggest challenges was learning the language. The Albanian language is notoriously hard to learn. But more than a year into service, I appreciate the poetry and history of the language. As we say in Albanian, learning this language has happened ngadalë, ngadalë (slowly, slowly). While the process, including the three-month pre-service training in country, wasn't easy I do believe it helped make me the best Peace Corps Volunteer I can be.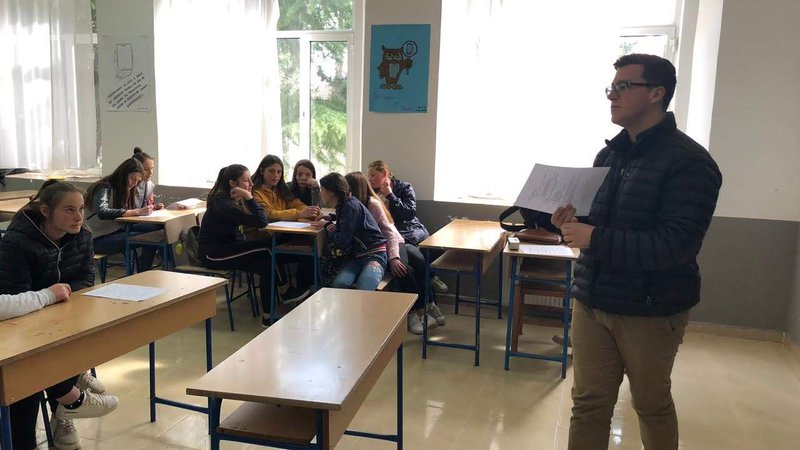 As a Volunteer I live in a town in rural Albania near the border with North Macedonia. During the week, I work in a school co-teaching English to around 400 kids in grades four to nine. Each grade has three hours a week of English instruction on top of at least one other foreign language, usually Italian. Once a week I run an English club at my school. We've made grammar posters for the classroom, learned how to write stories, and participated in the annual citywide English spelling bee.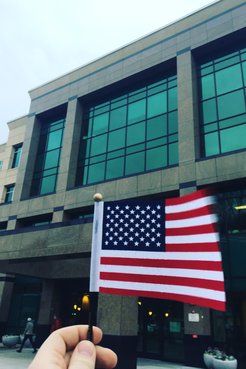 One of the most important relationships I have in my little mountain town is with Armando. When I started teaching his ninth grade class, I knew immediately that Armando's command of English and willingness to try new things would spur him to do amazing things. Sure enough, later that summer he wrote a grant with a local NGO to help his fellow classmates understand students with disabilities, normally a taboo topic. Working together, we extended that grant into autism awareness lessons at his high school. We're now working together to prepare him for the Kennedy-Lugar Youth Exchange and Study (YES) program, which gives students around the world the opportunity to study for a year in the U.S. Armando has done incredible work for his community and I'm excited to see his next steps!
As I reflect on the entire year-and-a-half process to become a Volunteer, and my experience of service over the past 13 months, every day I'm given more than I ever hoped to receive. Living in one community for two years opens the doors to opportunities, friendships, and cultural diplomacy that wouldn't otherwise exist. For me, becoming a U.S. citizen and then a Peace Corps Volunteer opened the door to my Albanian community, and individuals like Armando. As a Volunteer I feel privileged and fortunate to represent the American people and culture to my community abroad.