A Volunteer's time in Panama sparks superfood startup
Simon Roca was working with his rural community in Panama on a variety of income-generating projects when COVID-19 hit in March 2020, triggering the evacuation of Peace Corps Volunteers around the globe. Though he departed after only nine months of service, Roca retained his desire to nurture economic opportunity in Panama. This desire ultimately led him to launch a superfood startup, partnering with coffee growers in Latin America.
Roca's journey to the Peace Corps began in his childhood home, a fruit farm in Wisconsin.
"Growing up, my mom fed me organic foods, so I grew to really love natural foods that are grown sustainably and help your body feel good," Roca said. "She also served in the Peace Corps in Paraguay, so I always heard stories about her experiences and some of the crazy things she ate. I never thought I'd do it."
The child of divorced parents, Roca visited his father, who lived at different times in Costa Rica and Venezuela, every year. "Traveling to those countries I quickly realized there's a huge disparity between how people live in the U.S. and how people live in other parts of the world," Roca said.
By the time he went to college, Roca had taken a path away from his childhood on the fruit farm. He studied business at The University of Wisconsin and, after graduating, went to Europe. During his travels, Roca realized he didn't want to go to sit in an office all day for work, so he returned to his childhood home in Wisconsin to figure out which direction to take.
"I began to understand that I needed to follow my heart. And my heart told me I wanted to help people and express my love for nature. I wanted an experience that would put me more in touch with myself and my passions, something that was meaningful and fulfilling," Roca said.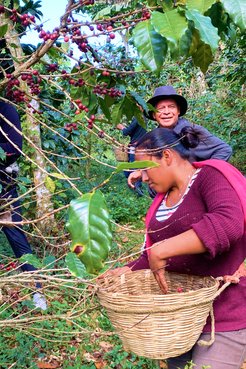 He applied to the Peace Corps and was accepted to serve in Panama, where he was assigned a dual role in business development and sustainable agriculture. In that capacity, he worked with a 600-member farmers' cooperative that connected four communities.
"We were trying to develop a business model to harvest lumber sustainably. Farmers had about 300 hectares of Caribbean pine they wanted to sell to a local lumber mill in a larger nearby city. We also planned to secure fish tanks for tilapia farming so that communities could feed themselves and grow some to sell commercially. And we implemented more sustainable and organic practices, such as reducing the use of slash-and-burn techniques and using environmentally friendly alternatives to fungicides, like garlic spray and Neem," Roca said.
COVID-19 cut short these plans and suddenly put Roca back in the U.S. Roca wanted to pursue graduate study, but was too late to apply for a Paul D. Coverdell fellowship. Instead, he took advantage of a special scholarship for evacuated Volunteers at the Thunderbird School of Global Management at Arizona State University. While there, Roca's experiences in Panama continued to percolate in his mind.
"Coffee is a major cash crop in Panama. During service, we visited some farmers who were super excited about growing Geisha coffee, which sells for upwards of $50 a pound. There was a lot of focus on coffee being a way for farmers to increase income," Roca said.
During his first month of training in Panama, Roca saw on an online video of a CEO who mentioned a cognition supplement made with coffee cherry (cascara) extract. Roca started doing research and discovered cascara's benefits.
"It has a crazy number of antioxidants, more than many other superfoods. It also contains the brain-derived neurotrophic factor, BDNF, that stimulates brain function," Roca said.
Roca learned that smaller farmers composted cascara while larger farmers sent much of it to the dump. "As the waste from coffee harvesting rots, methane is emitted that is a huge contributor to global warming. About 16 million metric tons of methane are released from coffee cherries each year. Once I learned that, I kind of fell in love with the idea of being able to help solve so many issues by developing a cascara product," Roca said.
The cognition supplement was patented, so Roca had to figure out if cascara was edible in its raw form.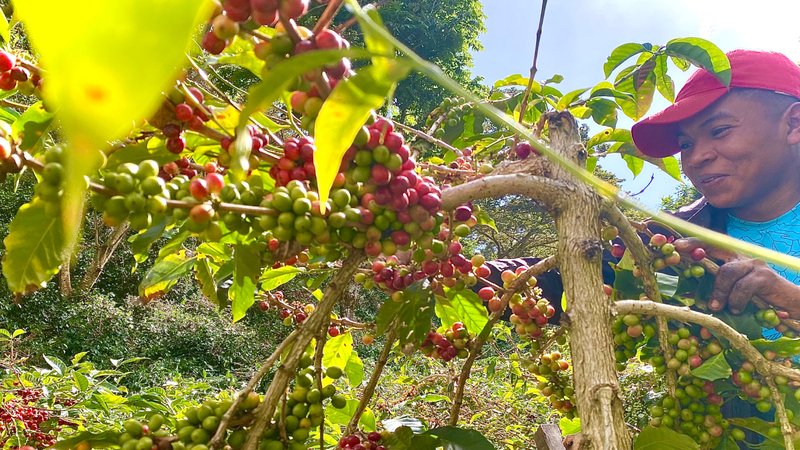 "My stepmother, who was living in Panama City at the time, asked a coffee farmer she knew to dry some cherries for me. My brother brought them when he came to visit me," Roca said. "We sat there in the evening and, by the light of a flashlight, weighed out a tablespoon of cascara, put it in a cup of water, shook it up, and drank it. Immediately we started to feel the effects, which were different than the caffeine in coffee. Cascara gives you focus without jitters or crashing after, and more of a full body energy, not just mental."
Roca realized that he didn't need to make an extract or get patents; he could just take the raw material and dry it. In graduate school, he refined his product idea. "We quickly realized that to make cascara consumption safe requires machine drying. There are mycotoxins that grow during the natural drying process," Roca said.
Roca went to Panama during Christmas break to see if any farmers would be willing to participate in the project. He wanted to partner with very small-scale coffee farmers, but they didn't have the capacity to buy the machines. He ended up sourcing from a few small- to medium-sized farms in Boquete and in Chiapas, Mexico, and launched his company during graduate school.
"We were the first to offer dried coffee cherry powder, direct to consumer. I see a lot of brands selling it now, but it's not processed correctly," Roca said. He eventually hopes to find more capital to invest in the smaller farms. In the meantime, his company donates 10 percent of profits to communities they source from.
Roca feels his experience as a Volunteer was critical to his success launching his cascara company, including gains made in cross-cultural communication and language skills.
"There's a small-town campos culture in rural parts of Latin America. It's important to listen actively, observe, and use good body language to communicate. The Peace Corps taught me how to connect with the locals and vibe with them; they're easy going, not too serious," Roca said.
"When I first got into graduate school and we were searching for suppliers, it was so much easier to forge those alliances because I could get along with everyone from the owner of the farm to mid-level management to workers."
In the end, Roca feels that his journey to the Peace Corps and beyond ground him in his childhood values and propelled his career forward in unexpected yet fulfilling ways.
"Peace Corps service is such a highlight on your resume for getting into graduate school. Many more doors open after your Peace Corps experience. There may be financial sacrifices, but you have to figure out what's most important to you."
---