5 JFK Service Award recipients embody commitment and connection
Although a typical Peace Corps Volunteer's service stint is two years, the commitment to service lasts far beyond that time. Currently serving Volunteers, returned Peace Corps Volunteers, Peace Corps staff, and returned Peace Corps Response Volunteers often continue giving back in myriad ways.
Established in 2006, the JFK Service Awards honor the hard work and sacrifice of five individuals who made outstanding contributions to the Peace Corps mission and three goals both at home and abroad. Presented every five years, the awards are typically given to current Peace Corps Volunteers, returned Peace Corps Volunteers, returned Peace Corps Response Volunteers, and Peace Corps staff members. This year, because there were no Volunteers serving at the time of nominations, the award was given to one Returned Peace Corps Volunteer, two returned Peace Corps Response Volunteers, and two current or former Peace Corps staff members.
Held on May 19 at the U.S. Institute of Peace in Washington, D.C., the event was a not just a celebration for the five individual awardees, but also a celebration of renewed connection. Peace Corps Volunteers and Peace Corps Response Volunteers have only recently been redeployed to the field after the COVID-19 pandemic caused a worldwide evacuation in March 2020.
The event was hosted by Rob Watson, a returned Peace Corps Volunteer who served in Paraguay. He is now the director for partnerships and community impact at Harvard University Graduate School of Education's EdRedesign Lab. Peace Corps CEO Carol Spahn made remarks at the event, which was attended — both in-person and virtually — by members of the Peace Corps community around the world.
The winners of this year's JFK Service Awards have impressive records of service to communities that span from Manila, Philippines, to the streets of San Francisco and beyond.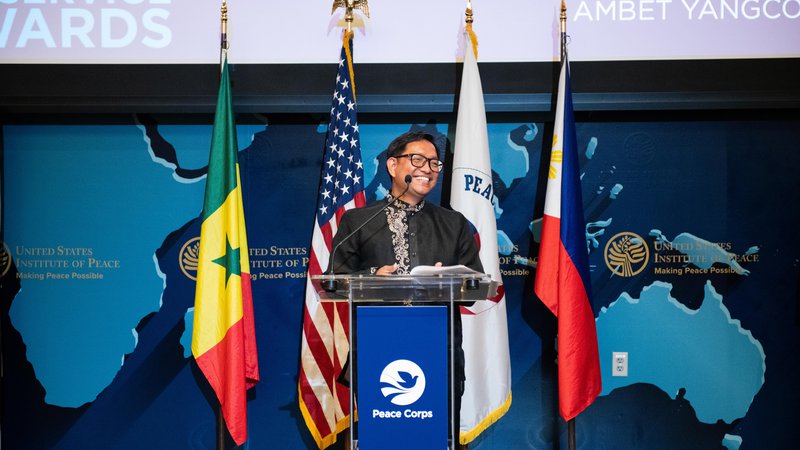 The first staff award went to Roberto (Ambet) Yangco, who has been a member of the Peace Corps Philippines staff for 20 years. First hired as a youth sector technical trainer, Ambet quickly moved up to regional program manager, then sector manager for the Community, Youth, and Family Program. During the pandemic, Ambet served as associate director of programming and training. His commitment to service, however, started before his career with the Peace Corps.
A social worker by training, he began his career as an HIV/AIDS outreach worker for the Children's Laboratory Foundation. He then served as an educator in a shelter for homeless children and worked for World Vision as a community development officer. Those who know Ambet note he has devoted the past 20 years to promoting the mission of the Peace Corps and that his commitment to service has helped protect Filipino youth from homelessness, trafficking, violence, and drugs, through education, work, and life skills development.
His work and commitment to his community extend far past his role at the Peace Corps. Ambet's achievements speak for themselves, but what makes him a clear winner is the way he's inspired others. Beneficiaries of his program have credited him with their decision to follow his footsteps and become social workers themselves.
The second staff award was given to Dr. Mamadou Diaw. Dr. Diaw joined the staff of Peace Corps Senegal in 1983 as associate Peace Corps director (APCD) of natural resource management. He managed agroforestry, environmental education, park and wildlife and ecotourism projects. From 1996 to 2001, he also served as the coordinator of the USAID-funded Community Training Center Program. His nomination notes that, "Scholarship, commitment to community-level social development and devotion to Peace Corps have been hallmarks of Dr. Mamadou Diaw's career."
In 2008, Dr. Diaw switched sectors to become the senior APCD for health and environmental Education. This turn in his professional career inspired him to pursue further education. He received his master's degree in environmental health from the University of Versailles in 2014, and, at the age of 62, he received his Ph.D in community health from the University of Paris, Saclay.
Over the course of his time at the Peace Corps, Dr. Diaw has coached more than 1,000 Peace Corps Volunteers and several APCDs from the Africa region — in some cases directly inspiring the professional choices of those he coached. By stirring the desire in others to serve, Dr. Diaw, as a colleague said, "exemplifies the qualities imbued in the JFK Service Award."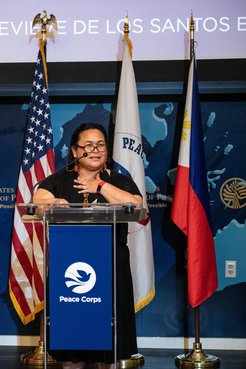 Returned Volunteer JFK Service Award recipient Genevieve Evenhouse grew up in the Philippines and emigrated to the United States in 1997. In 2020, she was conferred her doctor of nursing degree while serving as a full-time nurse for the San Francisco Unified School District. Genevieve has an affinity for teaching, community service, and cultural exchange. One colleague said "her tireless commitment to her profession and to the cultural alignment in community-based health settings in the U.S. and abroad truly makes her a public health ambassador."
Besides volunteering in two health offices in the Philippines as a public health nurse, and with the Women's Community Clinic in San Francisco as a clinician, Genevieve served as a Peace Corps Volunteer in Guinea and Zambia and as a Peace Corps Response Volunteer in Guyana and Uganda. The connections she makes between her overseas service and her community here in the U.S. led one person to say, "Genevieve integrates her cultural exchanges holistically and applies cultural competencies learned from her service abroad to dispel false stereotypes and myths about health care abroad to educators in the San Francisco Unified School District, where she has served as a school nurse since 2009."
Her compassion, social conscience, and dedication to developing nurse education so that others might follow in her footsteps is what makes her an outstanding recipient of this award.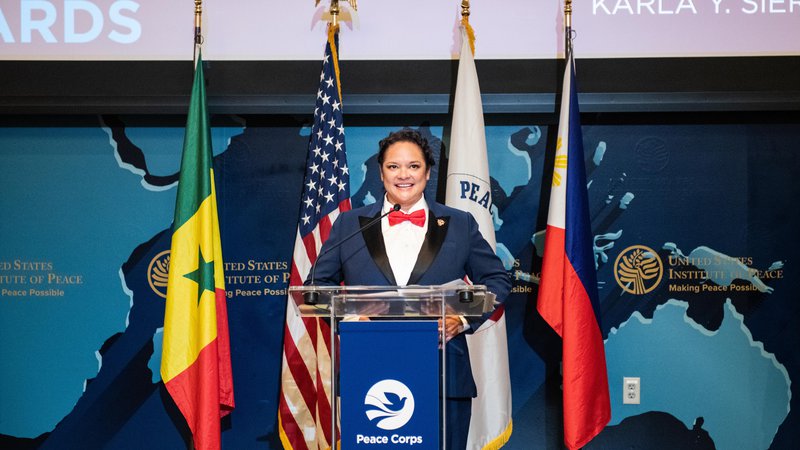 Karla Yvette Sierra, graduated from Colorado Christian University with a bachelor's in business administration. While living in Denver, Karla volunteered her time as a youth counselor with Westside Ministries. In her nomination, one colleague said Karla gives selflessly of her time and ability.
Karla received her MBA from the University of Texas at El Paso, after which she joined the Peace Corps, serving in Panama from 2010-2012 as a Community Economic Development Volunteer. She extended her service through Peace Corps Response and spent an additional year as a consultant in Panama. During her service, she created partnerships with the Ministry of Education and the United Nations' Development Programme to reduce poverty, increase awareness of HIV and AIDS, and assist in implementing sustainable projects to benefit her Panamanian counterparts. Her Peace Corps experience led her to ongoing work and civic engagement with Hispanic communities in the U.S.
Today, Karla is the engagement director of LIBRE, a Hispanic advocacy organization in El Paso, where she is involved in a variety of community initiatives. She leads a team of staff and volunteers to educate and empower Hispanic voices in the political process and through financial literacy training, issue advocacy, and community service opportunities.
Because El Paso is the largest border city in the United States with a steady influx of immigration from Mexico, Central and South America, Karla's work has a ripple effect that reaches well beyond the border, impacting families and lives in several countries and promoting the goals of the Peace Corps.
Her work promoting education and understanding, led one person to say about Karla, "Throughout her life, she has been an independent and fearless leader who is dedicated to serving her community."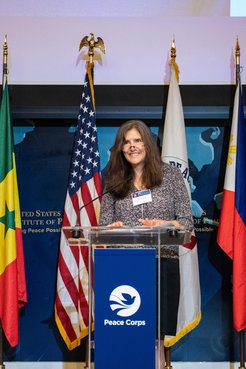 Liz Fanning, served as a Peace Corps Volunteer in the High Atlas Mountains of Morocco from 1993 to 1995, working as a parks, wildlife, and environment educator. Not content to stop there, Liz started CorpsAfrica in 2011 as a means of giving emerging leaders in Africa the same the same opportunities she had to learn, grow, and make an impact in their own communities.
With a B.A. in economics and history from Boston University and a master's in public administration from New York University's Robert F. Wagner Graduate School of Public Service, Liz's career includes work with the American Civil Liberties Union, Schoolhouse Supplies, and the Near East Foundation. She has also served on numerous director's boards. In 2019, Liz received the Sargent Shriver Award for Distinguished Humanitarian Service from the National Peace Corps Association. She is also a 2021 AARP Purpose Prize Fellow.
Currently, Liz is CorpsAfrica's executive director. Her instinct for community development is summed up by something someone wrote in her nomination: "One of the core foundations Liz implemented was for Volunteers to listen to people of the community, to understand the needs and then craft projects, along with local residents, to meet those needs."
For these reasons, and for her remarkable ability to stir others to find their own purpose, Liz merits this award.
As Rob Watson said to the awardees at the close of the evening, "We are grateful for, and humbled by, your dedication to service." And, as he closed the event, "May we all be inspired by the JFK Award recipients and continue to work in service to our own communities."
Category:
Africa
,
Senegal
,
Central America and Mexico
,
Panama
,
North Africa and the Middle East
,
Morocco
,
South America
,
Paraguay
,
Asia
,
Philippines
,
After Service
,
Returned Volunteers
,
Prospective Volunteers
,
Family and Friends
,
Current Volunteers
,
Peace Corps Volunteer
,
Peace Corps Response
,
John F. Kennedy Service Award
---