4 foods you must try in Moldova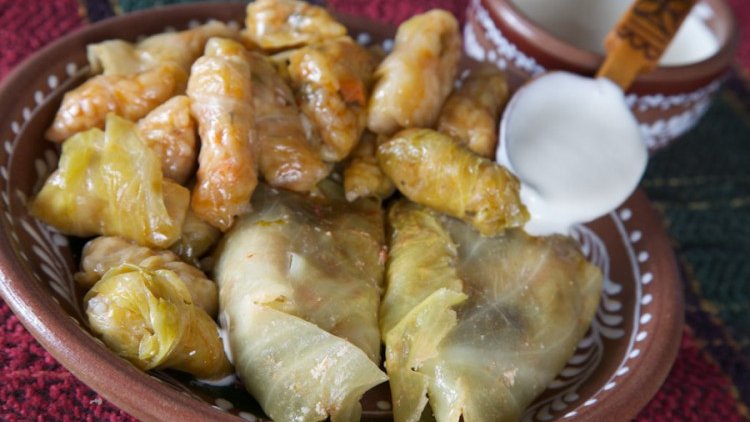 Dec. 10, 2015
Next time you're in Moldova, bring your appetite.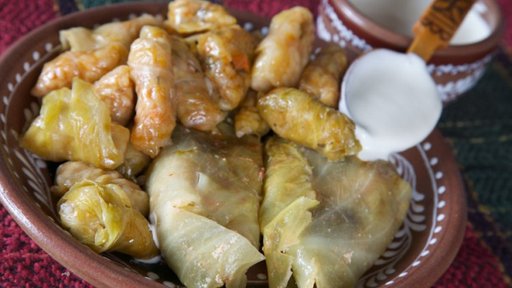 Sarmale (sar-moll-ayy) is a typical Moldovan dish that also appears in many other parts of the world in slightly different varieties. Sarmale and similar dishes are common in countries of the former Ottoman Empire, from the Middle East to the Balkans and central Europe.
The most common type of sarmale I have encountered in Moldova is cabbage leaves or peppers, stuffed with seasoned rice, mixed with chopped peppers, carrots and a few other vegetables, then baked in oil for a few hours. Sometimes the sarmale here has meat also mixed into this rice stuffing, but in general it does not and is usually quite oily. In Moldova sarmale is typically served with sour cream for dipping.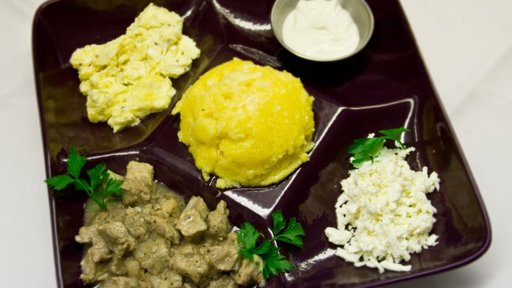 Mamaliga (mama-leegah) is the Moldovan equivalent of cornbread – a much wetter cornbread. Mamaliga (besides being a fun word to say) was a traditional peasant dish of Moldova and Romania, but is now very common and available in even high-end traditional restaurants. (It's somewhat similar to Italian polenta.)
Mamaliga is made by boiling water, salt and cornmeal in a shallow cast iron pot with a curved bottom. It can be made two ways – thicker, where it can be cut into slices like bread, or softer, similar to the consistency of thick oatmeal. Since mamaliga is sticky and will stick to a knife when fresh, it is often cut with a sewing thread.
Typically this dish is served with shaved brinza (salty, homemade cheese) and meat or fish, but sometimes there's sour cream or garlic on the side, or it's crushed into a bowl of hot milk. It's the perfect combination of hearty, salty and tasty, if done right and, most importantly, eaten fresh. If you want to taste Moldova, order fried fish, brinza, sour cream, garlic and mamaliga – it's a unique combination of tastes and textures unlike anything else.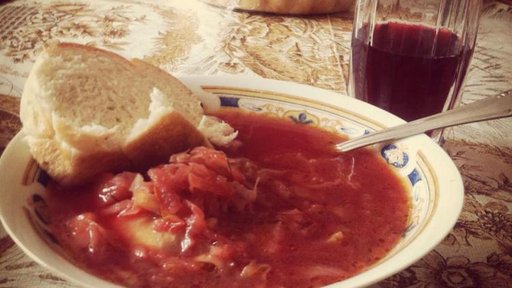 Zeama (Zama) is a traditional Moldovan soup made and eaten year-round, usually for lunch. I would say that the closest American equivalent is chicken noodle soup, but even your grandmother's homemade version doesn't reach zeama standards.
Zeama is light and flavorful, made with a chicken broth, noodles and a whole chicken (I've yet to have zeama at home where the chicken wasn't fresh from the house). The soup also has lots of vegetables – finely-chopped onions, diced carrots, cubed potatoes, lots of parsley, some pepper and salt, and sometimes tomatoes or other spices.
This soup was my lunch almost every day of training but it was always perfect. It's always served with a side of bread and salt, as is traditional on any Moldovan table. My favorite way to eat zeama is to dip in a cut-up hot pepper (for a little spice) and top the soup with a large dollop of sour cream.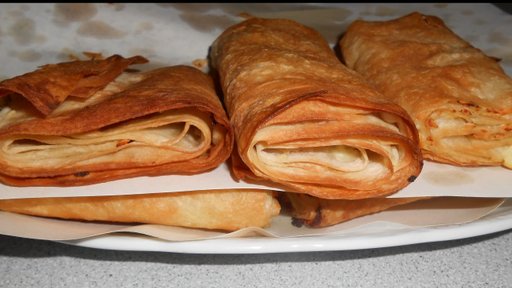 The first time I tasted homemade, still warm from the pan placinta, I knew I would love living in Moldova.
Placinta (pronounced pla-chin-ta) is everywhere here. Its impossible to miss; in just about every alimentara (convenience store), it's the equivalent of a 7-11 hot dog – a cheap on-the-go snack. But that's just the storebought version; this traditional dish is also a staple in every masa (large celebratory meal) in Moldova.
Placinta is fried bread with filling, usually brinza (homemade cheese), varza (cabbage) or cartofi (potatoes). In the fall you see boston (pumpkin) placintas, in the summer with visine (sour cherries) and year-round you may find an an apple placinta or a meat placinta. Sometimes the brinza is mixed with sour cream to create an almost-paste as filling; sometimes brinza and cabbage are mixed, and sometimes in the summer the brinza is mixed with dill – my personal favorite filling.
The ratio of filling to bread, the thickness of the bread or dough used, whether it's barely fried or deep-fried, the amount and type of filling all vary greatly, and getting them just right is what creates the perfect placinta. Store-bought placintas tend to be bready, almost like a circular and flatter croissant with filling in each layer of dough, but sometimes are simply deep-fried phyllo dough, almost like a large dumpling. Homemade placintas vary from ones with phyllo dough crusts that are almost spanakopita-like in texture and very light, to the more common flat, heavy placintas where dough is rolled out with filling placed in the center, then folded over and deep-fried.
Homemade, deep-fried, heavy placinta is the ultimate comfort food; cabbage and cheese is ideal as the temperatures drop into the winter, brinza and dill in phyllo dough is the perfect light summer meal and the corner store variety is perfect for a cheap and easy work pick-me-up lunch.
---