261 elephants: How Peace Corps unexpectedly made a dream come true
Growing up on a small farm in western New York, falling in love with nature was easy. 
But I fell in love with African wildlife, much farther away, through books, PBS specials and zoo visits. Since my early teens, it has been a dream of mine to work with African wildlife and fight to conserve their existence in this ever-changing world. A dream that my Peace Corps service made possible, in a very unexpected twist of fate.    
My work with a wildlife reserve in Malawi began at the tail end of my two-year Peace Corps service as an environment Volunteer, living in a local community adjacent to the reserve. In an agreement with the Malawi government, the non-profit African Parks took over management of the reserve and inadvertently became my new supervisors. 
I started working with a few of the reserve's rangers on Microsoft Excel once or twice a week, beginning with the very basics, skills that we often take for granted but can save loads of time when inputting data. These skills eventually helped the rangers transition their reporting system from an unorganized stack of hand-written reports into an electronic transferable database.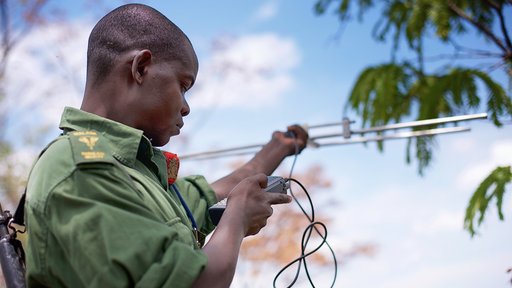 Following my initial Peace Corps service, I began a Peace Corps Response position with African Parks and have been serving as a field biologist at a wildlife reserve since May 2016. Slowly I have witnessed the reserve transition from a park devastated by poaching with very little community engagement into a better known wildlife sanctuary where rangers have the resources and knowledge to do their jobs well, and communities surrounding the reserve are forfeiting their guns and wire snares and helping fill in pit traps that they once dug. 

In July and August of 2016 I had the amazing opportunity to witness and be involved in the first phase of the historic elephant translocation African Parks is carrying out in Malawi. During the translocation I was part of a small team that camped out near the release site. For weeks, I'd fall asleep for an hour or two and wake up to the sound of an approaching semi-truck's air brakes. I slept in my work clothes so I'd need only to put my boots on and could quickly hop into the Land Cruiser to be driven down to the release site.

Two hundred and sixty-one elephants were released into the wildlife reserve over the course of just over one month. We received trucks 27 meters long, specially designed to move elephants. Each truck held up to 15 family members of all sizes, or just two massive bull elephants. Charged with photographing the releases for social media and reporting purposes, I'd often be on top of the truck, it swaying beneath me with the mass of the elephants moving inside, watching as they left the truck right in front of me, mere inches away, magnificent, beautiful beings whose power demands your respect. 
Although elephants were the main feature of the translocation, over one thousand other animals were also translocated: 200 sable antelope, 404 waterbuck, 100 greater kudu, 122 impala, 199 warthog and 92 buffalo. These releases happened at the break of dawn and were just as remarkable.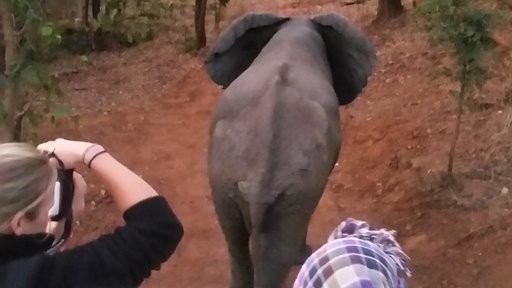 Since the translocation I have been radio-tracking the 27 collared elephants that we received, and training our rangers to do the same. Building capacity of park staff is a large part of my position; training them in technologies that will assist them in doing their job more effectively. 

Peace Corps is unique because it often gives you the freedom to bring all of your skills and creativity into your work. In addition to building capacity of African Parks staff, I have also had the opportunity to utilize personal talents and interests such as designing and creating illustrations for community extension brochures, murals and informative materials. I have even been able to transfer my work within the reserve all the way back home to my mother's high school art class, where her students have begun to create pieces in order to raise awareness and promote wildlife conservation. 
Some of these works of art will travel to Malawi and possibly become installments in the wildlife reserve's education center, in hopes that they will inspire other young people to dream of working with wildlife and pursuing a career in conservation, or to at least take steps to support it.