Best Practices: Written Exchanges
Interested in facilitating a pen pal exchange? Read these tips for guidance.
---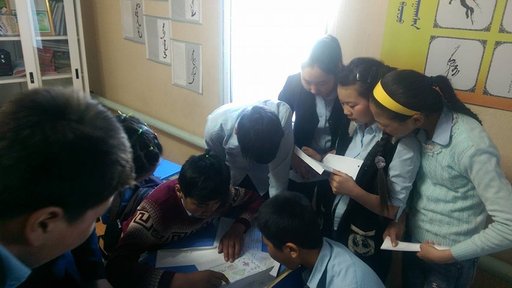 The Paul D. Coverdell World Wise Schools program was founded as a pen pal exchange opportunity in 1989, and many educators and PCVs still enjoy traditional letter exchanges. Whether via email or traditional "snail mail", it is exciting to receive letters from all over the world!
Here at Peace Corps, we love to see intercultural learning and the excitement that comes from classic letter writing exchanges. There are so many ways to maintain an active, international, intercultural pen pal relationship. We have some tips from participants to help guide you on this journey:
Create accountability
It can be challenging to keep the letters coming between two classes when periodic holidays, absences and other complications get in the way. One of our Global Connections program teachers, Katelin Bocklage, had this to say about accountability:
"Michelle (Peace Corps Volunteer) and I kept in communication and held each other accountable for getting letters to the other person in a timely fashion. I think the hardest part is collecting all of the letters at the same time to send to the other class because sometimes students are absent the day we write them. It can also be a challenge to make time for letter writing. However, my students looked forward to it so much! I made sure to devote a while week of writing time to making our letters for the students." 
Have a monthly theme
Ask the educator you are working with what their students are interested in: music, food, leaders, geography, etc. Giving a theme to each batch of letters gives students something to focus their questions and answers on, and helps each classroom better understand the specifics of the different culture they are learning about.
Focus on similarities, not only differences!
Students in the US may be surprised to learn that kids in Morocco also like drawing pictures or singing, and vice versa.
Jill Pearson, a returned volunteer who taught in Albania, said, "Through the pen pal program, these 4th graders are learning that Albanian kids also play soccer, occasionally fight with their siblings, and have dreams about what they want to be when they grow up. It's important to me to foster that curiosity and inter-cultural exchange- I believe the future of our increasingly connected world depends on it."
Think outside the box!
Use different forms of communication such as social media, email, file sharing platforms, or video conferencing to get your messages to one another. Despite the best intentions of our classrooms around the world, "snail mail" has earned its moniker when it comes to international letter sending.
It can take up to 6 weeks for a single letter to make its way to another country, but our current technology has made sending pictures of letters a much faster and more reliable way to get pen pal correspondence to our international friends, without spoiling the fun of actually writing and decorating the letters.
Be flexible and stay positive
A pen pal exchange can be difficult, especially for some PCVs due to limited access to postal services. For example, the correspondence between PCV Veronica Herndon in South Africa and Guy Hamlin's social studies class in Belfast, Maine, stopped for a period of time due to a postal strike in South Africa. The letters finally arrived and their relationship continued to flourish, even with gaps of time between letter exchanges.
These relationships take time to develop and may require more patience than students are used to, but they are so worthwhile to help classrooms learn more about culture through a personalized exchange. 
If you know of a teacher or community leader in the US who may be interested in starting a pen pal exchange, they can complete a request form on the Global Connections page.
We want to hear about your pen pal exchanges, what works for you, and what students are learning from their exchanges. You can share with us via email at [email protected].