Mongolia
Director's Welcome
Welcome to Peace Corps Mongolia!
---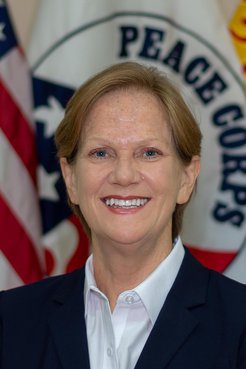 2021 marks the 30th anniversary of the Peace Corps Mongolia program. We are looking forward to honoring and celebrating our 30 years of service and partnership in this amazing country. We have planned many virtual events and activities throughout the year in celebration of our anniversary, so be sure to check out our social media platforms regularly for additional information and news.
While the world continues addressing the COVID-19 pandemic, our team is preparing for the safe resumption of our program. Our team also continues to prepare for the safe return of Trainees and Volunteers. The Peace Corps Mongolia staff is comprised of a team of highly skilled professionals who have extensive experience supporting Volunteers. Each one of them is committed to the Peace Corps mission and to ensuring that Volunteers are technically trained, culturally proficient & appropriate, are safe, and are healthy while serving in Mongolia.
Our team spent much of 2020 visiting many of the communities where Volunteers have served over the years and will serve in the future. During these site visits, we worked with educational partners, counterparts, governmental, health and safety officials to plan for the return of Volunteers and to strategize new ways of engagement. Our partners and community stakeholders have expressed enthusiastic support for the Volunteers' return.
Please know this. The Peace Corps and Mongolia partnership is strong. Peace Corps efforts here are based on the ideal of true partnership, friendship, and collaboration. We remain deeply committed to meeting the English language learning and community development needs of Mongolians throughout the country, and a plethora of partners work with us hand-in-hand to meet these goals.
Our Volunteers receive extensive instruction in the Mongolian language and culture before they begin serving in their communities, and as they progress through their term of service. Volunteers have historically reported high satisfaction with their sites and work, due in large part to the support that they receive from their communities, their Mongolian counterparts and from each other.
We are also excited to let you know that we have updated our Education sector by introducing an enhanced program which will focus on a more holistic approach to community development. In this new program, you will more closely collaborate with your work and community counterparts while building upon individual, organizational, and community skills and assets. Our professional partners, located in educational institutions, and community influencers are key to sustainable local skills development, student improvement, and ultimately successful Volunteer service. Our new English Education and Community Development program builds on these existing strengths while also equipping Volunteers with more knowledge, resources, and targeted training throughout service necessary to better access community needs, co-develop appropriate development interventions, and successfully implement those interventions.
As you research Mongolia, you will note that it is both a culturally complex and breathtakingly beautiful country. The country, its rich history shaping world events, and the spirit of its people are enormous. The terrain of the country is just as rich and complex. It includes breathtaking mountains occupied by snow leopards and community stakeholders working to protect them, rolling plateaus & steppes, giant salt lakes, rich marshes, picturesque sand dunes, never ending grasslands, alpine forests, and permanent mountain glaciers. Lake Khuvsgul to the north is one of Asia's largest freshwater lakes. Many other lakes, forests, and mountains frame the north while the well- known Gobi Desert, rich with minerals and fossils, stretches along the southern border. From the south heading west, you might be able to spot the famed Saiga Antelope and meet with the groups working to help this endangered species thrive. Further west, the amazing Altay Mountains spread out in every direction. The beautiful and vast steppes with its Mongolian gazelle population are to the east.
We hope that you find the information we are providing for you regarding serving and living in Mongolia as a Peace Corps Volunteer to be helpful. Please continue to come back to visit for updates and more information.
Take care. We look forward to meeting you soon!