Malawi
Projects in Malawi
Education
Imagine what it would be like to attend school in a language that was not your native tongue. Malawian students face this challenge starting at around age 14 when they begin secondary school. English is used exclusively in secondary schools in order to prepare students for the workforce. Unfortunately, many students at this point have low proficiency in English, which can make it difficult to succeed academically in any subject.

As High School English Teachers, Peace Corps Volunteers in Malawi strengthen their students' commands of the English language through classes that incorporate innovative teaching techniques and interactive facilitation. They challenge their students to think critically and creatively and also share teaching practices with fellow teachers in order to foster a student-centered learning environment school-wide. After class, our Peace Corps Volunteers support clubs and implement extracurricular initiatives, such as creating a school library or promoting parent-teacher collaboration. Additionally, Peace Corps Volunteers in Malawi have numerous opportunities to engage and empower girls in academic achievement, goal setting, HIV prevention, and gender norms through dynamic clubs and camps.
Environment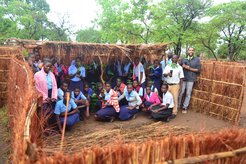 Peace Corps Volunteers in the Environment Sector help to address some of Malawi's most critical environmental and food security issues. Working as Environment and Food Security Educators, the Peace Corps Volunteers teach environmental education at primary and secondary schools to foster students' knowledge of and values for environmental conservation and dietary diversity. They also advise students on the benefits of planting trees and conduct lively community campaigns to promote environmental awareness throughout communities. But the central focus of their work with students is the construction of school gardens that teach and demonstrate sustainable agricultural techniques, such as composting, intercropping, bio-intensive planting, and organic pest management.

Additionally, Peace Corps Volunteers educate mothers in communities on the importance of nutrition and dietary diversity by promoting production and consumption of vitamin-rich foods. They work together with local agriculture extension officers to create demonstration gardens at which they advise mothers on how to grow and consume nutritious foods at their own homes. They also work with mothers to grow trees at their own homesteads in order to provide nutritious fruits or firewood fuel for cooking and also to help them to use less firewood by working with them to construct fuel-efficient cook stoves from locally-found materials.
Health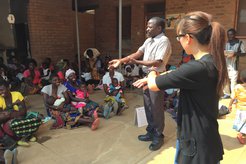 Malawi may soon be known around the world as one of the first countries in Africa to achieve control of the HIV/AIDS epidemic. Currently, however, youth between the ages of 9-19 remain vulnerable to HIV infection, other sexually transmitted diseases, and teen pregnancy. Younger children in Malawi, especially those under the age of five, face the risks of malnutrition, diarrheal diseases, and malaria.

Serving as Youth Health Advisors, Peace Corps Volunteers in Malawi work with rural health centers on a variety of health activities that support children and youth. They engage youth on HIV prevention and sexual and reproductive health programs that are creative, fun, and provide a safe space for youth to discuss ways to keep themselves healthy and gain the confidence to seek HIV tests and access other health services. Volunteers also work with people who are HIV+, especially youth, on health strategies through support groups and teen clubs. Peace Corps Volunteers work with health center staff to analyze and improve services, customer service, and confidentiality to make the health center welcoming and supportive to youth.

Additionally, Peace Corps Volunteers in the Health Sector work directly with pregnant women as well as mothers and fathers of young children to promote essential practices that can protect their children from various health threats. They often conduct home visits to help implement and monitor these health measures.