Malawi
Electricity
The electric current in Malawi runs 220-240 volts, 50 cycles when it is on. You can buy a British-style converter/adapter before you leave the U.S., but they are also available to purchase in Malawian cities.
However, only 9% of people in Malawi have electricity and the majority of Peace Corps Volunteers do not. Peace Corps provides a solar lamp that has a USB port to charge laptops and phones, but many Volunteers also bring their own solar charger.
Housing and Community Locations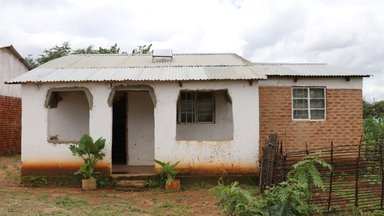 During pre-service training, Peace Corps Trainees live with host families. The homestay experience is considered one of the most important aspects of the training program as it greatly facilitates language and cross-cultural learning. During pre-service training, Peace Corps staff will match you to the community where you will live and serve for two years. This match is based on the Trainee's individual skills and the community's needs as well as other factors, such as possible medical needs.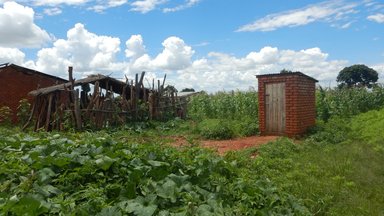 After successful completion of pre-service training, Peace Corps Volunteers move to their permanent communities, which are almost exclusively in very rural areas. In those communities, Volunteers will report to their assigned work location: health centers for Health Volunteers; secondary schools for Education Volunteers; and environmental offices for Environment Volunteers. Proximity to other Peace Corps Volunteers varies, ranging from a few miles' distance to several hours.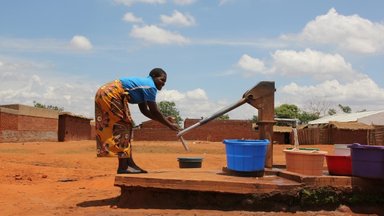 Volunteer houses may be provided by the school, health center, or environmental office where the Peace Corps Volunteer will work, or they are rented from a landlord. An important element of Peace Corps service is to live at or near the same standard as the people you are serving. Therefore, Volunteer housing is modest—usually a small brick house with a tin or thatched roof. Most homes do not have electricity or running water. Volunteers fetch water from a nearby communal pump, bathe with a bucket, and use an outdoor pit latrine. All houses are upgraded to meet a standard criteria of security requirements. In spite of these basic living conditions, many Peace Corps Volunteers find creative ways to make their house into a comfortable home.
Living Allowance and Money Management
Peace Corps Volunteers receive a modest monthly allowance in Malawian kwacha, the local currency, in their local bank accounts. Because it is important for Volunteers to live at a level that is comparable with that of their community members, Peace Corps discourages Volunteers from supplementing their living allowance with funds from home. However, Peace Corps Volunteers often wish to bring additional money for vacation travel in Malawi or to other countries. The amount of money you bring depends on the amount of traveling you plan to do and where.
It is possible to access a U.S. bank account with a major debit card at most ATMs in urban areas. You can withdraw kwacha from an ATM, not U.S. dollars, although it is possible to exchange money in cities.  If you plan to visit surrounding countries that require crisp U.S. dollars for visa payment, plan to bring that cash with you. Be aware that only a few upscale places accept payment by credit or debit card.
Peace Corps Volunteers are encouraged to add a trusted family member or friend to their bank accounts in the U.S. or to grant them Power of Attorney. Handling banking issues from Malawi can be extremely difficult and sometimes impossible. Make sure your cards to not expire while you are in Malawi and that you alert your bank to your travel plans. It is not uncommon for banks to shut off debit or credit cards due to "unusual activity" (of traveling in Malawi and other countries) or for cards to be stolen or lost. Having a second party attached to your finances can make your life much easier if these things happen.
Food and Diet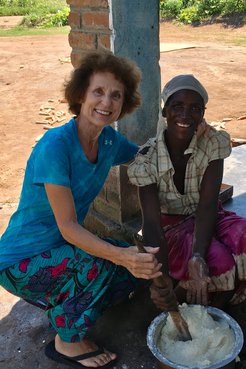 Most Peace Corps Volunteers prepare their own food or eat with their neighbors. The staple crop in Malawi is maize (corn). It is finely ground and prepared as a thick porridge called nsima that is eaten with vegetables or beans. With a little creativity, you can enjoy a varied diet in Malawi. Fruits and vegetables are available according to their harvest season. Beans, rice, soy pieces, and greens can also be purchased in local markets. Meat and dairy products are available in towns, though they can be expensive and difficult to store as most Peace Corps Volunteers do not have refrigeration. 
Peace Corps Volunteers who are vegetarian or vegan will be able to eat well in Malawi after becoming familiar with local food items and their preparation. However, most Malawians do not understand vegetarianism and will not normally be prepared to serve a vegetarian meal if you are a guest in their home. It is common for Malawians to share meat with a guest as a sign of respect, because meat is expensive and usually eaten only on special occasions. For this reason, make sure to let your host family, neighbors, and co-workers know as soon as possible about your eating habits. They may think it is a bit odd, but will be accepting and may ask lots of questions.
Transportation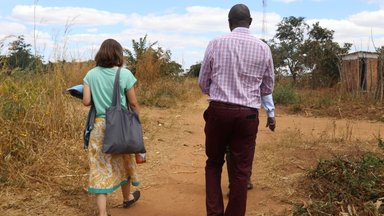 Peace Corps Volunteers' primary modes of transport are public mini-buses, shared taxis, bike taxis, biking, or walking. Commercial buses and mini-buses travel between cities on irregular schedules (i.e., they only leave when they are full), so travel in Malawi requires pre-planning and flexibility. Volunteers are not permitted to hitchhike, drive any motorized vehicles, ride as passengers on motorcycles, or travel after dark.
Alcohol
Alcohol consumption in Malawi can carry negative connotations, especially for women, and communities may consider it disrespectful. For that reason, drinking is not permitted at all during pre-service training. Throughout the rest of their service, Volunteers are strongly discouraged from drinking in their communities. In cities, social drinking is more accepted but should always be conducted in a modest and responsible manner.
Professionalism, Dress, and Behavior
Conservative and professional dress is extremely important in Malawi and is considered an outward sign of respect given to and expected from others. PCVs are expected to dress appropriately, including being clean and professional, whether in training, traveling, in their communities, in the Peace Corps Office, or at Peace Corps events. As a Peace Corps Volunteer, you will be viewed as a professional by the Peace Corps staff and your Malawian colleagues. Thus, it is expected that you dress accordingly. The effort you put into your dress will be returned to you in the respect you receive from your Malawian community members and colleagues.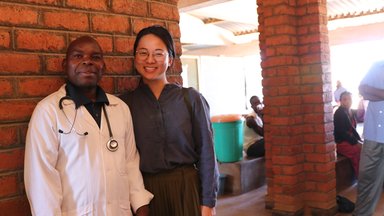 Female PCVs in villages are always expected to wear skirts that reach the mid-calf, or longer. Pants (which are called "trousers" in Malawi) are not acceptable in this setting. In fact, it wasn't until 1994 that women were permitted to wear trousers in Malawi. Tops should be conservative, and can be short-sleeved or long-sleeved. Shorts, tank tops, spaghetti straps, tube tops or anything tight-fitting or revealing are not appropriate. 

Men in a village setting should always wear neat and tidy clothing, nothing ripped or "distressed." Typical dress are slacks and a long-sleeve button-down shirt or polo shirt. Shorts, muscle shirts, or basketball jerseys are not appropriate. Jeans and t-shirts can be worn in the village when conducting physical activity, such as gardening, or when in city settings.

Many PCVs of all sectors will conduct activities in schools and will find that the professional standard of dress in schools is quite high. Female PCVs in a school setting must wear nice blouses or button-down shirts (nothing sleeveless), long professional skirts or dresses, a lightweight slip to wear under the skirt, a blazer or cardigan, and close-toed shoes. Male PCVs who conduct activities or teach in schools are expected to maintain a very high professionalism of dress, including slacks, button-down shirts, blazers, ties, and close-toed shoes.
Communications
Mail
Mail takes a minimum of three to four weeks to arrive and packages take six to nine weeks. Advise your family and friends to number their letters and to include "Air Mail" on the envelopes. Your address during training will be: 
"Your Name," PCT
Peace Corps 
P. O. Box 208
Lilongwe, Malawi.
Once you have become a Volunteer, you will be able to get a post office box in your nearest city, town, or large trading center. If you live in a more populated area, you may be able to get your mail sent to your community. Many Volunteers share post office boxes in order to keep costs down and to alert one another as to when mail has arrived. 
Telephones
If you plan to bring a smartphone from the U.S., you must ensure that is already unlocked and can function abroad. It is very difficult (perhaps impossible) to get smartphones unlocked once in Malawi. You will be provided a small amount of money to purchase a basic phone (not smartphone). In some areas, basic phones have better cell connectivity than smartphones.
Before leaving the U.S., Peace Corps Volunteers find it useful to download applications that will make communicating easier. WhatsApp is the primary way in which Volunteers text and call each other in Malawi. Many Volunteers' communities have decent enough service to receive and reply to WhatsApp messages or emails, but service may be spotty or you might only have service in certain rooms of your house or outside.
During pre-service training, Peace Corps Trainees should not expect consistent or good access to emails, messages, or phone calls.
Internet
Peace Corps Trainees are highly recommended to bring their own laptops to Malawi. They do make completing required reports, writing grants and lesson plans, or blogging and keeping track of media much easier. However, please note that you will most likely need to travel to your nearest town or city in order to access the internet on your laptop. Most places in Malawi do not have wifi. In order to access the internet on a computer, you can hotspot off of your smart phone (if you are in an area that has excellent connectivity), use a computer in an internet café, or buy units of internet at upscale hotels or restaurants in your nearest city.
Most Peace Corps Volunteers suggest bringing a laptop that is lightweight and expendable, as conditions in Malawi can be rough on electronics. If you already have a nice computer and do not want to buy a cheaper one, consider getting your computer insured.
*Note that Peace Corps does not reimburse for personal belongings (including electronics) that are lost, stolen, or damaged. Please purchase personal property insurance before your departure.
Social Activities
The most common form of entertainment is social interaction among friends and neighbors. Malawians love to chat, sing, dance, and be together. If you enjoy soccer or netball, playing with locals will earn you many friends—regardless of your skill level.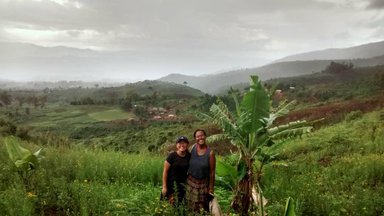 Volunteers are encouraged to remain at their sites in order to integrate and develop relationships with their community, but during holiday time, Malawi offers many outdoor activities. We have excellent and varied hiking, several diverse beaches, plenty of game reserves, and sprawling tea estates. Volunteers also like to visit one another at site during vacation time or when working on projects together. Trips to the city in order to re-stock or complete work via the internet will be coordinated with the programming staff.
Malawi has a limited number of television stations, which offer a few local news segments and programming from South Africa and Europe. There are several FM radio stations, some of which play popular music. Many Volunteers bring or buy short-wave radios so that they can listen to international broadcasts (BBC, Voice of America, Radio Deuschewella, etc.).