Painting a Healthier Madagascar
Changing sites can be a scary prospect for any Volunteer. Luckily, Belén Godinez had a new site mate to steady the transition.
In June 2017, Belén moved to Katherine Halverson's site north of Tamatave on Madagascar's eastern coast.  Belén, a Health Volunteer, and Katherine, an Agriculture Volunteer, quickly sought common ground between their areas of expertise.  Nutrition was the perfect point of overlap. 

For their first collaboration the pair promoted healthy eating by painting a mural on their community's town hall, no simple task for two self-proclaimed "unartistic" Volunteers.  

After getting approval from the mayor—"He loves to support any project we're doing, so he said yes right away," says Katherine—they stenciled out their design: an array of fruits and vegetables framed in the shape of a tree.  In the venerable Peace Corps tradition of finding inspiration in unlikely places, they used a Trader Joe's bag as a model, adding a few local fruits to the medley for good measure.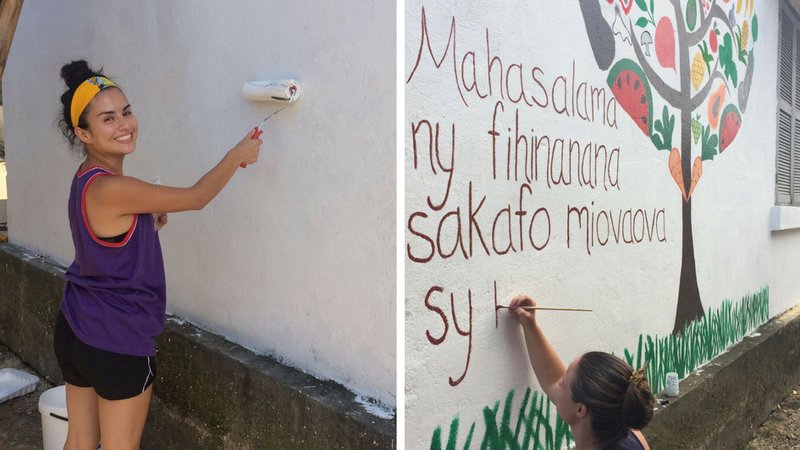 The painting process doubled as an exercise in trust for the site mates. "We only had one rickety, scary ladder," says Katherine, "so one of us would go up to paint and the other would hold the bottom of the ladder."  Belén adds, "We took turns, like I did the pineapple and then she went up and did the apple."

Crowds often gathered to observe their progress and offer feedback.  "It was rewarding, not being so artistic, when the kids would recognize our fruits. They'd ask, 'Is that a banana?' and we'd be like, 'Yes that's a banana!" says Katherine.  

Crowds also came to meet Belén, the new Volunteer in town.  "It was hard to get to know people, especially since this site is so much bigger than my last site," she says. "People would come up to us while we were painting, and it was an easier way for them to approach me."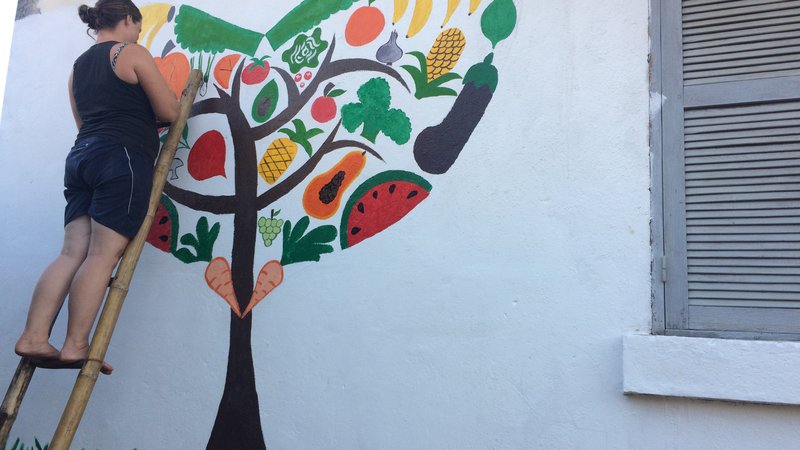 The mural's text reads, "Eating varied and colorful food makes you healthy." Belén and Katherine worked with Andry Randriamiarisoa from the Analanjirofo Office of National Nutrition (ONN) to hone a simple message that encompassed both agricultural and health initiatives. 

To inaugurate the mural and highlight its message, they organized a training with ONN focusing on nutrition in the first 1,000 days of a child's life.  The training coincided with vaccine day at the local hospital; after getting their babies vaccinated, parents stuck around for a cooking demonstration and gardening workshop.

Belén and Katherine both attest to the power of collaborating across sectors, something they hope continues with the next generation of Volunteers at their site.  Katherine says, "When you have one expert on each topic, you can come together to do great trainings and combine your knowledge."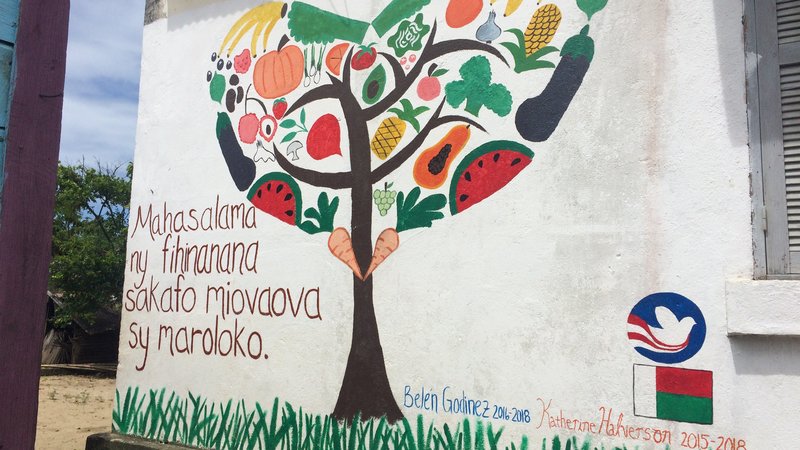 Having a site mate—someone with the same goals but a different approach—can be a source of support and inspiration, a steadying pair of hands at the bottom of the ladder.  "I've experienced both, when it was just me, and then Belén came in," says Katherine.  "A site mate makes you so much more motivated."