Volunteers Working Together to Change the Dialogue on Sex Education in Rural Liberia
When I moved to my site,  I was expecting my students to have very little background knowledge in biology.
When I moved to my site, a small village in Lofa County, I was expecting over-aged students with children. I was expecting them to have very little background knowledge in biology. I was expecting a lot of challenges. During training, the Peace Corps/Liberia staff told us that talking about sex in the home just doesn't happen. They told us that there was little, if any, sexual or reproductive health taught in schools. But what I didn't expect was how little my students knew about their own bodies. Over half of my students are parents, and they couldn't name their own sexual anatomy, and some didn't even know how they got pregnant in the first place.

In January I reached out to the Peace Corps/Liberia Response Volunteer Gender Coordinator, Allison, and said, "Hey, wouldn't it be cool to have a "Sex-Ed Day" one Saturday?" We laughed remembering back to the days when we were in middle school and participated in an awkward afternoon of sex-ed classes where they separated the boys and girls and made us watch a sex- ed video, then gave us goodie bags of deodorant, tampons and some light reading materials. Allison was on-board, and we were off to start the planning for what we hoped would be a fun and educational workshop.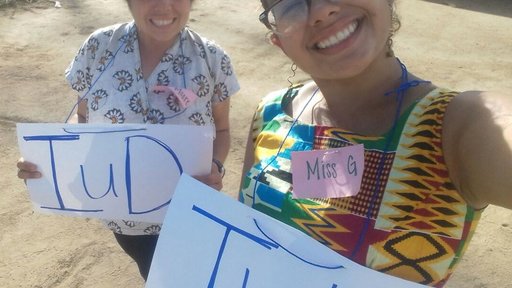 As we began planning, what we thought would be a one-day event, suddenly turned into a 3-day workshop. I pitched the idea to a local non-governmental organization (NGO), and they were willing to collaborate, co-plan, invite their beneficiaries, and fund the workshop. The administration at my school was excited to let us use the campus to host the workshop and before we knew it, 20 of my students signed up and 20 more girls from various local villages wanted to join as well. Fellow Volunteers agreed to pitch in to help co-facilitate with local teachers and clinic workers.

Was this really coming together? I was in disbelief that what started out as a random idea suddenly blossomed into a 3-day workshop, with facilitators, funding, an agenda, and was now a 'real thing'! The workshop, which I would describe as more of a 'weekend day camp' than a formal workshop, started on a Friday after school. The campers were split into 6 teams, which they were tasked to work together and develop a name and small dance. Each session was structured so the campers learned new information, and then participated in an activity with their teammates to show understanding and mastery of the content. For the anatomy session, campers participated in a matching game and a "Pin the Name on the Part" activity. The campers enjoyed the first day of camp and the facilitators could feel the momentum building for what we hoped would be a great Saturday.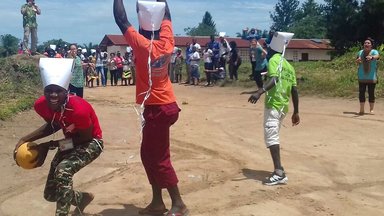 After a warm-up activity on Saturday morning, the first session was a small review of the anatomy. We then transitioned to discussing menstruation with the sexes separated to still create a space where everyone felt comfortable and was able to ask questions. We then brought both boys and girls together for a joint discussion about sex and pregnancy. A giant uterus was drawn into the sand for the 'sperm race' activity. The egg was placed at different areas of the uterus, and campers rushed to be the first to grab the ball (egg) and implant themselves onto the uterine lining. The campers really enjoyed the interactive activity and embraced learning about menstruation and pregnancy.
After lunch they learned about different types of family planning techniques and how to use a condom, with the boys focusing on the stigmas, attitudes, and misconceptions around using condoms. The students were engaged and open with questions about their own experiences and problems-the boys wanted to know about what to do when there were open cuts on their scrotums, condoms coming off during sex, and what to do when there is no condom around.
The girls challenged common attitudes about family planning use causing infertility and whether or not they needed to use condoms when on birth control.
After the insightful conversations, the campers, in their teams, went back outside to play the sperm race for a second time. This time around they encountered various family planning methods. If the daily tablet, injection or implant was used, there was no ovulation and the egg stayed untouched in the ovary. If an IUD was used, the sperm were unable to enter the Fallopian tubes, got confused and died in the uterus. Finally, if a condom was used, the sperm were stopped from passing through the cervix by a sheet (unless the condom broke).
Sunday morning started with Sexually Transmitted Infection (STI) information sessions and a game that illustrated how quickly infections can be passed from one person to another. The campers then transitioned into a self-defense session where they learned how to use their voices to escape from common holds and grabs.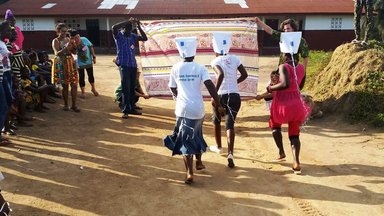 After lunch, we talked about why it is important to continue these conversations, and how, now that they have the information, they can go and educate their friends, families and communities. For the closing ceremony, each team prepared a drama. Parents were invited to attend the closing ceremony, where the campers taught their parents about what they had learned over the course of the weekend. It was amazing seeing the campers teaching their parents about the anatomy and menstruation. One male student was explaining to his mother about the proper way to use a condom, and I got to witness an older woman asking her son about what to do if both people are uneducated and don't know what the expiration date was-how can they use the condom? He looked at me, looked back at his mom, and told her that this is why people need to be trained in the communities whether they are in school or not. That camper understood the reason behind not just the workshop, but behind all of the work we do here in Liberia-to educate people, so they in turn can go and educate more people.
Throughout the weekend I was continually encouraged by the questions my students asked, their honesty, maturity, and thirst to really want to know more. I watched my male students explain menstruation, in detail, and correctly, to other male students. I watched my male and female students discuss sex and sexual desire together with no shaming each other for questions, and instead being open-minded and inquisitive. I was able to see relationships and feelings of support being built between campers and campers, and between the campers and teachers and local clinic workers. This material is so, so important for everyone to know. 
In my two years in Liberia, I will only be able to educate so many people, on so many topics, and if I had to leave tomorrow, I would leave confident that my students who participated in the workshop, and the 20 other girls from neighboring villages, would be able to go back and educate their communities on these topics. By being informed on these topics, people, we hope, are making smarter decisions about sex, protecting themselves from infections, and preventing unplanned pregnancies while in school, so that they can stay in school themselves. I am so excited to see what they are all going to do now!