Teaching Literacy in Liberia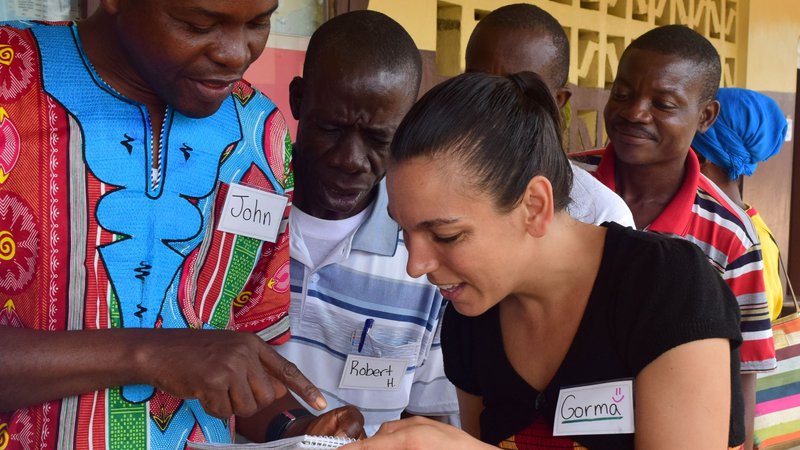 Jan. 24, 2020
Last year over 8200 students and 800 teachers in Liberia learned phonics from the Let's Read! program.
This overwhelming success has led Peace Corps Liberia to focus primarily on literacy in its education program. Response Volunteer Geri helped spearhead these efforts, leaving an indelible mark on Liberia and Peace Corps during her two years in country. In her own words, Geri tells her story:
"I came to Liberia in August 2017 as a Teacher Trainer and Literacy Coach. My first week here I was sent to Uganda for a two-week conference where I was able to learn of the work that Peace Corps Africa is doing in literacy. Once I returned and met with our Program Manager, I quickly realized the job I had signed up for was not a one-year assignment. In my first year, I had the opportunity to live in the small village of Goba's Town, which is a warm and welcoming community of 300 plus people who instantly made me feel at home. In Goba's Town I was able to pilot the literacy program I was trained on in Uganda, Learning to Read, in both the public and mission schools. During the pilot phases, a team of literacy Volunteers and I restructured the program, changing it from a Peace Corps Africa program to a Peace Corps Liberia program. Through many late nights, early mornings, laughs and tears we were able to develop our reading/phonics program which we now call Let's Read!.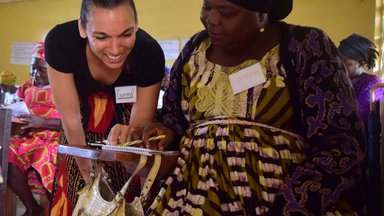 Around the time that the program was finally coming together and the trainings were underway, my initial year was coming to a close, so I reapplied for a second year as the Literacy Coordinator. With this new position came many rewarding challenges. I had to relocate, leaving my family and friends in Goba's Town to an area where I had better access to internet and phone network. I had to dedicate more of my time to polishing our program, traveling to train teachers in sites where Volunteers where helping out in the elementary schools, and preparing for our very first group of two-year literacy Volunteers. Relocating to an area where I had more amenities also meant there was more work to be done. My second home was on the campus of one of the Rural Teacher Training Institutes, where I was able to teach courses in Phonology of English and Reading and Composition to 29 dedicated teachers. I met many teachers and facilitators who were interested in our Let's Read! program, which meant more and more trainings, more and more follow-ups, and more and more time.
Working as Literacy Coordinator left me with very little time to myself, but I absolutely loved the work that I was doing and, more than that, I loved seeing the difference it is making in literacy in Liberia. Children are reading. Teachers are encouraging. And people seem to be genuinely happy. I am overjoyed with the new approach for Peace Corps Liberia. When I came in 2017 Volunteers were all high school math and science teachers. Now we have two-year Volunteers teaching math and science in the junior high schools, literacy in the elementary schools, and science labs in the high schools. Soon we will also have our first cohort of health Volunteers. Living here is not the easiest, teachers are not always paid, the economy does not look too promising, but it's the hidden gems that we find in our communities that keep us here. It's the glitters of hope that we get when our children read a book for the first time without any help. It's the persistence of the people to make Liberia a better place for their children. And it's really just the people in general, there are so many wonderful people here in Liberia that truly care for us, their Volunteers, which makes it impossible for us not to care about them."
After two years, we were sad to say goodbye to Geri, but know that her work lives on in Liberia and her impact is indelible.