Super Gari: A Potential Solution to Food Scarcity, while Generating Income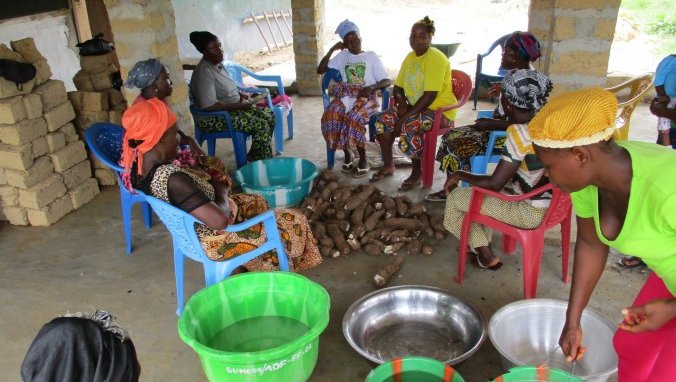 Oct. 12, 2018
Time and time again I heard similar frustrations at my site: members in the community struggled to feed their children and to find the money for their children's school fees.  
A colleague at the high school where I teach was also the general manager of a local farming co-op.  He asked if I would be interested in learning how the co-op makes gari and super-gari and if I could help them expand their production capacity and help train the local women to use the equipment.
Cassava is a tuber that readily grows all over Liberia.  People use the cassava to make fufu, a thick paste, or they eat it like a potato.  Once cassava is harvested, however, it can rot quickly, causing a loss of money and food. In fact, the big city-markets are lined with 5-foot-high piles of wasted produce. However, if the cassava is ground, dried, and sifted, it can be refined into gari, which does not rot like unprocessed cassava, thereby reducing food waste and costs. Super-gari takes this idea a step forward by mixing the refined cassava with other nutritious foods (ground peanuts, kidney beans, dried fish, etc.), to create a more fortified, better tasting version of gari.
The co-op's gari factory was originally built in 2009 and the necessary equipment was installed at that time.  Unfortunately, due to lack of adequate financial management and oversight, coupled with the Ebola crisis, the factory never produced gari and shut down.  When my counter-part took over as the manager of the co-op, he was able to build an addition to the old factory, but still no gari was produced.  With the help of a small grant from the Peace Corps, we were able to build an additional open-air kitchen, purchase production materials such as knives, tubs, and bags, and train a group of women and men to process the cassava into gari and super gari.
Following the expansion of the factory, we have begun exporting our products to neighboring cities, including the capital of Monrovia. Recently, the Peace Corps Liberia Committee on Agriculture and Nutrition held a workshop where our co-op team taught the 46 attendees from all 15 counties how to make gari and super-gari. 
Our hope is that by sharing our process, we will be able to empower people from across the country to combat the problems of malnutrition and lack of income generation opportunities that affect so many communities in Liberia.