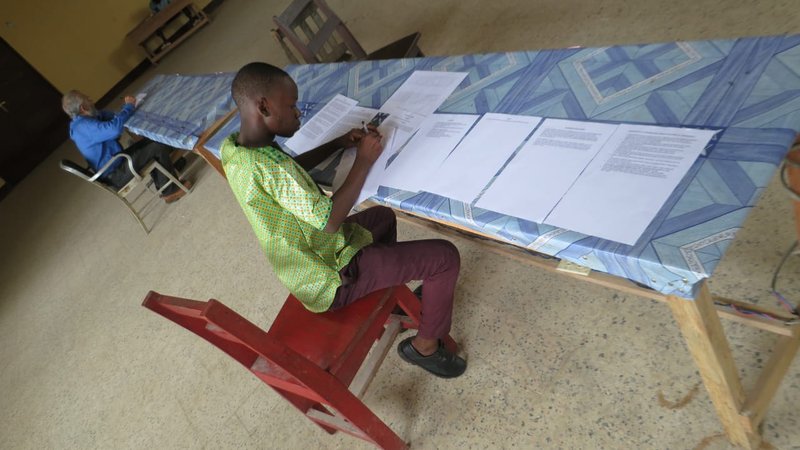 July 19, 2018
Teaching students to question the world around them inspires critical thinking outside of the classroom and creates space for empowerment. 
By discovering the answer to one question, a student can grow in confidence and independence. Volunteer Zander thought a science fair would be the perfect way to motivate his students to think analytically. Read on to hear Zander's account of how it went…
Although standard in the American school system, science fairs that allow students the freedom to explore, experiment, and create an in-depth research project centered around a single question are not common in Liberia, where resources are few. The process of generating a hypothesis, conducting an experiment according to written procedures, documenting results, and then forming conclusions about the associations between the hypothesis and the results is a large endeavor for any student, but especially for a Liberian student to whom these concepts are particularly novel.
As I reflected on my own experiences with hands-on science projects in the U.S., however, I was still convinced that even a small science fair could potentially have a large impact on our students. It would provide them with the space to investigate an issue in their community and to really exhibit their skills, knowledge, and passion.
Our students were up to the challenge. Utilizing the scientific method to explore a topic of their choosing, they examined themes that evoked critical thinking and creativity. We had seven students create methodical and detailed presentations on a variety of subjects including refraction, buoyancy, the effects of open-defecation, characteristics of local crabs, homemade fertilizer, pineapple fermentation, and observable light spectrums. We gave them one month to prepare their exhibitions. A panel would judge the presentations, provide constructive feedback, and present awards and prizes.
Prior to the fair, I prepared participants by reviewing the scientific method, explaining how to create a display board, and emphasizing creativity so that students did not replicate each other. I also provided them with support and guidance. I asked them critical questions and discussed how to make projects more appealing to the judging panel.
Experiments were evaluated using specific criteria including the process of their scientific method, presentation aesthetics, and individual originality. Students, school administrators, and community members offered positive feedback to the participants and also expressed a general desire for a larger fair to be held in the future.
Although the number of students who decided to undertake a project for our school's first ever science fair was not large, it was a great way to get students interested in and participating in science-related activities. Visiting community members, teachers, and administrators, along with the judges, were able to ask questions and learn from the presentations themselves. It was also empowering for the students as it flipped the typical dynamic of a classroom, giving power to the students to demonstrate their knowledge and to play the role of teacher.