Big Belly Boot Camp, Part 1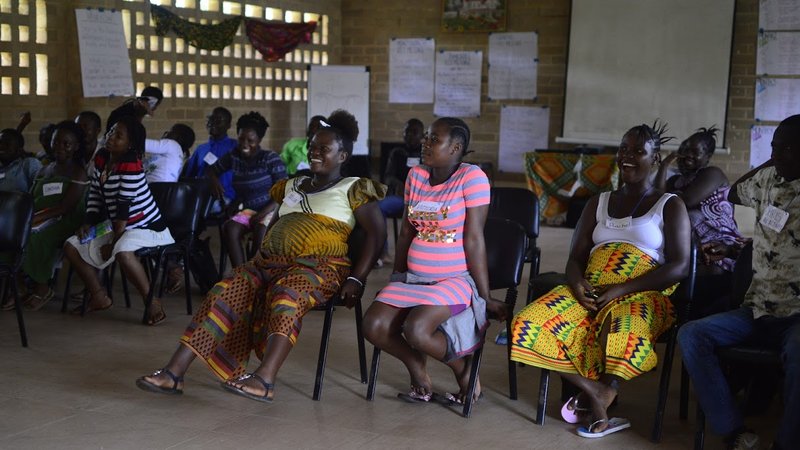 April 27, 2018
In Liberian English, pregnant women are referred to as big bellies. It is not an insult nor is it uncommon to hear someone greet a pregnant woman in the community by calling "big belly, how everyting?"
Women in Liberia often lack access to vital health education and services during their pregnancies due to far distances and rough terrains to reach health clinics, stock outs of disease-preventing drugs, and even cultural support to seek medical attention. Sadly, it is not uncommon for these big bellies to lose their babies or face serious health issues during their pregnancies, their deliveries, or the first few months of the infants' lives. Some PCVs are drawn to working with this population, knowing that awareness and education can spur action and change these dreary outcomes.

One such volunteer is Peace Corps Liberia Education Volunteer Kayla. Upon meeting her, Kayla exudes friendliness, positivity, and compassion. Not surprisingly, her relationships within her community fell into place quickly. One relationship in particular, with a big belly woman who lived nearby, was especially influential. The two became close friends, and the woman wanted to name her future baby after Kayla should she have a girl (this is called a namesake, a Liberian tradition where the parents name their child after a close friend or influential person).
Unfortunately, the infant died shortly after birth, possibly a result of complications related to malaria during the mother's pregnancy. Having attended Peace Corps' STOMP Out Malaria program in Senegal, Kayla knew that this child's death could have been prevented. Using tragedy to fuel her motivation, she decided that she would commit her time outside of teaching to equip big belly women (and their baby pa's) with the tools and knowledge to have healthy, happy pregnancies.
As a teacher at the local high school, Kayla knew that including students in this project would not only garner local support for activism, but it would also empower the youth in her community. During the next school term, Kayla introduced a Health Advocacy Initiative (HAI) club at her school. She invited her most passionate and dedicated students to be involved in getting the program off the ground effectively. Others joined as the word spread about the club, attracting students who were interested in the health field or in becoming nurses and medical doctors.
The ultimate goal of the club was to develop an advocacy campaign in the community. Kayla wanted to be sure that the students felt like the leaders of this effort. She guided the group through the process of assessing the most urgent problems in their community, allowing them to discuss and decide on an answer themselves. To her surprise, they independently identified health misinformation during pregnancy as their target. Kayla was thrilled that the group's conclusions aligned with her own passions.
From there, the group launched the idea of a "Big Belly Business Boot Camp" to provide accurate health information to expecting parents. They hoped that if these parents were informed of and understood the consequences that stemmed from misinformation in the community (regarding alcohol consumption, malaria prevention, and nutrition) that they would be motivated to change their behaviors for the better and spread the word to others.
To execute the boot camp, Kayla wrote a Peace Corps Partnership grant, held meetings with local NGOs and organizations that could contribute specific information, and worked with a few other PC Liberia Volunteers to create relevant lessons. The HAI members were each responsible for choosing and inviting a baby ma and pa from their community. Knowing that sensitive messages on topics such as menstruation, anatomy, family planning, and gender awareness would inevitably be more powerful coming from Liberians, HAI members were to be the face of the camp. Kayla thoroughly trained the members on facilitation skills and technical health information including specific lessons that they would lead themselves.
During the four days of the Big Belly Business Boot Camp, the HAI students thrived in their roles as facilitators, mentors, supporters, and leaders. In addition to leading sessions, they were engaged with their invited participants throughout the workshop, supporting them through activities. When asked at the end what they enjoyed the most about the Boot Camp, many of them were excited about their own personal growth as facilitators, saying that they had "found their voice" and "felt empowered" as a result of taking charge of lessons and activities.
To have men, in particular, speak out on issues such as gender and power in such a progressive way is still considered somewhat taboo in this context and culture, especially within their age group. However, despite stigmas that they may face, the male students hope to serve as positive male role models in Liberia. These HAI activists have been inspired and continue to work with Kayla on advocacy projects to expand the reach of their messages in their own communities. At their most recent club meeting, they told Kayla, "We need to prepare ourselves to replace you when you leave. You won't be with us forever, and we have to continue on our own."