Finding home at a funeral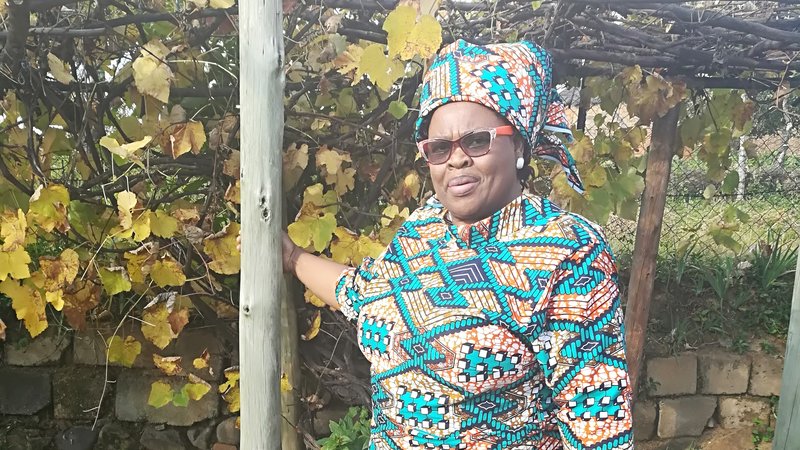 May 16, 2018
I had my reservations about meeting my host family. I wondered if I, a first generation Tanzanian American, would fit their preconceived notion of a Peace Corps volunteer. 
With reservations in my chest, I met my host mother with her face in a toothy smile and she wrapped me in a tight embrace and kiss on the lips.
Despite the warm welcome, I still wondered how my Mme (Sesotho for mother) really felt; and I soon did. One day my Mme asked me to go on a road trip with her to the village of her birth. There was a recent death in her family and she wanted me to accompany her and her two children, Lerato and Swanelo.
We arrived the night before the funeral. My Mme ushered us into a small rondoval that had been stripped of typical house furnishings and instead set up like a mini chapel with plastic chairs, an empty table decorated with fresh cut plants and candles, and two small twin mattresses sitting directly on the floor (one of which was occupied by the deceased's daughter and surviving sister). In traditional Basotho funeral culture arrivals come in and sit in silence until a family member comes in to deliver the last moments of life of the deceased. However, my Mme broke all silence and introduced me to everyone in the rondoval.
After her numerous introductions we sat down and joined the silence, while the seats and extra mattress space filled with other guests. And at one point we were all given juice and a ½ of a loaf of fresh bread each to snack-on. The silence was disturbed when the deceased's son began to recount the last day and a half of his mother's life which included complications with high blood pressure. After his announcement, a priest arrived with the casket. It was quickly brought into the rondoval, closed (without anyone besides the deceased's children looking in), and blessed with Holy water. The priest gave a quick sermon while traditional Psalms were sung. Then the real signing began. Everyone in the rondoval began to sing joyful hymns accompanied by praise dancing.
I went outside with Lerato to help with the food preparation, while my Mme stayed with the choir. As we prepared tomorrow's meals, we were served a predinner meal and snack. Full, from the ½ of loaf of bread earlier, I shared a plate with Lerato instead.
A few hours passed and my Mme came to check on me. She noticed that I was a bit tired and secured a bed for me in another house on the compound to rest. I napped for a few hours and reentered the rondoval to find the choir still going strong as the time was nearing midnight. Their energy reminded me of Tanzania two summers ago when I was raising my voice with the hired choir and praise dancers in the midnight hours during my own grandfather's home-going service. It was a weird memory to entertain, but it made me feel like I wasn't too far from home.
And then another food break came. At this time Lerato, my Mme, and I were tired and decided to retire back into the other house. The sun began to rise only after a few hours, and we and so did we. As we got dressed other's clothes reminded me of party clothes. There were no black on black ensembles, everyone was dazzling in vibrant patterns and colors! Once my Mme, Lerato, and I were finished we shuffled into the car to follow the pallbearers and casket to a nearby field.
As coincidence would have it, a neighboring man had recently died, and the priest decided to have a double funeral. A verse read for my Mme's aunt was followed by one for the neighbor, a song by her choir was followed by a song by his choir, and so it continued with speeches, readings, etc. Until about the fourth hour when my Mme had had enough of sitting beneath the sweltering heat of the brightly colored tent and she declared it was time to go.
We drove back to the rondoval one last time, washed our hands, and picked up take-aways packages of yet another meal. After packing up the car, we set off for home. As we made our way back, I thanked my Mme for inviting me and I found out her true feelings about me when she responded, matter-of-factly, "well, now you are part of the family."