Writing a coming-out letter to home leads to community support in Guyana
I first typed the letter while I was sitting on a couch of my host family's home during my Peace Corps service training in Guyana nearly 15 years ago. Sea breeze flowed though pink curtains next to me. Just outside, a veranda overlooked the Essequibo coast.
It must have been 8 or 9 p.m. Late for my host family, early for me - they were in their bedrooms, preparing to sleep. Solitude allowed me the moments to process what I was writing.
I would eventually handwrite a different draft of that letter and try to send it to my family in the United States.
In that letter, I came out to them as gay.
When I slid the letter through the envelope slot of the post office in Queenstown a few days later, I did not even think it would make it out of Guyana. In a way, that was OK. There was an element of letting go just in the drafting and attempting to send it. It turns out, the act of writing and sliding that letter through the post office slot prompted a change in my life's course. That moment was the beginning of a beautiful, necessary journey through Peace Corps and beyond – one I am still on to this day.
After learning about potential posts near the end of pre-service training, I dreamed of being in an Amerindian village but, in the end, I opted for a position in the capital city of Georgetown. There, I worked as an instructor at the Open Doors Centre for Persons with Disabilities, a place where I met incredible humans and learned alongside them. It was there I realized I had a passion for teaching – something I have now done for more than a decade.
We embraced our differences, together, at Open Doors.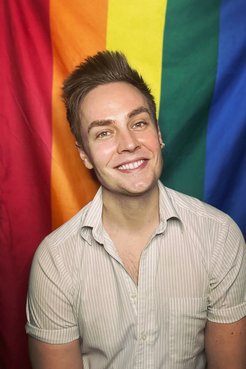 Living in Georgetown opened many more doors for other opportunities, too. Doors that, when opened, set me up for future success. So, although I did not get to experience living in an Amerindian community, I did get to have a life full of support constantly surrounding me during my personal coming-out era while in Peace Corps service.
Fellow Peace Corps Volunteers who served in the same city accepted me, and others who lived farther afield would visit and help me explore this aspect of myself. Peace Corps Guyana staff, the family who lived above me, my friends, and organizations like The Society Against Sexual Orientation Discrimination (SASOD) showed their support. It helped that I was based in a hub of diversity – something most major cities provide, even those as small as The Garden City of the Caribbean.
While every country, Guyana included, can continue to make strides to be more inclusive of the LGBTQI+ community, I was fortunate to find just the right pockets of acceptance I needed.
It was fitting that my Peace Corps service in Guyana started out and continued along a trajectory of my coming out. Choosing to serve in the Peace Corps was a life-changing decision, the best I have ever made. It was a decision that totally altered my career path and allowed me to realize I could be me. Fully me. Wholly me. Unapologetically me.
And yes, that letter did make it to my family. Since then, they have become some of my biggest supporters– in all ways. I could not be more thankful for their love. I am who I am today because I had the courage to craft that letter thanks to the new beginning the Peace Corps offered.
For anyone wondering if they should apply for the Peace Corps, you already have the answer: Do it. I mean this especially for my fellow LGBTQI+ community members.
No matter where you may be along your own identity adventure, allow yourself the openness that newness may bring. Draft your own letter of letting go, however you may need to. By doing so, and by being you, anywhere in this world, you can serve as a Volunteer and also serve as an example to others. I have been able to do this time and time again – starting during my time along the Essequibo coast – because I learned how important it was to do so at the start of my Peace Corps service.
At times during Peace Corps service, you may not get to feel like you can fully be yourself. But you will get to know yourself more. And you will be reminded of what others – just like you – face and feel everywhere. Integrating into your Peace Corps community is essential, but so is immersing yourself into and cultivating a community that accepts you – the authentic you. And doing this will be a life-changing experience.