Umhlanga Reed Dance in Swaziland
My girls told me to sing.
This was the moment I had been secretly waiting for during the week-long Umhlanga (Reed Dance) ceremony. When it came I was nervous and parched. I had just marched past the queen mother and king, and some of the king's men had even left their places to perform kudlalisela, a dance of respect and admiration for me. I paused, took a deep breath, and started to belt out the lyrics of one of my favorites.

Gwalagwala gwalagwala
Phumani ngibukele
Ngoba ngaliselikhona

Ngoba ngaliselikhona
Phumani ngibukele
Ngoba ngaliselikhona
Surprisingly fitting to a Peace Corps Volunteer leading the group of unmarried and childless girls and young women from her community, the song is calling the people of Swaziland to come watch because the event is starting. And watch they did. I moved to the front of our formation, and first to notice me were members of the king's regiments, followed by a horde of tourists, and eventually the news. I changed songs to Mine ngilitjitji phaca (I am a pure maiden). The response is called out to the princess who created the song, but instead, my group was calling out my name, Hloniphile, which means respect.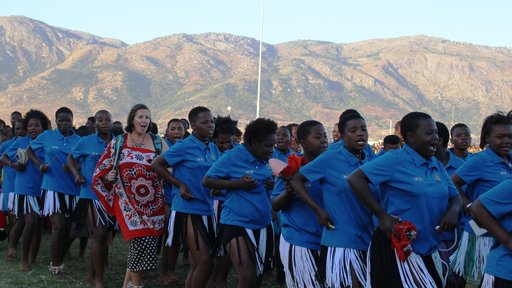 Respect was something I was worried about when I decided to participate after attending last year's event. I knew everyone would be watching me as I stood out from the other 80,000 participants. Not only did I want to be respected for my decision to participate, but I also wanted to respect the Swazi culture and traditions. I spent a month's worth of tutoring lessons on singing and dancing. My tutor even convinced her friends to record themselves singing, so I could hear the different leader and response parts to a handful of songs. We also practiced dancing with wooden spoons in my hands, so I could learn to move my arms correctly.
I arrived home the following day to my make (host mother) gushing with pride. She had been receiving phone calls for days, first when one of the newspapers wrote about my participation, then when they ran a photo of members from my group and me with our reeds, and then when they saw me dancing on the news. Her friends and relatives were so excited to see her, Hloniphile, fully participating in the biggest cultural event of the year. My friends and their Swazi families in the audience were also impressed. Many said they could not believe I was singing along with my group. Others could not believe that I had participated in the six days of activities, including marching, cutting reeds, and delivering them to the queen mother. Even though my participation would represent many people, including my family, community, Peace Corps, and the United States, I felt like I needed to participate as fully as possible as I personally would not have been happy with anything less. It turns out I am as proud of myself for participating in this act of integration as my make (mother) is.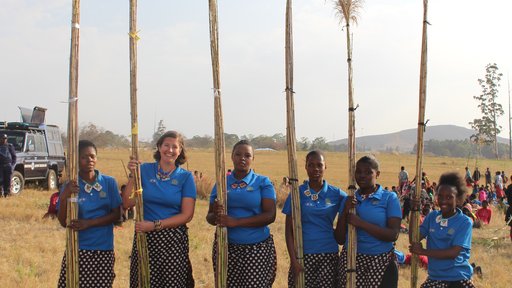 The Umhlanga schedule is as follows:
On day one, which is always a Tuesday, participants get bussed to the royal village of the Indlovukazi (big elephant, or queen mother). This is in Ludzidzini. Participants will be officially registered. Elders from each chiefdom will supervise each group.

On day two, everyone marches from Ludzidzini to Engabezweni, near Lozitha.

On day three, everyone cut reeds. This year, older participants were requested to cut at least 15 reeds (up from seven). The number cut must always be odd.
On day four, participants return to Ludzidzini carrying their bundles of reeds, arriving at night.

On day five, participants rest.

On day six, participants deliver their reeds to the queen mother's home. There is a special song sung when delivering the reeds, which is followed by dancing at the arena.

On day seven, a procession of each chiefdom's participants begins once the king has arrived. Everyone will dance in front of the king, and they will form an arch across the field to continue their songs and dance. Then the king will come into the audience to greet a number of participants. His retinue will follow him.

On day eight, the king will command that a number of cattle are slaughtered and each participant will take a piece of meat home.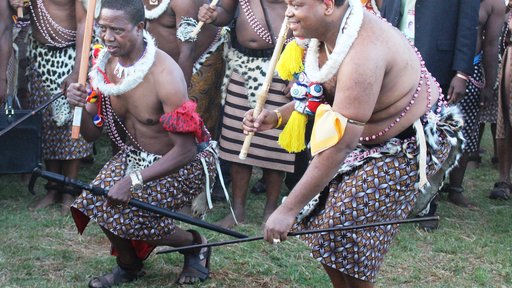 Curious to learn more? Explore the World Wise Schools resources on this topic.
Explore