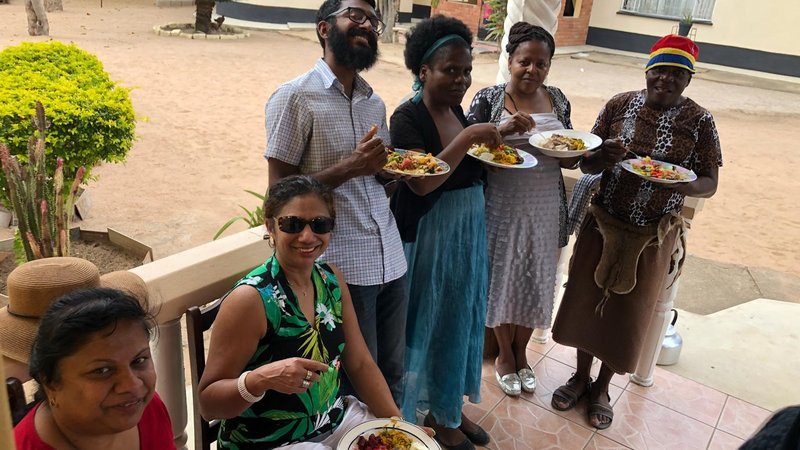 March 1, 2019
She then stunned me with her next sentence: " I wish we could stay longer in eSwatini..."
The moment my family and I finalized their visit to eSwatini this past November, my main goal was to have them stay on my homestead for a day and meet my homestead family. My homestead family consisted of my Gogo( grandmother), my sisi( sister), my three dogs, and whole bunch of chickens. The rest of my homestead family my Babe ( father), Bhuti ( brother), boSisi, and aunties) all lived and worked closer to the capital. My family coming from the U.S and Canada consisted of my amma (mother), appa (father), acca (older sister), chinnamma (Aunt/ mother\'s litter sister) and chithappa (uncle/aunt\'s husband). I knew it could be a challenge to accommodate everyone on the homestead due to limited rooms, one outdoor toilet, and no running water- just three tanks to hold water. Considering all this, when I brought up having my family visit and staying on the homestead, I could feel some nervousness of in terms of expectation from my babe.
Though, the thing about all this was my parents, and aunt and uncle, weren\'t born in North America. They hailed from the country of Sri Lanka and lived in the northern region called Tamil Nadu. All four lived in Sri Lanka under quite similar conditions as I was living currently. Homes were not huge and they housed quite a number of family members at a time. My family did have a running water system in their homes, but still had to get water from a well. Similarly too, my family even had chickens rummaging around the property and dogs for security purposes. My uncle\'s and father\'s family even owned farmland and they would work in the fields growing corn and other crops throughout the year.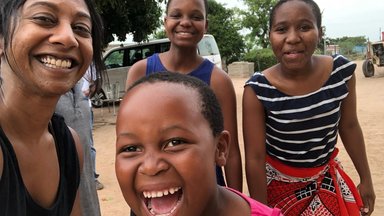 My family might still be in Sri Lanka. However, in 1983 my family took the dangerous risk to move to Canada in search of a better life. This was the story for many Tamil Sri Lankans. The rest is history.I say all this because with my family coming to visit, I had serious hopes they would come to my community feeling the familiarity of their roots in Sri Lanka. I wanted them to see that their lives back in Sri Lanka and the one I am living currently were no different, besides the foundation of the cultures. I even had a dream to see my gogo and my appa working in the fields together tilling the soil for the upcoming rainy season.
Understanding all this, I knew I had to do something special to bring both worlds together. I figured what better way to cross the Swazi and Tamil culture then share traditional meals from both sides. My babe liked the idea of the lunch and we both agreed to work together to make it happen. Knowing my immediate homestead family quite well, I thought it would just be us and my visiting family.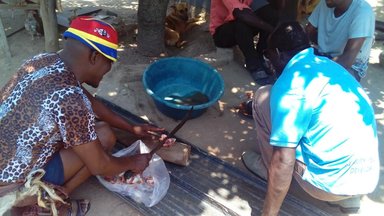 Telling my Amma on the phone of my idea and what to expect, she sounded hesitant and wasn\'t quite sure about it all, even the idea of staying on my homestead. After over a year of me living on my homestead and doing work in my community, she still felt uncertain about how they would be welcomed or what to even expect. I had to reassure her everything would be ok and that they would be accommodated to spend the night. I knew out of everyone visiting, she would be the toughest to convince everything would work out.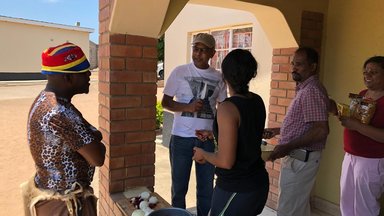 About three weeks out, trying to finalize the day and preparations with my babe for the lunch, he came to me with some unexpected news. He told me we had to invite our extended family too. Meaning our neighbors, cousins, aunts, uncles and a few close family friends. It was actually quite similar to something I would expect in Tamil culture too. You must invite everyone, or risk making someone upset. We were now up to over 25 people coming. I was a bit flabbergasted by this point, considering the amount of cooking that was going to have to be done on both sides, plus the fact that my family would probably be overwhelmed by the number of people they would have to meet. Though, I knew we had to make this event happen, no matter the situation.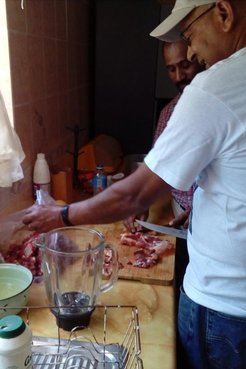 Upon the final week before my family arrived, my Amma was still giving me stress on her anxiety about staying on the homestead. I repeated that everything would be okay and, at this point, I just needed her to get on the plane and come experience it for herself. Two days out from the lunch, I finally picked up my family from the Johannesburg airport. It was a warm reunion getting to hug everyone. We spent the night in Johannesburg and the following day we headed to eSwatini. I was now beginning to feel my own nervousness about how my family would receive my community and my homestead family. Maybe they wouldn\'t see the similarities? Maybe it would be completely awkward? Maybe they would change their minds about staying? Trying to stay according to plan, we picked up groceries in the capital and went to our lodging for the night. I shared my thoughts with my sister and she reassured me everything would be ok.
Our family would come through and the lunch would be special no matter how it turned out. After breakfast at the lodge we headed to my community. it was time for the crossing of the cultures. When we got to the homestead all my worry washed away. My babe along with my gogo and aunties welcomed my family with open arms. Both my families greeted each other as if they were family. Everyone was all smiles and I could feel a sense of bonding being formed. It was such a beautiful moment to finally see. After everyone got a chance to meet , we all got to cooking.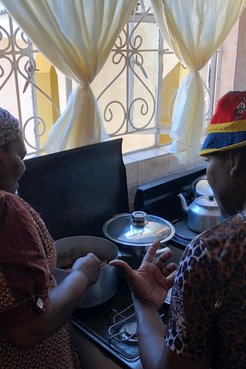 I shouldn\'t have been as surprised, though I really was. Both my families put in the work and I could really feel the value and dedication on both sides. In the main kitchen, my appa and Chithappa were cutting up the meat. Along to them, my babe, gogo, and aunties were cutting up vegetables and preparing dishes on the stove. In my kitchen, my amma, chinamma and acca were cooking the Tamil dishes. My acca was cutting vegetables while my amma and chinnamma made use of the my burners cooking as efficiently as they could. Knowing my lack of cooking ware, they actually brought old cooking pans to use. It was a pretty clutch moment to get the job done.
From the beginning it all felt so effortless. Both sides just meshed and respected each other fully. Even better, my family could feel the familiarity of Sri Lanka that I had hoped they would. From the chickens running around, the dogs barking at the gates, tractors going back and forth and even to the look of the country, it was incredible to see them feel at home even when home was over a 1000 miles east. I remember my uncle even saying he could stay much longer because of how much it felt like Sri Lanka. Once all the food was cooked, we put all the dishes on one table and had everyone congregate there. On the Tamil side, we had chicken and mutton curry, cooked cabbage , beet curry, and boiled eggs. On the Swazi side we had pap, grilled and boiled chicken, cooked goat, and salad. It was a beautiful sight. I can\'t tell you how much I missed my Tamil food. What a treat it was to be eating it after almost a year and a half.
During our lunch my babe and aunty gave stirring speeches on their thankfulness and the joy of bringing the families together. My family even gave a gift to my parents, to show their appreciation. At the very end, we had cake and took a giant family photo to capture the momentous event. After saying goodbye to everyone, my family was overjoyed by the hospitality and respect they received. They really felt welcomed and I was glad they did. My babe was astonished that everything worked out. It had been a while since the family came together like it did for the lunch and he was so happy we put it together.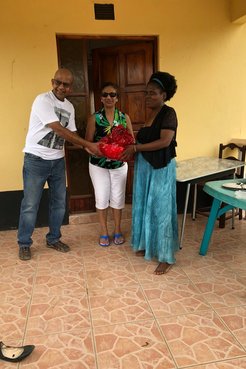 As the evening sun began to show, I was still reveling from the day\'s event. I went to go check on my parents and sister in their room. My father was snoring loudly and my sister was passed out. I called for my Amma and she responded. I asked her how she was. She told me she was happy with how everything turned out and surprised at how nice the homestead was compared to what she expected. She then stunned me with her next sentence:" I wish we could stay longer in eSwatini..."
Although my dream of my father and gogo working in the fields never happened, hearing my Amma say those words brought me happiness. I smiled and left her to sleep, feeling thankful for the day, my cultures, and both my loving families.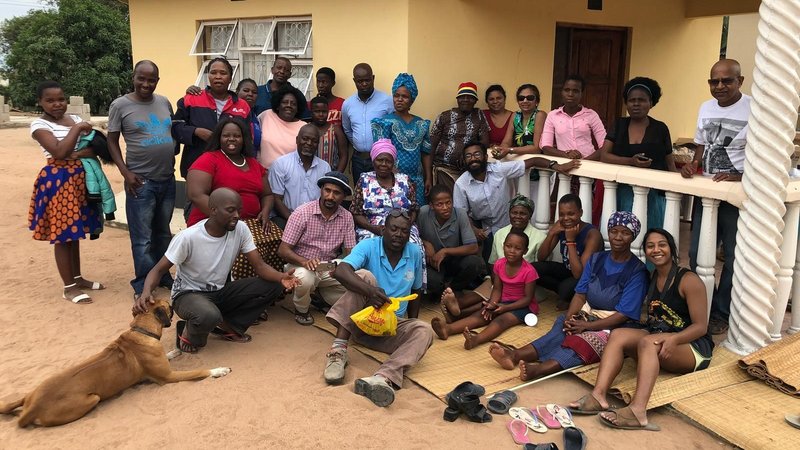 Curious to learn more? Explore the World Wise Schools resources on this topic.
Explore