Brothers first, Peace Corps Volunteers second, Zane and Alex grew up with a desire to travel and serve. That desire has led them to Costa Rica and Ghana, respectively.
Every April Fool's day throughout high school, my brother and I would switch classes. As we are identical twins, all we had to do was make sure that we sat in the right seats and responded when the other's name was called. Since we have both been conditioned to respond to the other's name, our teachers were none the wiser. It was one of my favorite twin traditions, until my brother got a 13% on a Sports Medicine test for me, and it is my go to story when people ask if my brother and I got into many shenanigans when we were kids, or if we do, in fact, look alike. This personal anecdote has become increasingly difficult to tell in the past six months, as now I have to communicate it in Spanish at a level equivalent to that of a child, and I have yet to discover a good way to explain the concept of April Fool's day, a foreign concept here in my current home, Costa Rica.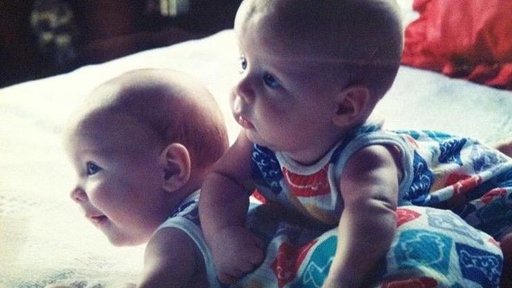 My name is Zane Heather, and I am a Community Economic Development Volunteer with the Peace Corps living in the mountains of Costa Rica. As of now, my brother Alex and I are separated by 5,558 miles. Although this may not be the furthest we have physically been separated from each other, chronologically we have never been more distant. A year ago, I dropped him off at his Peace Corps-sanctioned hotel the night before his journey in development started. The next day he was on a plane to Ghana, where 27 months of service as a volunteer in agricultural development awaited him. Four months later I set off on my own undertaking, to the land of Pura Vida: Costa Rica. We now find ourselves on different ends of the developing world, engaged in the biggest social experiment of our lives.
One of the most valuable skills you cultivate as a Peace Corps Volunteer is developing creative, out-of-the-box solutions for problems you never thought you would encounter. Our latest being the writing of this joint expose; from different corners of the world, with minimal connection and communication, all the while one of you refuses to use anything but a typewriter, for no reason. This is the solution, and it is through this medium that we hope to give you a glimpse into our current lives, as well as the experiences that served as the preamble for our mutual efforts to positively impact this world, where ever we may roam. 
Zane: All my life I have answered to two names, my own, and my brother's, Alex. Although at times it was frustrating, it is understandable, as a handful of times my brother and I have even mixed ourselves up, usually the product of a tactfully hidden mirror. At times, the muddles have even been advantageous: I met my college girlfriend due to a mix up, and it has often been useful to avoid unpleasant situations, or people, for one reason or another. Due to my history of responding to names that are not my own, I thought it would be easier to adapt to the slew of nicknames I have donned during my service in Costa Rica. After five months, I can now be hailed as Zane, Pablo, Sen, Gringo, Teacher, Gringo loco, Ken, or any combination of the above. During my short time so far in site I have successfully built a solid rapport with the community. Partially by walking around with a smile on my face, greeting everyone who comes across my path, but mostly for the two lucky goals I scored in my first community soccer game, giving me a new nickname: Zane Dempsey. 
My site is a sleepy agricultural village, whose livelihood rests almost solely in coffee production. Nestled in the slopes of one of the highest peaks in Costa Rica, the mountainside surrounding the town is a beautiful mosaic of coffee farms and mountain jungle, while brooks babble throughout. The topography of the town makes directions easy, as everything either lies uphill or downhill. The only times I have found myself lost in my community is when I have tried to find more level, but nonexistent, routes to my destinations. Although initially I detested the hills, going up them that is, it has provided much of what I refer to as "inclined insight," ways in which my physical challenges here bear stark resemblance to the metaphysical ones I face day to day in my site.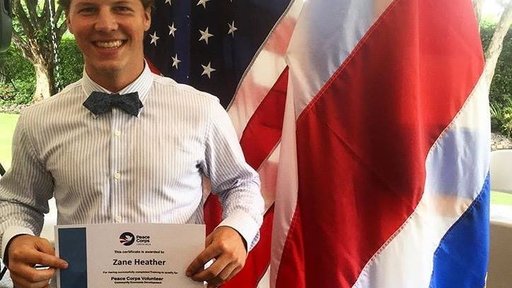 As a Community Economic Development Volunteer, I have no set schedule, which is a blessing and a curse, it allows me to choose my own path and work times, as well as undertake projects that are meaningful to me. That being said, my daily routine varies constantly. Some days are extremely hectic and exhausting, while other days I am left trying to figure out what exactly it is I am supposed to be doing. When my days are full I find myself engaged in an assortment of undertakings, concerning different areas and individuals of focus. A few of my current projects include working with the local women's group to help them generate household income, developing trash and recycling services for the community, working with the local tourism organization to better promote the town (Come visit!), and giving local courses on computer skills or English. These are just a few of the projects that pertain to my program specifically, but the mentality on which my service is based is to help my community any way I possibly can. Whether that is helping to run a soccer camp for local kids, or simply going and spending quality time with families around town. A seasoned Volunteer once pointed out to me that two of Peace Corps' three goals relate to the exchange between the United States and the host country culture. This technically makes taking a cafecito (coffee break) with fellow community members, work. So, I work a lot. When I am not engaged in Peace Corps related activities, or coffee drinking, I find myself exploring the bountiful nature that environs the town, developing new skills and healthy habits, getting embarrassed by local grade school students at soccer, or trading manual labor for access to a horse. With the occasional television series binge peppered in. 
As Volunteers, we are dropped off in site with a bag of tools and a vague north. Peace Corps offers varying degrees of assistance and resources to utilize, but the path is a personal one, no matter how bumpy it may be. Your fellow Volunteers may be working on projects with a similar focus as your own, but your impacts, your successes, and your failures are truly yours. Life as a volunteer is equal parts grass roots development on the international and personal levels, but purely to the extent to which you push it. The freedom you are gifted as a volunteer can be utilized to not only progress your community, but also yourself, and throughout my service, it has been my intention to do just that.
Kwabena Atta Sherrif Alexis: Up until my Peace Corps service I never acknowledged my "unsolitary" life-view. Almost everything I have done up until this point involved or actively avoided involving, another person; my identical twin brother, Zane. On the day that this essay was drafted, it had been exactly one year since I had last seen my brother, and this post is probably our most significant collaboration since our departures. That being said, I still find myself slipping into baseless 2nd person pronouns from time to time. Zane and I have always walked similar paths, subjected to none of the shocks in nature or nurture that make for interesting psychological twin studies. So it is no surprise that we now share similar worldly goals: to do our best to not only improve our little corner of the world, but someone else's too. 
In the far corner is I, Kwabena Atta Sherrif Alexis, representing a global influence in a small village in the middle of Ghana. Though Zane and I may share similar goals, our corners of the world and our personalities are giving our experiences very different shapes. For the most part, I can only comment on the shape of my own experience.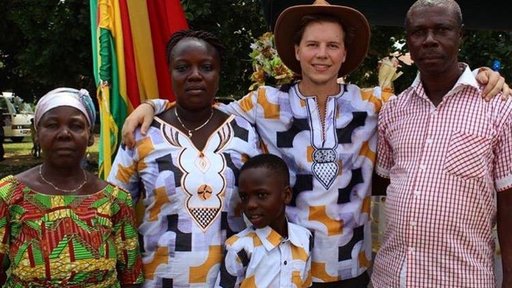 Most Ghanaians' first impression of me is that I am lost. Around Ghana I have the appearance of being chronically out of place. In terms of orientation I am rarely astray, it is hard to be lost when you stick to cardinal directions, but often I find myself professionally adrift.
Being a Peace Corps Agriculture Volunteer often entails finding your own path, and I often have trouble finding direction in my work. Instead of giving you supervision or purpose, Peace Corps gives the resources and skills you need to make a difference; it is up to you to decide what that difference is. You must couple the knowledge that Peace Corps gives you with your own grit and idealism to blaze your own trail. That trail can be truly enlightening; during the moments you find it. But in such a system one spends a lot of time beating around the bush, lost.
When I am on route I am actively engaged in development projects that affect my community, or Ghana, as a whole. Around the region I have helped implement programs incorporating government agents, international organizations, and the Peace Corps Ghana Cashew Initiative, a sub-working group of Peace Corps Ghana of which I am the president. The programs we focus on revolve around providing local farmers with access to information, improved technology, and developing the emerging cashew market in Ghana. Around my village my work engages me in farm mapping and consultation, infrastructure development (at the moment we are building a public toilet in the community), and income generating projects (such as the creation of agribusiness including mushroom propagation and beekeeping). All of these projects are spearheaded by me, but supported by community members. This means that projects are never undertaken on my time, many projects take weeks to establish because they must coincide with the local work and cultural schedules. It is during these times of delay that I find myself lost and astray.
In my mislaid moments I engage my new world in other ways. I undertake my own personal projects: a garden for local and foreign crops, musical and visual creation, physical and mental inculcation, my blog. These projects fill my solitary time, but I also spend a lot of time engaging in village life. I have established myself as an acceptable farmer by accompanying local villagers to farm. Some days I am just there to consult, other times I spend hours planting, harvesting, or weeding. Always, I make sure to bring my cutlass—the specialized machete that is the fundamental tool of the Ghanaian farmer. Around the village I join the local festivals and celebrations that accompany weddings and funerals; I am almost always the first to be called on to dance. I also spend a lot of time hanging out, shooting the Ghanaian breeze under voluminous mango trees or over a shared bowl of fufu and light soup.
As a cosmically displaced sojourner I am forced into an almost constant state of exploration. Part of this is purposeful, I will peruse the new sights and sounds of unfamiliar lands until the day I die or have seen them all. I know which one will come first, but that makes my hunt never-ending. Part of my exploration is investigation, many of the hitherto alien practices seemed perplexing at first, and their logic is only found through cultural immersion and examination. I imagine Zane is experiencing similar cycles of displacement, but I can never truly answer when people ask me what his service is like. How should I know? I have never been there, and his experience is shaped differently than mine.

This is the emergence of a new type of twin question, one whose answer I cannot even pretend to know. All I know about his experience is what he tells me over the phone. Still, even though we are displaced by thousands of miles, the same question emerges when new acquaintances find out I had a womb mate. A new question, but one whose category I have been answering since I first learned to speak. One of the most consistently asked twin questions, which is constant regardless of distance is:

How do I tell you and your brother apart? This question always seemed a little strange to me, since you are asking one of the two people in this world who cannot give you an objective answer. Regardless of which twin you ask, you almost definitely get the same answer: I'm the good-looking one.
In my opinion I do not think we look so similar that people need to rely on a specific tell to distinguish us. Because of this I can only think of one cosmetic difference that objectively distinguishes us: our scars. These are not only accumulations of aesthetic differences, but also dividing lines in decisive life events; often we were both involved in the moment of their creation, but from different perspectives. And we have no shortage of them. My most substantial scars are on my right wrist and my left knee, the product of a game of cops and robbers that lead me to a run in with a sliding-glass door. I was the robber. Zane's most evident is probably his facial scar, which was awarded to him after he broke a wipeout on a longboard with his face. That is just my opinion; since I was the one who convinced him he would not need a helmet. These are the differences I notice because I see the events that created them, and I know they are not just there by chance alone. I also tend to believe that they are more interesting and telling that the placements of certain moles.

Another question that I have gotten in Ghana but have yet to craft an answer to is: Why did you and your brother both decide to join the Peace Corps? Well, I can't speak for the both of us, but anyone who knows our family is not surprised that we both decided to follow this path. It has nothing to do with the choice of the other, or the phenomenon of being twins; in truth we were just born into a family of ramblers.

All my siblings and I were born on the island of Guam, the product of a 15-year honeymoon. We were actually the second generation of my family born on island: my uncle was born there during the perambulations of my grandparents and lives there to this day. Even moving stateside could not keep my family from spreading around the world. Dad was constantly working abroad in places like Sri Lanka, Indonesia, Iraq, and Afghanistan. Mom only helped spread our wings, not clip them. After graduation it was not so much of a question of what we would do, but where we would go. 

The answers to these questions partially describe my experience of being a twin, and the dialogue before them partially describes my experience of being a Peace Corps Volunteer. Together I hope it gives those who know me, and those who want to, a window into my life in Ghana.
The passing of a year apart has invited the opportunity for reflection. I mull over how we have grown as individuals in our own separate corners of the globe. I reflect on the similarities and differences apparent in our services, the challenges we face, and how our upbringing has conditioned us to confront them. All our lives we have revaluated against the traditional, attached-at-the-hip perception of twins. But despite our contest, being constantly surrounded by similar influences and the sharing of valuable life experiences has left us with many similarities. Many of which have just surfaced during this shared, but disconnected, experience. Life as a Peace Corps Volunteer is difficult. Simply put and to the point. Every Volunteer experiences challenges unique to their particular situation, and everyone copes with them differently. But, a seemingly universally shared Peace Corps toil is how one uses their time. Undefined schedules and fickle project partners often leave volunteers with ample time and freedom. This is where our shared ideology takes over. We have both seemingly subscribed to the fact that no time is free, classic economics majors, and have rigorously set about engaging our communities and ourselves in newfangled ways. Peace Corps has always been reveled as a different approach to development, but this goes much further than that to the international kind. This can pertain to personal, relational, physical, professional, spiritual, and psychological development, if you have the mentality to apply it as such. This has produced one of my proudest of our many "twin moments."
The realization that, across the globe, we are not only striving to impact our communities in a positive manner, but ourselves as well. At the end of the day your Peace Corps experience is what you make it. No one is helicoptering over your shoulder, no one is grading you on your work or experience, and no one is pushing you to get out of bed in the morning. This inspiration must come from within, and it takes many forms. From taking time out of your day to spend a personal moment with community members, to actively working in building positive, new habits. The Peace Corps experience is what you make it, and after a year apart I am happy to say that, in our own respective manners, we are making the most of it.