Reflections from my service in Zambia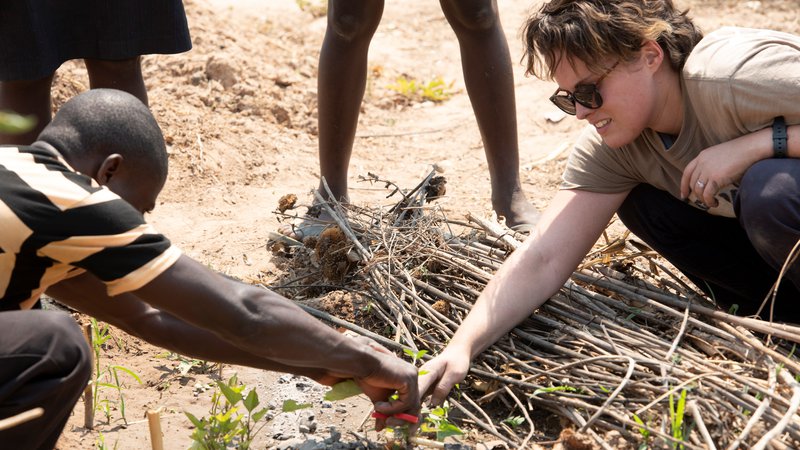 Feb. 20, 2020
We think big and, therefore, expect to make a big difference. My dad, a Returned Peace Corps Volunteer once said, "Keep your expectations small, you've done your job if you impact one person."
Serving Peace Corps Zambia has been one of the highlights of my life, but I did not always feel that way. I faced a lot of challenges during my service physically and emotionally as often, Volunteers feel as if they make little or no impact; we challenge culture, belief systems, and traditional ways of life and so inspiring behavioral change is often met with doubt and skepticism. Toward the end of service, many volunteers can be left feeling jaded and disappointed, especially in situations where no one shows up for your meetings. I was no different.
Many of us have a tendency to get caught up in the notion of grandiosity. We think big and, therefore, expect to make a big difference. My dad, a Returned Peace Corps Volunteer once said, "Keep your expectations small, you've done your job if you impact one person." It truly resonated with me and I told myself this over and over again. I wanted to believe my service would impact someone after the 27 months of my stay.
However, after battling with a chronic illness, I was forced to return home early. I was not only jaded, but also full of guilt for leaving my work and my host family behind. I considered myself to be a failure. Volunteers very rarely see the impact of their service abroad; we serve in some of the most rural areas of the world so letters and phone calls are often never an option to keep track of our progress.
I got lucky though; I only fully realized the impact of my service when I received an email from the US Embassy in Zambia, which was humbling. I now had reassurance that my service impacted not just one person, but rather an entire community. From day one at site, my community let me know they wanted to build a school. Kids in the area rarely went to school because they had to walk more than 15 miles a day to go to school. My village was determined to break the cycle of poverty as they knew education had the ability to do that.
The US Embassy in Zambia offers one award a year to a community in Zambia—the community I worked in won that award. I helped them accomplish this by building capacity, engaging local stakeholders, and serving as the liaison between cultures for two years. In that respect, all I did was assemble the pieces. In the end, my community put the pieces together; that is sustainable development. I did not give my community money, but rather, I gave them my time and the knowledge of how to empower themselves to accomplish what they needed.
Due to my unforeseen early departure, I never knew how the project turned out. I only knew that my community was awarded the funding, but that was it. I assumed that the school was never built. I was wrong. The email I received from the US Embassy also contained photos of a newly built school in my village. I was so overcome with emotion that I cried because they were now finally able to give their children something they never had; an education. I also cried because I realized I was not a failure.
The school was specifically constructed in order for the Zambian government to provide a full-time teacher. Although constructing a building to these standards in a very rural area would be difficult, this would fully embody sustainable development. Building a school is one thing, but then ensuring students can receive an education for the next 20 years is meaningful change.
There were a lot of stakeholders involved in the construction of this School. Most of those I've already mentioned, but one that was also very instrumental was the American tax paying citizen. You contributed to this; that is the power of international aid. It does not just feed people, it teaches people how to feed themselves and how to provide for their family. Thank you for your help and contribution to empowering a community in Zambia.
To every Volunteer reading this, never give up and remember your impact is not something that can ever be quantified. Your impact is valid and you are not a failure.
If you're reading this, hoping to become a Peace Corps Volunteer, what's stopping you and your ability to change the world?