First Peace Corps Volunteers in Viet Nam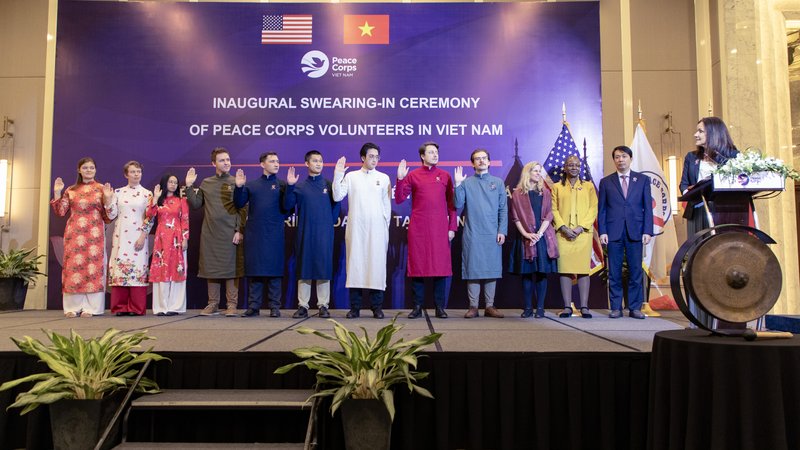 Aug. 17, 2023
In a historic first, on October 27, 2022, Peace Corps in Viet Nam welcomed its inaugural cohort of Volunteers to Viet Nam.
The focus of the Peace Corps program in Vietnam is English education, as outlined in an Implementing Agreement signed in 2020 between the U.S. and Vietnamese governments with Peace Corps and the Ministry of Education and Training (MOET) as Implementing Entities.
On December 30, 2023, Peace Corps Director Carol Spahn swore-in 09 Peace Corps Volunteers to serve in Viet Nam during a ceremony in Ha Noi. Government of Viet Nam representatives including Mr. Pham Quang Hung, Director General of the International Cooperation Department, MOET; U.S. Government representatives, including Melissa A. Bishop Chargé d'Affaires of U.S. Embassy Hanoi; and administrators and teachers from the schools where the volunteers will co-teach participated in the historic ceremony.
"As the 143rd partner country of the Peace Corps, Việt Nam is a welcome addition to our global community, and I look forward to seeing how volunteers and teachers work together to inspire the next generation." said Peace Corps Director Carol Spahn.
Fully aligned with MOET's national priorities for English Language Education, these Peace Corps Volunteers serve in secondary schools throughout the districts of Hanoi beginning in January 2023, after 10 weeks of comprehensive training to build the cultural understanding and skills necessary to work effectively in Vietnam's educational system. They are assigned to co-teach English classes alongside Vietnamese English teachers.
"We are so grateful to be a part of this moment and to celebrate these efforts. We are excited this moment has finally come. We recognize that co-teaching English in Viet Nam is a great responsibility, and that we have a lot to learn from our Principals, Co-teachers, and students. The next two years will be filled with learning, friendship, and growth. We cannot wait to get started.", said Caya, Peace Corps Volunteer in Viet Nam.
Prior to leaving the United States, the Volunteers met together on October 25, 2022, in Washington, D.C., where they heard remarks and words of encouragement from Ambassador Nguyễn Quốc Dũng, Ambassador Extraordinary and Plenipotentiary of the Socialist Republic of Vietnam to the United States of America.
The arrival of this first group of Volunteers marks a significant milestone in the U.S. - Vietnam relationship, building on decades of growing people-to-people ties and close partnership to promote English language learning.