Viet Nam
Director's Welcome
Lời chào hỏi:
Greetings from Peace Corps Viet Nam! As you review our site, I hope we'll pique your interest in the unique service opportunities of this great country. We welcome your application!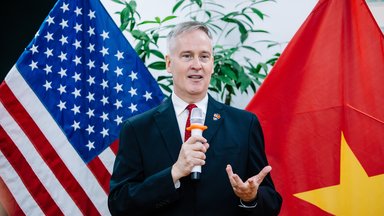 Over nearly two decades, national leaders from Viet Nam and the United States dedicated themselves to making the vision of the Peace Corps program here a reality. On December 30, 2022, the first Volunteers were sworn into their service and began teaching at schools in the Ha Noi municipality.
The mission of Peace Corps, which is nothing less than world peace and friendship, is deemed by both nations to be essential. Peace Corps Viet Nam is a collaboration of Viet Nam and the United States, characterized by commitment to mutual understanding and respect. Volunteers serve at the invitation of the Vietnamese government and on priorities identified by its Ministry of Education and Training. These priorities first and foremost involve providing the benefit of native English speakers to high school students in partnership with Vietnamese English language teachers.
In 2024, our second cohort of Volunteers will begin service in Ho Chi Minh City municipality. This geographic expansion of the program aligns with the international agreement enacted by the two countries and heralds continued good will as Peace Corps builds relationships and trust with our partners.
As a Volunteer, you will be positioned to make a real contribution in the lives of students, of your co-teaching educators, and to the relationship tarnished by the history of conflict between our countries. You will be impacted by your service in this rich and vibrant culture. No matter the life experiences you bring, you will enhance your perspective and understanding. One of the hallmarks of Peace Corps is the exchange of beneficial effects service has for Volunteers and for their community partners.
As messaged through the Peace Corps oath of service, you will be asked to approach your Peace Corps experience with:
An open heart and mind;
Patience, humility and determination;
Creativity, cultural sensitivity and respect; and,
A willingness to embrace the mission of world peace and friendship.
I have served as a Country Director at four different Peace Corps posts, including Viet Nam. Each experience has been unique and yet the challenges, the personal growth, the sense of contribution, and the humbling embrace I have felt from my host country colleagues have been echoed in almost every conversation I have had with the hundreds of Volunteers I have spoken with as they closed their Peace Corps service. Peace Corps Volunteers are called to serve boldly and with a keen sensitivity to the communities in which they live. Our team hopes you will choose to answer this call in Peace Corps Viet Nam.
Hẹn sớm gặp lại,
Mikel Herrington and the Peace Corps Viet Nam Team