Viet Nam
Lời chào hỏi:
We are delighted you are considering serving with Peace Corps!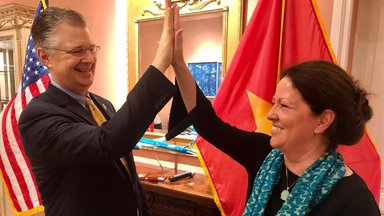 If you are reading this letter, it is important that you know that the founding of Peace Corps Viet Nam follows nearly two decades of hard work of hundreds of passionate and committed individuals from both Viet Nam and the United States. The Government of Viet Nam and Peace Corps are proud and hopeful as we establish Peace Corps for the first time in Viet Nam.
We thank you for considering serving alongside the people of Viet Nam as part of the inaugural group of Peace Corps Volunteers to serve in this country. We are certain that if you choose to do so, it is likely to be one of the most important and transformative decisions in your life. You would be joining a legacy of service that is devoted to world peace and friendship and you would be creating our legacy of service in this incredible country.
As messaged through the Peace Corps oath of service, you would be asked to approach your Peace Corps experience with:
An open heart and mind;
Patience, humility and determination;
Creativity, cultural sensitivity and respect; and,
A willingness to embrace the mission of world peace and friendship.
If you bring these qualities and if you authentically work to build trust, share skills to solve challenges, while integrating into your community—you will set yourself up to be successful. Integration into your community will be that much deeper as you will be living with a host family, working alongside dedicated teachers, endeavoring to speak Vietnamese, and becoming a friend, neighbor, and integral member of your community. Together, all of these things will position you to be standing on the foundation of a Peace Corps experience that I am certain will be an inflection point in your life. If you choose to join Peace Corps, you will find that Peace Corps is likely to be the toughest job you will ever love.
By invitation of the Government of Viet Nam, Peace Corps is establishing an English language program that will serve secondary schools in communities throughout the municipalities of Ha Noi and Ho Chi Minh City. Co-teaching English provides a sustainable impact for both the students and the teachers with whom you will work. Our work in Viet Nam aligns directly with the Government of Viet Nam's priority of English language learning for youth and the emerging workforce. While your project assignment will be teaching English, your primary role throughout your two years of service is to be a Peace Corps Volunteer.
Your impact as a Peace Corps Volunteer is almost guaranteed, but it does not happen without hard work and intentionality. As a former Peace Corps Volunteer myself, I will tell you that being a Peace Corps Volunteer is hard. It is incredibly hard. And it is equally rewarding. Peace Corps is a job with real expectations and it is more than a job, you are "on" 24/7. Your service to your community goes well beyond any typical work day and far beyond the classroom.
The vision of Peace Corps is to promote world peace and friendship. The goals are about the transfer of skills and sharing the culture of both countries. Transfer of skills is an important notion and the hardest lift of all will not be what you could do for your community, but what you could do side by side with your community. This is where the sustainable and meaningful change will lie and this is where you are able to create a lasting legacy from your service. The greatest impact you could have won't come from insisting on doing things on your terms, it won't come from approaching your community from the viewpoint that the way we do things in the U.S. is the best way. The greatest impact will be when you open your heart and open your mind and when you connect deeply with people in your community and you each look past, but always appreciate, the differences you bring and you learn from each other.
I wish you luck as you consider Peace Corps service and Peace Corps service in Viet Nam.
Hẹn sớm gặp lại,
Kate Becker and the Peace Corps Viet Nam Team