Zoom in: My 4 months in the Peace Corps Virtual Service Pilot
In the depths of the pandemic, I received an email asking for eager participants to take part in the Virtual Service Pilot.
One night, I dreamed I had arrived in Romania for a Peace Corps Response assignment. My cohort seemed friendly enough and the locale had familiar notes of Eastern European flavor that took me back to my two-year service in Georgia. The setting of my dream seemed appropriately Romanian, although I don't know, since I've never been there. Unfortunately, in my dream, my service was destined to be short-lived. In the way that dreams sometimes turn to nightmares, my dream-self was so dazzled by the opportunity to serve again that, before departing, I neglected to request time off from my full-time job in the U.S.
I'm not sure how this happened. From my time as a Peace Corps recruiter, I don't recall the swiftness of the application process being a common complaint. Then again, the process was overhauled a few years ago, so maybe things have changed. Then again, dreams are weird.
Lucky for me, my real life had a real solution for my desire to serve again, and I didn't have to shirk my day job to do it. In the depths of the pandemic, I received an email asking for eager participants to take part in the Peace Corps Virtual Service Pilot. Among the countries participating in this new service model was Georgia, which had structured an assortment of projects with local government agencies and nonprofits, each with a local project lead. They wanted participants who could commit to 5 to 15 hours per week.
Besides me and my dog, my apartment was empty. But after reading the email, I said aloud, "What with everything being closed and canceled, I can definitely make that work."
"Definitely," my dog responded, (troublingly). I accepted the opportunity, and soon began my virtual service.
I spent four months supporting my counterpart, Tiko Meskhi, as she worked to adapt her nonprofit operations to pandemic-era circumstances. She led her nonprofit, Helping Hand, for over a decade in an effort to establish a culture of volunteerism among Georgian youth. Not only did the pandemic vaporize the in-person volunteering model that had prevailed, but it also expanded the need for local aid groups and nonprofits whose missions those volunteers supported before the pandemic.
Our assignment was to determine the state of virtual volunteer service in Georgia, identify what tools and training were needed to enable more virtual volunteerism, and host a virtual conference for volunteers and organizations alike to learn more about how to remotely channel volunteer enthusiasm and energy to where it could help most.
Spoiler alert: we did that. Or should I say, Tiko did that. Among the many ways that the Virtual Service Pilot was different from two-year service – the one I liked best – was that the distance and part-time nature of my participation meant that the skills-transfer aspect of the First Goal a was not just a worthy aim, it was a necessary one. There was no way I could lead this work from 7,000 miles away, no matter how many times a week I woke up early to catch Tiko online at the end of her workday. I helped Tiko lay out a plan, and she ran the show.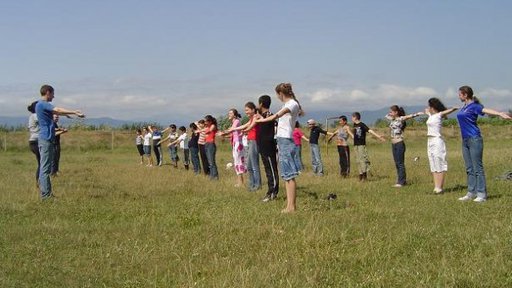 It helped that I had skills to share this time, which was the second-biggest noticeable difference. The first time I served in the Peace Corps, I left for Georgia a month after graduating college, ready to pour my little generalist heart into my community. Better essayists than me have done justice to that dynamic – the transition from learning to doing; the dissection of who you are into universal human truths and cultural programming; the realization that no matter how many of your eighth graders improved their conversational English, Peace Corps service was going to have a bigger impact on you than you would have on your community. A universal Peace Corps truth is accepting this imbalance as the price you pay for an experience that changes the way you look at everything.
And now, years later, I was in a different position. The virtual project description had experiential requirements, and while I never expected to list my management consulting and corporate strategy work on a Peace Corps application, here we are.
I was able to share technical expertise, which helped Tiko build out a research plan and survey design, which helped in evaluating the results and translating those into a conference agenda that gave would-be virtual volunteers and hosts the information they needed to build their own programs.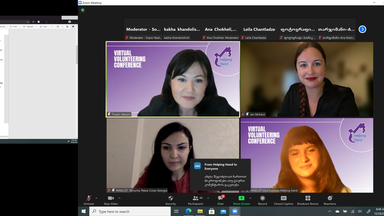 At the risk of being featured in a future Buzzfeed listicle of myopic quotes, I will say it's unlikely that virtual service will ever be a replacement for the in-person Peace Corps experience. However, it does open the doors for new ways to serve and kept the taps running for the Peace Corps mission during the pandemic. It also welcomes a whole new population of potential volunteers to do their part, even if a short-term life overseas isn't in the cards.
Sitting in my empty apartment during another COVID-19 surge, I'm especially grateful to have had the opportunity to participate in this pilot. I'm heartened that Peace Corps is testing the waters with innovation like this. I'm thankful for the support Peace Corps Georgia provided through our project advisor and esteemed Virtual Volunteering Conference breakout speaker, Tamunia Chincharauli.
Above all, I'm looking forward to seeing what Helping Hand does going forward to build virtual volunteer opportunities in Georgia. Thanks for letting me ride your coattails for a few months, Tiko.