'You have to go': The first post-9/11 Peace Corps Volunteers reflect on the decision to serve after attacks
Imagine this: You've quit your job, said goodbye to friends and family, made peace with the nervous anticipation of knowing that, in about 24 hours, you'll fly away from home for a quick staging in Philadelphia, and then board a plane bound for the West African country of Benin. You're sad to leave family and friends, and you're excited, too, because for you, the Peace Corps is a dream, and this dream is about to become reality. It's September 11, 2001.
Chioma Oruh recalls that day. "I remember my friends threw me a surprise going away party on September 10 at my best friend's apartment in downtown D.C. We were up late that night, so we slept in – waking up to many missed calls from our families."
Chioma was in downtown Washington at the time and her family was concerned. They urged her to head for a relative's house on the edge of the city, away from the potential of more attacks.
"It wasn't till I got there that it hit me that I may never have the opportunity to be a Peace Corps Volunteer, and my heart just sank," she said.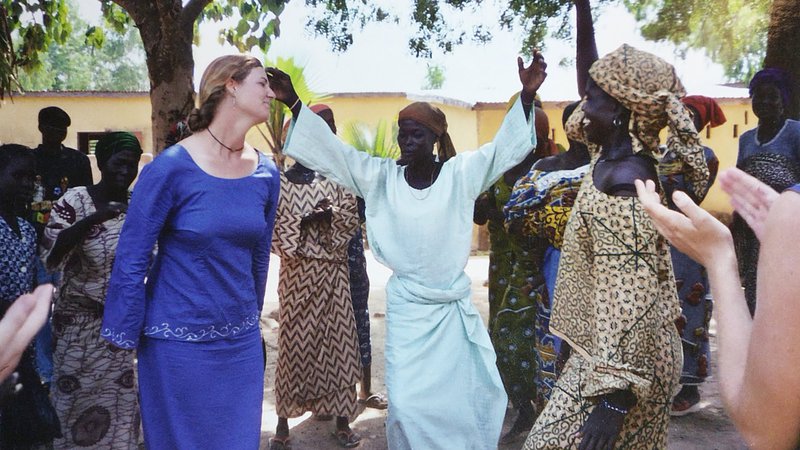 'Of course I'll go'
Kathy Wachala was at her parents' house in Chicago packing up her Peace Corps bag, when her friend called. "I don't know if you're going anywhere," the friend said. "Turn on the news." Kathy and her mother flipped on the TV in the bedroom just as the second plane hit. As they watched the twin towers burn, Kathy remembers her mother saying, "It's now, more than ever, that you have to go."
"Of course I'll go" was Kathy's only thought at the time, but 20 years later she's still struck by the power, and the generosity, of her mother's words. There was still the question of whether or not the Peace Corps would let the group go, though.
"I remember getting a call that afternoon from the Peace Corps, explaining that they were delaying our trip, and that—unless something else changed—it was now set for October 12, exactly one month after our original date," she said. "I just kept my bag packed."
Sara Letton wanted to join the Peace Corps since middle school. Even after 9/11, she never considered staying home. She said the attacks strengthened her resolve because she wanted to be a cultural ambassador. She points out that by mid-September, anti-Muslim sentiment across the United States had exploded. Rather than being afraid, Sara says she "looked forward to going to a Muslim community and getting to know them, living with them … and I wanted to come home and share that experience and educate my fellow Americans."
Peter Eliassen was in Colorado on 9/11. He already quit his job and assumed, after the attacks, that the Peace Corps was no longer a possibility for him. However, when the agency told him they were not canceling deployments, but that he'd be delayed for a month, he mentally recalibrated his departure date and then burrowed into studying for the GMAT exam.
"I never considered not going," he said. "If anything, the events of 9/11 further reinforced my desire to get out and do what the Peace Corps excels at: creating global connections."
If there is one sentiment that weaves itself throughout the memories of these members of PSL-12, the first Peace Corps group to deploy after 9/11, it's that the resolve to go across the world to fulfill the Peace Corps' mission to promote world peace and friendship never wavered. Like Kathy Wachala's mother, Carrie Cunningham's father saw a renewed importance in his daughter's Peace Corps dreams. She clearly remembers him saying, "Carrie, if ever there was a time to build goodwill toward Americans, it is now – you should absolutely go."
'A searing recollection'
It's this same sentiment that bonded the group of Community Economic Development, Health, and Environmental Volunteers that make up PSL-12. Francie Von Ostenbridge remembers that the group met for staging in Philadelphia, but were bussed to New York for their transatlantic flight out of JFK Airport. "We were all talking and getting to know each other when we saw the New York skyline and we all sort of went quiet."
Matt Kopac remembers that, too.
"As excited as we all were, I have a searing recollection of our bus ride from downtown Philly to JFK Airport with the smoldering ruins of the twin towers in the distance, and I recall making our way through the airport past heavily armed military guards. It was a heady experience and not the way I had ever imagined departing. I felt that the context gave a weight of added importance to what we were about to do."
Building bonds in Benin
Interestingly, no member of the training group elected not to go to Benin because of the 9/11 attacks. Jeanne Choi Park thinks the group bonded deeply over their shared place in that moment in history. As America began preparing for war, and anti-Muslim rhetoric ratcheted up, PSL-12 headed off into the unknown to show a very different face of America to the world. Their courage in the face of a terrifying historical moment is even more powerful due to the poignant coincidence that Benin is nearly a quarter Muslim.
For Julia Robinson, the religious views of her community in Benin impacted her experience in a wonderful way.
"Like many Volunteers stationed in the north, my village was almost entirely Muslim, a religion I am embarrassed to say I didn't know much about before my service," she said.
"[Islam] was woven in to every aspect of life [in the village], from waking up to the call for prayer, to the birth and marriage and death ceremonies, to the annual [Ramadan] fasting I took part in with my neighbors. I would catch flashes of news from the U.S. via BBC radio, so I knew about the xenophobia rising in the States and it broke my heart. I knew that even though these friendships and connections I was building in Benin were so tiny on the scale of worldwide racism and war, I would carry and share this beautiful culture with me for the rest of my life."
Kathy Wachala remembers an impactful conversation. "A few months in, I remember having a very serious conversation with one of my friend's host fathers, who was Muslim, and spoke to me of Islam, and how the actions taken on 9/11 were not of the Islamic faith. I remember appreciating him taking the time to talk to me; he made me realize how much we did rely on our host and local counterparts, and I was grateful at how much care he took in working with us. He was one of the kindest men I'd ever met in Benin, and in general, and I respected him a great deal."
'In good hands'
For Peter Eliassen, being American after 9/11 and during the beginnings of the war in Afghanistan, meant being asked the same kinds of questions over and over again in Benin. As he tells it, "Once people learned that I was an American, this almost always became the topic of conversation: 'So, George Bush American, do you believe war is the answer?' At first I was 'l'Americain,' and then once I had spent time working and getting to know people in the community, I became 'Pierre,' and an individual—not a representation of my government."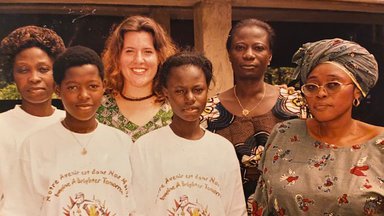 After moving into her permanent community, Sara Letton quickly realized that any fears her friends and family back in the States might still be holding on to were unfounded.
"When I got there, I realized that I was probably in the safest place in the whole world. Everyone in the village, and for miles and miles, knew who I was," she said. "No one would have done me harm. I quickly knew I was in good hands with the Beninese people and I wrote home to express that to my family."
The Peace Corps, of course, is nothing without people. The people who choose to serve abroad and the people in the communities who take Volunteers in, care for them, and teach them new ways of doing almost everything.
PSL-12's special place in history
The Volunteers of PSL-12, Benin, will always have a special place in Peace Corps history as the first group to leave for service after 9/11. As they look back and remember the confusion and questions that clouded their departure, it seems that all are very clear on one thing: they wanted to create bridges, not boundaries.
Matt Kopac sums it up.
"Despite 9/11 and its ripple effects in my host community, I was welcomed and treated with incredible kindness. I made lifelong friends with whom I am still in touch today. And, in one of my proudest experiences, I was invited to be the best man in the wedding of my dear friends Sani and Taira, two devout Muslims."
Matt, like all the members of PSL-12, created one-on-one bonds that flew in the face of the global tenor of the time. "I had the opportunity to show the tolerance and respect that most Americans hold for people of all belief systems. In a community that received mixed messages about who was a friend and who was a foe, I tried my best to build bridges and represent our highest ideals," he said. That's the Peace Corps way.