When home sparks memories of Afghanistan
I'm writing from Santa Fe, New Mexico, where I've lived since 1985. As I settled here, the mountains and empty stretches of Afghanistan flashed through my mind's eye. There are enough similarities that I couldn't help but remember my time as a Peace Corps Volunteer in Kabul. In New Mexico, I see the same dome of sky with stunning sunsets above great sweeps of arid, burnt sienna land. It reminds me so much of Afghanistan — from the bright, clear, high-altitude sunlight to the vast, open, high-desert mountains. But this is not where the story begins.
In 1962, my younger brother, Adrian, and I went to Philadelphia to see "Lawrence of Arabia," a wonderful film with music and drama that displayed the marvels of the Near East. We were enthralled. Seeing that world on screen sparked an interest that eventually led both of us to Afghanistan.
Nearly 10 years later, in 1970, I applied to the Peace Corps. I inquired about Morocco or Algeria, and was told that I didn't qualify for service in either of these countries because I didn't speak French. The coordinator I was working with then suggested Afghanistan. I responded, "Where is it?" When I learned that it was part of the Near East of my daydreams, I happily went forward with this option. My first step in the process was a trip to Chicago to interview for a posting in Afghanistan.
In the summer of 1971, I was in a cohort of Peace Corps Volunteers assigned to Afghanistan. We departed from Philadelphia in the late afternoon with layovers in Amsterdam and Istanbul. We landed in Kabul 17 to 20 hours later.
We were greeted by host-country staff and assigned to houses throughout the fourth quarter of Kabul, known as Kart-é-Char. I was bunking with three other male Peace Corps Trainees. Exhausted after our grueling travels, we all fell into our beds and slept. I woke early the next morning and slipped out of the house to wander the neighborhood.
I poked into a naan shop, perhaps too presumptively, and was politely acknowledged by the busy bakers. None of them made any show of wonder at me, an intrusive foreigner. This was the first of countless instances where Afghans graciously accepted me. Later, I learned that this acceptance and polite greeting was part of a graceful formality woven into Muslim culture. In the words of the Prophet Muhammad, "Whoever believes in Allah and the Last Day should be hospitable with his or her guests."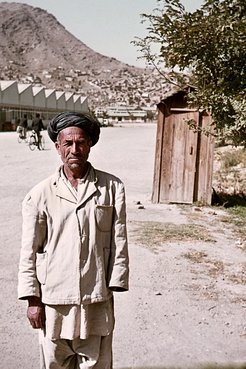 Soon after arrival for in-country training, a group of us Volunteers went to a theatre to see a recently released film, "The Horsemen," starring Omar Sharif. A flyover shot of Kabul stunned me. Even though I looked down on Kabul from my window seat in the plane as we landed, it was only in the theatre, on the wide screen, that I saw I was living in a city made of adobe bricks set on a vast stretch of dun-colored desert sand.
After training, but before going to our permanent Volunteer assignments, we were allowed to travel for a week around the country. We were instructed to immerse ourselves in Afghan culture. I traveled west with another Volunteer to Herat, near the border with Iran.
One evening while there, I took a walk and came upon a shop. Although the shop doors were closed, an extraordinary blue light poured through the windows. I approached the shop door and was admitted cordially. Inside, a group of about eight Afghan musicians were sitting and playing their instruments. They were surrounded by blue glass cups, dishes, and bowls that Herat glassmakers are famous for. The light from kerosene lamps ignited the air with a lapis lazuli glow. I was welcomed in and offered tea. As I sat and listened to the music and drank my tea in that magical blue light, I felt as though I were dreaming.
In Kabul, my life settled into a routine. While other Volunteers were given posts around the country, I was one of those assigned to teach English as a foreign language in the department of engineering at Kabul University. This department was sponsored by the United States Agency for International Development (I do believe). I heard that France and Russia had set up sponsorship of other departments, though I don't recall which in particular.
After the workday, I socialized with neighboring Volunteers. At home, a Hazara man named Hadim was my house manager during the day. He had a professional manner and took care of grocery shopping, cooking, and kept the house in order. I remember he invited me for tea with his family who lived in the neighborhood. We sat in a room that served as both living room and bedroom — the mattresses piled up against the wall during the day. Three generations shared the house: Hadim's children, wife, and father. Hadim was a cordial host and very affectionate with his children.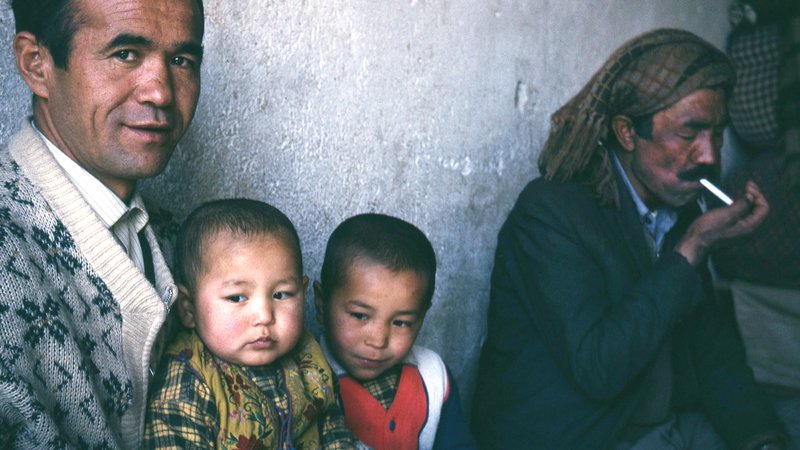 When travels become a book
Throughout my time in Afghanistan, my brother, Adrian, and I corresponded. At some point, he decided to take a break from anthropology studies at the University of Delaware. He wanted to visit me and made arrangements to come during the summer. When he arrived, we embarked on a grand tour of the country. Adrian had an interest in photography that later turned into his profession. During our trip, he took many photos.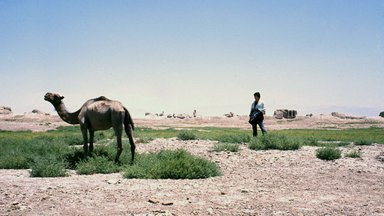 In 2021, Adrian took the slides, now 50 years old, and produced a 93-page book of photographs that illustrated our travels. The book, "Afghanistan Photographs 1971-1972" is a first-rate work of ethnography, which preserves historic wonders like the Bamiyan Buddhas, sixth century statues carved into the side of a cliff and destroyed by the Taliban in 2001.
There was relative political calm while Adrian and I were in Afghanistan, and we could never have imagined what was coming for the Afghan people. Within a year of our arrival back in the U.S., on July 17, 1973, there was a bloodless coup in Afghanistan. The coup resulted in the deposition of ruler Zahir Shah after 40 years on his throne. The following years in Afghanistan were anything but bloodless. An era of violence descended. As of this writing, and after more than 40 years of unrest, a 2019 Gallup poll of Afghans reported that 85 percent of respondents said they were "suffering." No respondents said they were "thriving."
More than a decade later, as I settled into Santa Fe, I began to notice features here and there that were reminiscent of my days in Afghanistan. Despite the thousands of miles and many differences between the two lands, these features stood out to me.
In the Kabul of the early 1970s, the one I remember, street-side drainage ditches crisscrossed the city. Here in the old town of Santa Fe, the city is crisscrossed with these same style of ditches. The technique and the look is the same, and one that I've not come across other places in my travels. There are other similarities.
Both Kabul and Santa Fe have adobe buildings in walled compounds; both cities have artisans that create and sell clay pottery, whose forms echo one other. Here, as in Kabul, roadside memorials are erected to honor those lost to road accidents. In New Mexico, the tributes are in in the form of crosses decorated with plastic flowers and displaying the name of the deceased. The ones in Afghanistan are made from piles of rock that hold long poles with cloth banners atop.
When the film "Lawrence of Arabia," inspired my desire to see the Near East, I never could have guessed that I'd later make a home in Kabul, Afghanistan. And, after leaving Kabul, I wouldn't have known I'd find a home in the U.S. so reminiscent of that city. Santa Fe has proven to be a wonderful reawakening of the greatest adventure of my life – my time in Afghanistan with the Peace Corps.