A tomato today can be a dollar tomorrow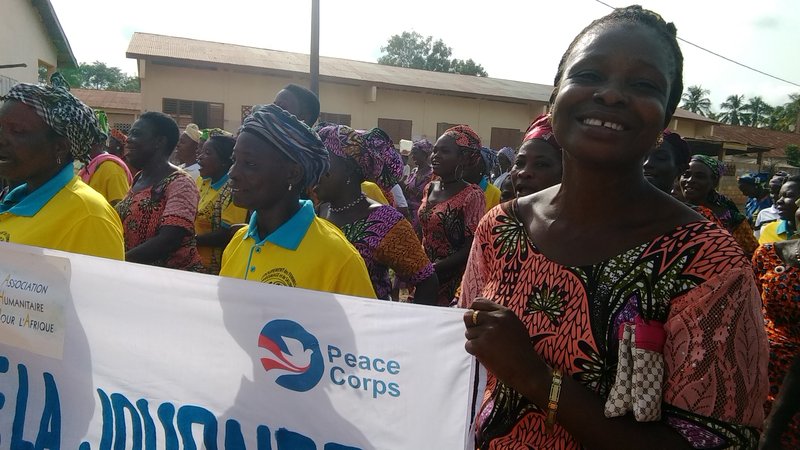 April 24, 2019
When I first applied to Peace Corps, I was intrigued by both agriculture and community economic development positions.
While most programs focus on one or the other, I found that the Sustainable Agriculture Systems program in Benin, West Africa hybridized the two. As a result, Volunteers work on the whole food security picture of both production and consumption. Nothing highlights this better than my recent work at my site.
I'll start with the corn harvest. Farmers sow corn in the spring and harvest in the fall. Nearly every household has its small 1- or 2-hectare field somewhere within walking distance of their home. Each family judges how much of the harvest they want for their own consumption throughout the year, selling the rest at the local market. To help our neighbors, my counterpart and I have sponsored a series of public screenings of corn extension videos made by an institutional partner, Access Agriculture. These videos explain feasible and sustainable techniques for better corn harvesting, drying, processing, and storing, all in the local Fon language. Farmers can apply these techniques to increase yields, improve soil quality, and reduce post-harvest losses.
We've also taken food security a step further through food processing. My counterpart and I took advantage of the local tomato season by teaching a women's group how to can tomatoes. Tomatoes are grown almost as much as corn, but they have rarely been conserved in my area. As a result, the tomato season comes every fall, the price plummets, and the deluge of tomatoes often leads to rot and waste. Our simple, homemade technique uses recycled bottles and lids to preserve tomatoes for more than a year. Canning allows these women to buy low during the tomato season and sell high come spring. Alternatively, they can eat the tomatoes themselves!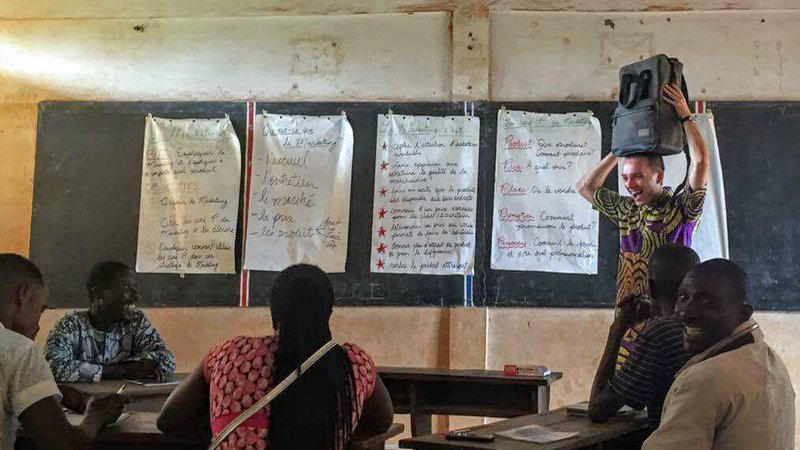 These women, however, save more than tomatoes. They recently started their own Village Savings and Loan Association (VSLA) to mobilize their financial savings. Most of the global poor are marginalized from conventional credit markets and thus lack access to tools like savings accounts, credit, and business loans. Our VSLA model brings people together to save $0.50-$1 weekly, borrow monthly, and reimburse quarterly, all within the confines of the group's membership. The result is an organization run by and for its members with the goal of turning small savings into big gains. Not only will loans jump-start businesses, but all the interest paid on them will return to the pockets of the members. With enough loans, they may receive 150 percent or more of what they put in after a year. VSLAs help manage the stressful balancing act of feeding families when income per day may vary from $2 one day, to $4 the next, and then nothing the third day. Such volatility can otherwise be a major form of uncertainty that risks food insecurity, illness, and sense of self-worth.
Consider corn production, tomato conservation, and VSLAs. People stock up and support packed portfolios of economic and financial assets and obligations, all to make ends meet and improve upon yesterday. Balancing risk, uncertainty, resources, and time, people farm, fish, teach, can, save, and borrow in an intricate web of activity. Being poor is anything but easy and clear-cut, and it certainly is no product of laziness and inattentiveness. Instead, creativity and solidarity thrive where one's work brokers more than just daily bread, but also the resiliency and future of communities. With the support of Peace Corps Benin's holistic Sustainable Agriculture Systems program, communities are taking steps toward more stable, food secure futures one corncob, tomato jar, and dollar at a time.
This project contributes to Feed the Future, the U.S. government's global hunger and food security initiative. Peace Corps Volunteers around the world support Feed the Future by improving nutrition outcomes for mothers and children, addressing resiliency to climate-related shocks, and reducing poverty. Click here to learn more about Feed the Future.