"Today a reader, tomorrow a leader"
"Today a reader, tomorrow a leader."
One of New Amsterdam Special Needs School's long-term goals is for deaf students to learn how to read and write so they can become community leaders for the deaf community in New Amsterdam and throughout Guyana. There are 45 students at the school and 11 are deaf students ages six to 18 years old. Nine of the deaf students couldn't even read a sentence in the book and understand what's happening in the story, who's who or what they were doing. They know how to sign but do not know the word for the sign or how to read the word in print.
Headmistress Zoya Crandon and I have created several project objectives to change this, and one is to have all deaf students be able to read a book completely, beginning to end, regardless of their reading level. The only way to make this happen is to have students realize the potential they have and that, like everyone else, they have stories to tell. It is time to turn over the new page.
I worked one on one with students, which helped me assess their reading levels and learning styles and helped them develop literacy techniques and improve their writing.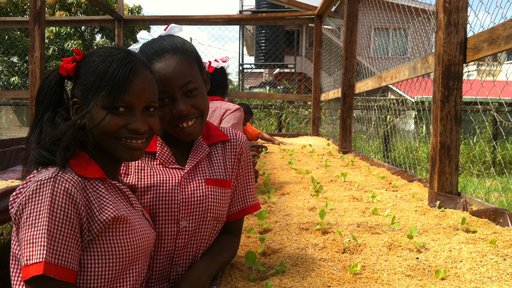 Let's begin with Errol and Andrea. They are 13 years old and couldn't even read a sentence in a book for first graders. Errol just learned how to memorize the alphabet and practiced writing the letters down every day with pride. Andrea finally could spell the alphabet to the letter 'L' from her memory.
Together we read "Where Are Daisy's Friends?" I let them read the title first; they stared at me and shrugged until I signed it to them. They didn't know the signs 'where' and 'friends' had words and could be written down on the paper. For every page, I had them sign one sentence at a time, asked them what was happening in the story and helped them explore where Daisy and her friends could be hiding. We finished the story together and I gave them the worksheet full of questions that they have to read on their own and write down answers. Errol and Andrea stared down at the paper… until I signed the questions to them and they answered back in sign language, but couldn't write the answers down. Just as we worked on the first question, the school bell rang. Little did they know that their potential had been hidden and it was time to open it up like a book.
As school wrapped up for the day, everyone began to leave. Andrea had already left on a bus but Errol waited outside for me. As soon as he saw me coming out of school, he ran up with a wide smile on his face and signed, "Can we read again soon?" This came from a student who couldn't even read or write down the answers earlier in the day… To me, this is a victory.
Errol realized he could learn how to read and how to fuel his enthusiasm to read more books that can open up more possibilities for him to explore and discover what awaits him. To be eager about something is empowering in passion and this is the key to success because how can one succeed if they can't empower themselves to make it happen?
This is a step closer to achieving one of our goals: for students to read a book on their own and discover what can empower them to become better leaders for tomorrow. Like all stories, this is just the beginning…