Three Peace Corps members share how inspiration from JFK led to public service abroad
As Peace Corps commemorated its 60th anniversary, a virtual panel discussion was held on March 3 with returned Volunteers who were personally impacted by President John F. Kennedy, who established the agency in 1961.
Three distinctive individuals — former San Antonio Mayor Phil Hardberger, AmeriCorps member Karen Jean Hunt, and retired college professor Dr. Douglas Lee Hall — shared their stories of being inspired by President Kennedy to answer the call to service abroad. The event took place in collaboration with Texas A&M University-San Antonio, the World Affairs Council of San Antonio, and Rotary International. More than 150 participants attended the virtual event to listen to the panelists share their experiences.
Mayor Phil Hardberger heard one of President Kennedy's campaign speeches, and the idea of volunteering alongside local residents struck home. He applied for employment with the Peace Corps immediately after President Kennedy's inauguration, as the agency was still gearing up, and was hired one year later. Starting off his Peace Corps career in public relations, Hardberger had daily contact with Sargent Shriver, the first director of the Peace Corps. He was the director's surrogate for multiple White House and congressional meetings, and traveled around the world to oversee the agency's operations. Hardberger ended his five-year tenure with the agency as its executive secretary.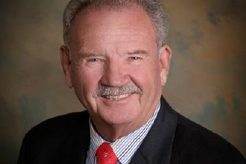 "Shriver was a great salesman for the Peace Corps, and I learned how to speak as he did, and totally became involved in the Peace Corps," Hardberger said. "I went on various trips. I was in the Dominican Republic and India, which was our largest project; I traveled six weeks while there. You stayed and ate with the Volunteers when you went abroad, and I saw many of our programs in action. I love the Peace Corps, and it changed my life."
President Kennedy's historic words, "Ask not what your country can do for you – ask what you can do for your country," inspired Karen Jean Hunt to lead a life of public service. She was in grade school when Kennedy was assassinated, and class was immediately dismissed. She heard about the news on the radio, and the coverage included his historic speech at the University of Michigan, where he asked how many of the assembled students would serve their country by living and working overseas.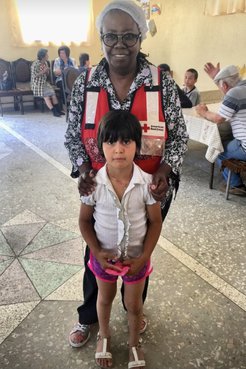 "At 7 years old, I made a promise to myself," Hunt said. "I would figure out a way to serve my country, go to the University of Michigan, and then become a Peace Corps Volunteer. I wanted to serve my country, and it's my honor and privilege to do so."
She enlisted in the U.S. Air Force in 1974, but years later her promise to herself was fulfilled. She served as a Peace Corps Volunteer three different times, first as an English teacher in Kenya from 1986-88, then in Armenia from 2017-19 teaching English as a foreign language, and finally in Ethiopia from 2019-20 in the same capacity. She retired from her role as librarian and archivist at Duke University in 2017 and noted that, while at Duke, she was the director of African Studies because of her Peace Corps experience on the continent.
Dr. Douglas Lee Hall was 14 years old when he heard about the Peace Corps, and decided that in his lifetime, he would serve. When Kennedy visited San Antonio in 1963, Hall had the opportunity to meet him and mentioned that he planned on joining the Peace Corps.
Fifty years later, he was able to fulfill his dream. After retiring as a college professor at St. Mary's University in San Antonio, he joined the Peace Corps. From 2013-16, he served as a Volunteer in Guyana, promoting literacy and science. Later, he volunteered in Ukraine to teach English as a foreign language.
"I was in my fourth year when COVID-19 hit, and I had to be evacuated, but I am still teaching my class online. I am here to help the teachers and students become the best they can," Hall said. "I am 74, and I plan to be in Peace Corps a long time. You have skills that no one else has, and you can share them with the world."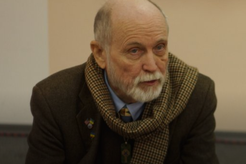 Hardberger delivered the concluding remarks, stating that the Peace Corps shows foreign nations that Americans also experience many of the same joys, trials, and sorrows. Volunteers who interact with people in other nations learn that the concept of love for others transcends color, language, and nationality. Each Volunteer makes that transition, returning home with a new set of experiences that often shape their lives after service.
"When you get down to it, it's human relationships; that is what the Peace Corps is all about," Hardberger said. "Thank you, fellow citizens, you are soldiers for peace, and I cannot think of a higher calling."