The people you'll meet when you apply to be a Peace Corps Volunteer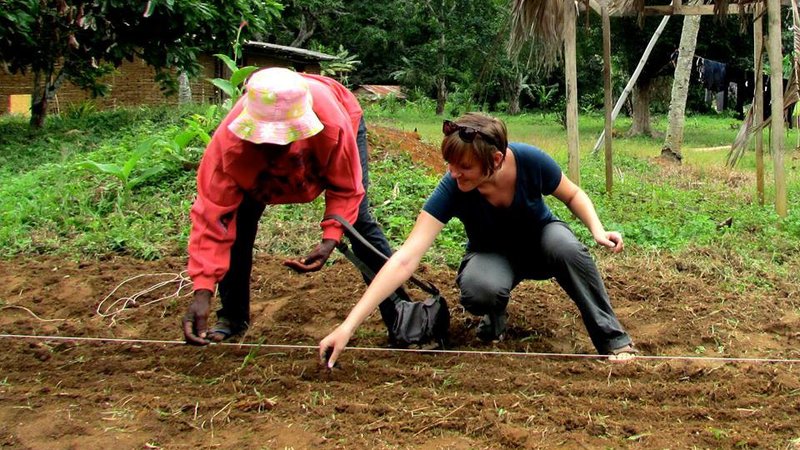 Oct. 8, 2021
The Peace Corps is full of inspiring people taking action to support others. Here are some of the first people you will meet on your application journey.
Have you wondered what interacting with Peace Corps staff will be like? When you are just getting started, the Peace Corps can feel like a big agency and maybe a little intimidating. Knowing what to expect can go a long way toward feeling comfortable during your application process and making the decision to become a Peace Corps Volunteer. You are about to start a journey and you'll meet friendly and interesting people all along the way.
I've appreciated every stage of my Peace Corps journey, starting as a Volunteer, returning as a Response Volunteer, and now as a placement specialist at headquarters. What is it about Peace Corps that keeps me coming back?
For me, it's the people and their stories that make the experience so enriching. The Peace Corps is full of inspiring people taking action to support others. Here is an overview of the first people you will meet on your application journey.
Recruiters
Our recruiters are located in every corner of the country. Most recruiters have had the experience of volunteering with Peace Corps and have amazing stories to share about their experiences abroad. They will explain our agency's mission and outline the opportunities to serve. They can also answer your questions and help you get started on an application. You can connect with a Peace Corps recruiter here and make a virtual appointment.
Tip: Many people don't realize you can speak to a recruiter at any step in your application process, even after you've submitted your application. They can point you toward specific resources and help you prepare for your interview.
Placement Specialists
After you press submit on your Peace Corps application, it will be reviewed by a placement specialist. They review your resume and motivation statement. They will also request references, transcripts, and legal documentation, if necessary. Once your application is reviewed and complete, the placement specialist may ask you to interview. It's an opportunity to share your previous experiences and also learn about what it could be like to live and work as a Peace Corps Volunteer.
The interview is the moment to show Peace Corps that you have a strong understanding of the agency's mission and core expectations. In your placement specialist, you will find a person who has the experience and training to help you develop informed expectations of what Peace Corps service will involve. They are dedicated to finding Volunteers who have a sincere interest in international service and who can demonstrate they are ready for the challenge.
Tip: Show your Placement Specialist that you have done your research and come prepared to the interview. Remember, Peace Corps Volunteers are representatives of the United States and showing your professionalism during the interview is key.
Pre-departure Medical Staff
Before or during the application process, you may have questions about your health history forms. Health records are kept private and separate from your application. Your health is important to us and the pre-departure medical staff are the experts that will be able to guide you with confidentiality.
Tip: Peace Corps pre-departure medical staff are available to answer any health-related questions and will be able to make the best recommendations for you regarding your health and Peace Corps service.
Legal Placement Team
As part of the legal clearance process, you may be asked to provide legal documentation if you have had any legal incidents in your past. You can expect the legal office staff to get right to the point and be very efficient. The legal clearance process can take some time so quick responses and complete documentation are important keys to success at this stage in the process.
Tip: Pay attention to detail and follow the specific instructions given to you about legal documentation.
Over the course of the application process, you will work with a variety of Peace Corps staff members. Remember that they are always willing to answer your questions and help guide you in your journey to become a Peace Corps Volunteer. Are you ready to begin your Peace Corps journey? Start your Peace Corps application here