Teaching teachers amplifies impact
I wanted to do more than teach students — I wanted to train teachers who would continue to reach students after I left.
During my first Peace Corps service. I was a science teacher at a rural school Tanzania, and it was truly satisfying to watch my students gain confidence and learn to think critically. Yet, something always bothered me. I knew that I could only reach a limited number of students during my time in Tanzania. I wanted to do more than that — I wanted to train teachers who would continue to reach students after I left.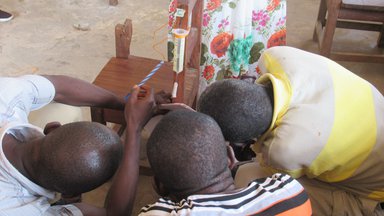 Peace Corps Response gave me the chance to do that. As a science teacher trainer in Liberia, I worked with teachers around the country. My job was broad and involved everything from writing lab manuals to helping schools improve their labs, but it all focused on one thing: making science classes more interactive.
Many science teachers in Liberia didn't have an opportunity to do experiments during their own education. Teachers generally use the "chalk-talk" method — lecturing and writing notes. My goal was to give teachers the tools they needed to add hands-on activities to their classes.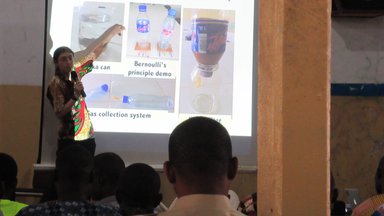 My first Peace Corps service had prepared me perfectly. As a science teacher in Tanzania, I spent much of my spare time creating experiments that used local supplies. We used toothpicks and rubber sandals to build models, tested food for starch using iodine from the pharmacy, and turned empty bottles into flasks and funnels. Where others saw trash, I saw science experiments waiting to happen.
In Liberia, the closet of my house quickly filled with lab supplies — empty bottles and cans, packets of baking soda, bottles of hydrogen peroxide, wire, string, and flashlight bulbs.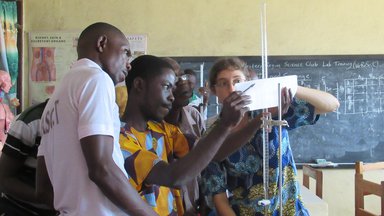 I always opened my workshops with the same question: Why is it important to teach science using hands-on activities? All around Liberia, teachers responded with detailed and eloquent answers. They knew that their students needed to see and experience science concepts, but they simply believed it was impossible to do experiments with the materials available in their towns. As the workshop continued, their eyes would light up with excitement. They learned to build graduated cylinders from empty bottles. They crushed flower petals to make a substitute for litmus paper. They made magnets by connecting wire-wrapped nails to batteries. Sometimes they contacted me later to tell me that they had used an activity in their classrooms. It was always rewarding to know that my work was reaching students I would never meet.
But the most rewarding of all my activities was one that caught me by surprise. It started when some of the teachers I was training made a surprise announcement: They decided to form a science outreach club, and explained that the knowledge I had given them was too valuable to keep to themselves. The teachers wanted to pass on their new teaching skills to other science teachers.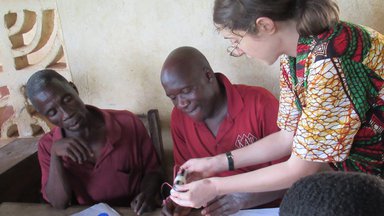 Several months later, I was sitting in an unfamiliar place: the back of the room. Over a period of three days, I watched my Liberian colleagues teach lessons on everything from lab safety and titration, to how to make a separating funnel from a water bottle. There was something powerful and moving about watching them train their fellow teachers. They understood the challenges their colleagues faced. They could reply to questions and concerns with examples from their own experience. They showed every moment by their presence and example that their colleagues could master this new way of teaching. Before I left Liberia, the science club conducted two more workshops, reaching a total of 39 teachers—and an unknown number of students.
Working with science teachers in Peace Corps Response taught me that training teachers can amplify impact. It's an echo that you can start and that resonates over and over again as they share and spread knowledge long after you leave.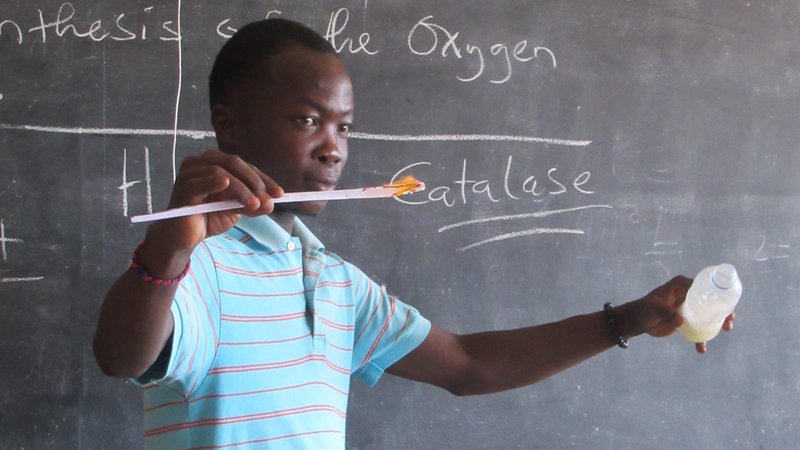 ---