A Taiwanese-American Volunteer helps his Mongolian community learn English
There are so many people around the world who want to learn English but lack the resources.
I myself was lucky to have help along the way. After growing up in Taiwan, I came to the U.S. as a teen with my mother and sister. In high school, I struggled to keep up in class, constantly flipping through my dictionary while others easily understood and discussed lesson materials.
However, I had many mentors who taught me to not let where I started from determine where I could go. During an acting course as an undergraduate at UCLA, I told my teacher that I couldn't pronounce the "th" sounds in the dialogue, and he quickly responded, "Not yet!" He spent time outside class helping me so that by the end of the quarter I was able to perform my monologue confidently.
As a Peace Corps Volunteer in Mongolia, I fully understood what my students were going through as they tried to learn English. Many times I saw that one shy kid sitting in the back of the classroom blushing because he or she couldn't answer the teacher's question; the student reminded me of myself as a youth, learning English as a second language.
My own mother was so eager to learn English as a girl in Taiwan that she would visit a local missionary—the only English teacher in her community—to memorize religious proverbs to better her English. Oftentimes I wish I could have been there for her myself.
When I started my training in Mongolia, I was nervous about being perceived as "less than"—or at least less American—than other Volunteers.
I remember the first day of pre-service training. As each family took turns claiming the Volunteer who would stay with them for the rest of the summer, in a group of eight Volunteers, I was the only one who looked like people in our host country. I clearly took my host family by surprise. On our way back to the house, my youngest host sister, sitting in the front seat of the car, kept looking back at me, probably wondering how I was different from the rest of the Mongolians she knew.
I resisted speaking my mother tongue on the phone with people back home in front of my host family, as if that would somehow make me "un-American" and less credible as a Peace Corps Volunteer. I also wondered what my school would think about getting a Volunteer who wasn't typically "American" looking. To my surprise, the school director was proud that his Volunteer could speak four languages, even though at times I felt like I had to work harder than my peers to prove that I was just as capable as an English teacher.
In time, my experiences in the classroom gave me confidence as someone who could lead and teach effectively.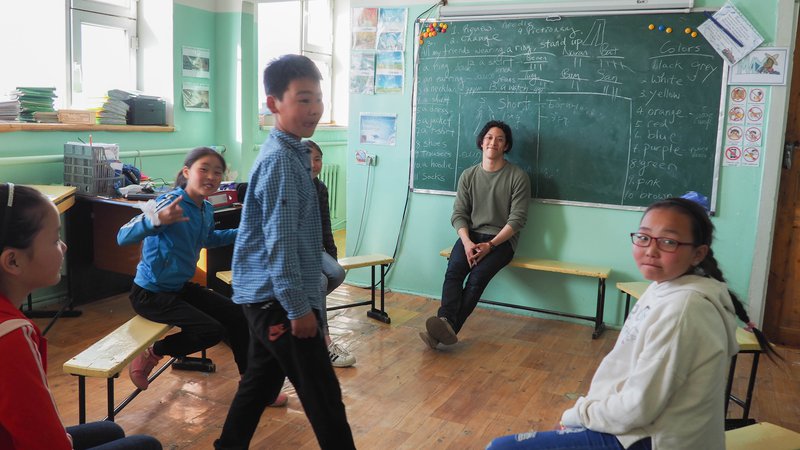 Throughout my two years in Mongolia I co-taught English to students in the fifth to twelfth grades and ran a variety of English-focused clubs. I remember being stiff and nervous during my first practice teaching session, facing a room full of fifth-graders with their endless amounts of energy. Over time I came to realize that it was my students, especially the younger ones, who powered me through my service. I taught them the ABCs and spent countless hours perfecting "Head, shoulders, knees and toes" with them. No matter what, they always put a smile on my face.
Inspired by my acting experience at college, I started an acting club in my Mongolian school and reconnected with my UCLA teacher to learn how to create a safe and fun environment to help my students learn and grow, just as he did for me.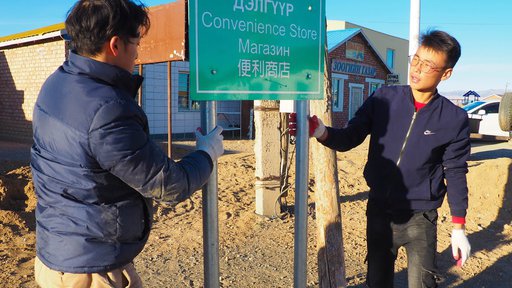 My biggest challenge during service was managing a secondary project aimed at transforming our rural village into the country's first English-friendly location through the establishment of multilingual signs on streets and inside buildings.
We successfully conducted a needs assessment through door-to-door surveys, but when it came time to make the signs, we realized we knew nothing about construction or materials. In the end we overcame many challenges and were able to design and manufacture sturdy signs. We enlisted the whole community to help install the signs, nearly four times the amount we had projected! With greater exposure to English in the village, people showed more interest in learning the language, and we saw a 30% increase in enrollment in English classes.
Peace Corps helped me believe in my power to act. Through my two-plus years of service, I learned to effectively handle a classroom, manage projects of various scales, and engage with stakeholders from various industries. In the future, I hope to leverage my project management experience to participate in more initiatives either in the corporate social responsibility realm or through social entrepreneurship.
---