Students, teachers in Colombia show unprecedented resilience in the face of COVID-19
We've always known that we have spectacular counterpart teachers at Peace Corps Colombia, and they continue to shine in the midst of the enormous challenges of remote teaching. When Colombia first closed schools and enacted its national lockdown in mid-March, public and private educational institutions expected a short pause in the semester before returning to classrooms. It didn't take long for the severity of the pandemic to become clear, and teachers, students, and administrators at all levels found themselves thrust into virtual and distance learning.
Colombia's public education system was not equipped for this change. The Colombian Academy of Physical and Natural Sciences noted in May 2020 that only 63 percent of urban homes in Colombia had internet access, and just 16 percent of those in rural zones. The idea of Zoom or Google Meet classes was simply not a viable option. So, public school teachers got creative.
In August, the Peace Corps Colombia TEFL team was invited by our partners at the Ministry of Education to facilitate a webinar for public school English teachers around the country. They wanted us to share ideas and strategies for teaching English remotely with limited resources.
When we sat down to brainstorm, we quickly realized we had no idea what to tell these teachers about teaching during a pandemic. How could we possibly advise them, knowing the enormous disparities in connectivity and resources? The solution, of course, was right in front of us: ask our counterparts. They had already taught remotely for several months and they had far more expertise than we did.
The strategies shared with us were remarkable. Colombian public school teachers have shown outstanding resourcefulness, resilience, and creativity over the past year.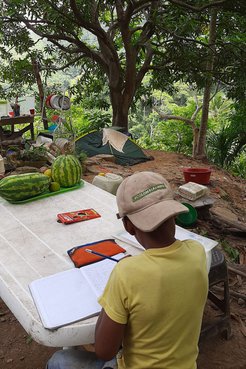 Going above and beyond to learn
Unable to teach synchronically, the most common methods teachers use are printed learning guides and WhatsApp. About 78 percent of Colombians have a smartphone, so most students are able to access one for schoolwork.
WhatsApp is the most popular messaging tool and uses minimal data, making it more accessible than options like email. Teachers use it to send assignments, give explanations, record voice notes with pronunciation or instructions, and connect with students. Some students are able to be present at specific class times, whereas others catch up later when they have phone access. They take pictures and videos of their work to send back to the teacher, report attendance, and ask questions using the app. One school in the Boyacá region provides a communal cellphone at a local store. Students who do not have a phone at home can use it to check in and submit their work.
Remote learning has also opened up a unique way for entire families to get involved with English classes. Our counterparts shared videos of students singing with their parents in English or introducing their family members on camera.
Students use cellphone cameras to record themselves using English to sing pop and rock songs, act out skits, talk about themselves, and demonstrate recipes. One group of girls made a mock news show about COVID-19 in their town, complete with music and real news clips, and others talk about biosafety protocols. Teachers act as guides and cheerleaders as they shift their focus to motivating students to engage with English, rather than adhere to normal curricular standards. They send encouraging messages and memes, and offer extra credit for silly tasks like recording tongue twisters. One school in the town of Aracataca collaborates with local radio stations to deliver lessons on the radio for students without internet access. They listen and follow along on their learning guides.
We shared ideas from eight teachers in four regions of Colombia, and the webinar video our TEFL team collaborated on with the Ministry of Education has been viewed more than 10,000 times on Facebook. Educators around Colombia watched, shared ideas, and expressed their excitement about trying these ideas with their own classes.
These teachers have shown their utmost dedication to their students and their profession. This has always been reflected in their collaboration with our volunteers, and their dedication in the face of unprecedented challenges is inspiring.