Meet the driving force behind Adopt a Black Peace Corps Volunteer
Clintandra Thompson attended Howard University and was a Community Economic Development (CED) Volunteer in Senegal from 2012 – 2014. After her returning from service, she founded Adopt a Black Peace Corps Volunteer, through which Black returned Peace Corps Volunteers support Black Volunteers during their service by sending cards, care packages, text messages, and more. We caught up with her over Zoom to learn about her Peace Corps experience, how it has impacted her life after service, and the story behind the organization she created.
Peace Corps: Why did you apply to the Peace Corps?
Clintandra: I got into international affairs while I was in college because 9/11 happened when I was a sophomore at Howard University. I could see the smoke rising from the Pentagon from my campus. I wanted to know why the world felt a certain way towards the U.S. and why the U.S. felt a certain way towards the world. I started searching for ways to connect with the international community.
A friend suggested the Peace Corps to me. I applied a year later and was an applicant for seven years. What got me back into my application was when I decided that, although my friends and family may have been hesitant about me joining the Peace Corps, it was important to me. I wanted to at least try and see what would come of it.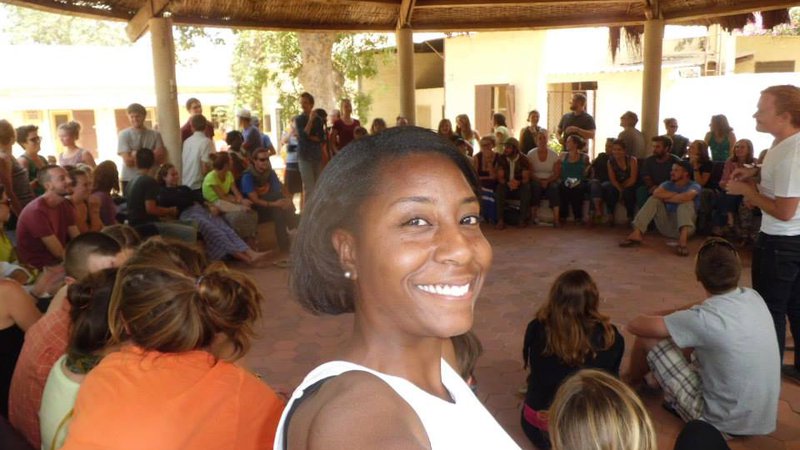 Peace Corps: Are you happy with the outcome? Why or why not?
Clintandra: I loved my service. It was one of the best decisions I've made. I would do it again, perhaps in retirement or as a second career. But it was also a learning experience: learning about humanity and myself.
As a Black Volunteer in an African country, I had to prove myself. A lot of people think it's easy for Black Volunteers in African countries, but that was not my experience. However, that growth was really good for me — I showed myself I could do something that fabulous.
I had to be okay with the spotlight on me and having people coming to my house just to stare at me. People in my village knew how to approach white Volunteers, but they didn't know how to work with Black Volunteers or Black Westerners of any sort, because we were such a rarity. I can't say that everything they knew about Black Americans came from TV because they didn't have electricity. But there still was a notion of: We don't know how to receive you. You look like us on the surface, but you act like them.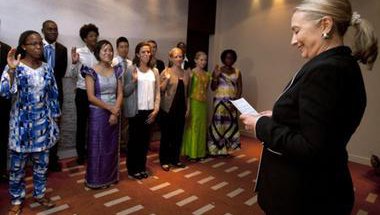 Peace Corps: Tell us about your primary project.
Clintandra: My primary project was ecotourism with a women's group. There were approximately 70 women who worked in five different ecotourism sectors. They made jams, jellies, and juice concentrates as well as soaps, honeys, and other things. They raised chickens and provided them to the hotels in the community. They also tie-dyed fabric. I helped them with their marketing.
Peace Corps: What was your site like?
Clintandra: Everyone always likes to say that their Peace Corps service was so unique and so different and I'll definitely ride that train. By the end of my service, I was the only one in Senegal who lived on an island. I was the only Community Economic Development Volunteer who lived in a village, and in a Catholic community without running water or electricity. I had challenges that my CED colleagues didn't have, like no internet access. That made my community a bit different, but I was also blessed. Even though Senegal is roughly 95 percent Muslim, my community was 95 percent Catholic. I'm a Christian, so it was nice to share the same faith.
Peace Corps: What did you enjoy about being a Community Economic Development Volunteer?
Clintandra: I like that it was a blend of thinking in and outside the box. I worked in marketing before my service, so I was able to say, "This is marketing, but this is how you do it in this particular context."
Peace Corps: How did you spend your days in your community? What was an average day like?
Clintandra: I would wake up in the morning to the sounds of my host family. There were about 11 kids in my household, all cousins. They would be getting ready for school, taking baths, getting breakfast, etc. I would get ready after them and then go to the women's group. They had something like a campus on the edge of the village with four or five buildings where they housed all of their enterprises. It was one of the only places that had solar electricity, so I would charge my phone and laptop there. I developed a website for the group while I was there and maintained it. For lunch, I would eat with my host family. After that, I would go through the community and see what things were going on and where the development was for certain projects within the community. Depending on the time of year, I would hurry home as quickly as possible before the sunset so I could find my flashlight and candles. If the sunset was later, around eight or nine o'clock, I could be a bit more leisurely with my neighbors and host family. Dinner was usually served around nine o'clock, typically leftover lunch.
Peace Corps: What are your favorite things about Senegal?
Clintandra: I like that Senegalese people appreciate ambiguity, differences, and diversity. A lot of African countries' mottoes are about hospitality. It was definitely something I felt in Senegal.
Peace Corps: What was your biggest success?
Clintandra: The relationships I developed during my service and still have today. There's no greater joy than knowing my friendships are a two-way street. I appreciate how genuine these relationships feel and that we have nurtured them, post Peace Corps.
Peace Corps: How did you feel about your counterpart(s)?
Clintandra: My counterpart was my host mom, and I love her. Her name is Marie, but in Serere culture, if you're of a certain age, you get the love of adding "Ma" to the beginning of your name. Because she is an elder in the community, she's MaMarie.
MaMarie was the president of the women's groups, so she was the one securing funding, making sure production was up and the marketing was ready if we needed to participate in a trade, art, or tourism show. MaMarie and I developed a rapport where we could separate home life from business life.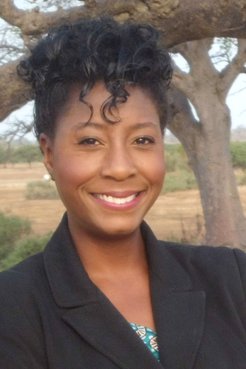 Peace Corps: How did all of your numerous identities shape your Peace Corps experience?
Clintandra: I always say to anyone interested in the Peace Corps, you have to see where your network is before joining. My network was a bit apprehensive. They didn't know about Peace Corps, so I had to educate them. But that's also kind of the point of Peace Corps. I found myself engaged in Third Goal activities before even leaving the United States.
I was a bit of a rebel in that I took my host family's last name, but kept my first name during service. One of the staff members, a good friend, said, "You know, I just didn't think you would make it. I thought that the name thing was the nail in the coffin." I was like, I was an applicant for seven years. I have researched Peace Corps. I talked to [many] ambassadors and Volunteers and I talked to Senegalese people. I am doing the Peace Corps, whether it kills me or not! And I think that's what helped me stay when the going got tough — which it inevitably always does. Knowing for myself what I was getting into, knowing it was going to be difficult at times.
Many of the Black Peace Corps Volunteers that I have met post-service are brilliant, colorful, lovely, curious, intellectual people. They have curiosity about themselves and their communities, but they also have the Black experience in an international context. They just bring a special sauce to the Peace Corps. Usually, if you're a Black Volunteer, at some point in your life, you have been the only Black kid in a class or the only Black kid on a team. That's a bit of a superpower in the Peace Corps and I imagine that many minorities—whether sexual, religious, ethnic, etc., have that same superpower. You know how to navigate feeling different from a self-care standpoint which is so important.
Peace Corps: Who impacted your service positively?
Clintandra: Definitely my host family. Even the kids! It was just a really warm, wonderful experience. I had to prove myself in the beginning; it wasn't "Kum Bah Yah" right away. But they were just fantastic.
Also, my family at home was really helpful even though they were hesitant at first about me serving in the Peace Corps. By the end, everyone was jubilant. My parents came and visited me in Senegal and they loved it. By the time they got home, they were trying to use Serere phrases around the house, which was hilarious because they kept getting it totally wrong.
Peace Corps: How has your service changed you?
Clintandra: How hasn't it? (laughs)
I think I'm more patient with myself. I know my strengths and weaknesses even better.
Perhaps most strongly, I'm a better voter. I better understand the policies and the impact the United States has abroad. When I see something on the ballot now, I think about what it says about America to the world. How it will impact the world, whether it's to do with trade, LGBTQ rights, etc. It will impact people in small communities where you don't know their names, you don't know their religion or the languages they speak, but it impacts them.
It's funny, a lot of Volunteers say that when they first learn their country of service, they have to Google it to find where it is on a map. There are so many Senegalese people who can tell you American history, culture, songs, our states. It blew me away.
But to that same point, there was also a lack of knowledge. For instance, sometimes I had to explain in great detail who Martin Luther King, Jr. was, why he was important, how he died, and why there's a holiday for him. That was eye-opening. It's reflective of the U.S. brand. In this period of racial awareness, it's very important that the United States gets it right because the world is watching, not just for how the U.S. interacts with the rest of the world, but how it interacts with its own people.
Peace Corps: Has the Peace Corps benefited you professionally?
Clintandra: Definitely. I came back from Senegal with such rich skills. The employers I interviewed with after service saw that I could handle a higher level of responsibility and autonomy.
My Peace Corps service increased my passion for international affairs and for contributing my voice to this space. I work in communications for a foreign affairs think tank. It's critically important to have my voice, a Black woman's voice, at the table. In the sphere of international relations, it's vital that Black people and women are at the table, particularly in how the American brand gets marketed but also in how the world's brand gets marketed to Americans. In many cases, there's a disconnect in both directions.
Peace Corps: What did you hope to teach your host country about Americans?
Clintandra: The income diversity of the United States. I think that that's something that a lot of people, not just Peace Corps Volunteers, try to impart to people in the world in general: that there are poor people who, for whatever reason, don't have electricity or running water, and they are Americans.
Also, that we embrace diversity. We're not "The Cosby Show" nor are we "Friends;" we're as diverse as can be. That's our strength: Our diversity empowers communities and countries.
Peace Corps: What perceptions of Americans were you working to change in Senegal?
Clintandra: One of the reasons I got into international affairs coming off of 9/11 was to get a better idea and to paint a better picture of how parts of the United States are similar to the world and how parts of the world are similar to the United States. As a Black American, there are some mainstream ideas that maybe I don't agree with. And maybe there are things in the world's view in which I agree with more. I wanted people to know that diverse opinions exist within the United States and that this is healthy to have in our culture.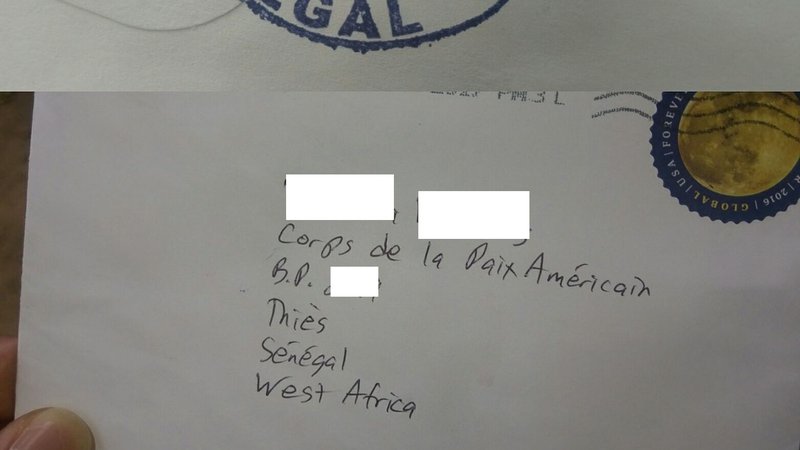 Peace Corps: When did you first see a need for Adopt a Black Peace Corps Volunteer (BPCV)?
Clintandra: During my pre-service training, I had one other person in my language classes. Her father sent her care packages during our two months of pre-service training. He would send her card just for a Tuesday, for Administrative Professionals Day, a card for Happy Big Toe Day—any reason he could think of He was very generous.
And so I saw a need for this in the Black community. Because, for example, my family and friends, my network was supportive, but they could have been more supportive.
Adopt a BPCV is my way of saying to Black Volunteers: You will go through challenges that are unique, but there is success to be had. Your story may be different from other people. You may not have the support from home that other Volunteers do. But there is support for you and you still can do this really important life-changing, contributing-to-others thing.
Peace Corps: So, how did you start connecting Black Volunteers with Black Returned Peace Corps Volunteers (BRPCVs)?
Clintandra: About a year or two after I came home from Senegal, I was keeping in touch with some of the new Volunteers in my host country and sending them care packages. Also, friends and family would ask me, "So-and-so is thinking about Peace Corps. Would you mind talking to them?" And then they applied and I supported them during their service. It got to the point where it was so many people that I thought, I bet that there's an even bigger need for this, on a larger scale.
I reached out on the Black Peace Corps Volunteers Facebook group. And then word just got around. There are many platforms I'm not even on where people are talking about it!

Peace Corps: What have been some successes of the program?
Clintandra: I think Adopt a BPCV helps Black Volunteers remain in service. It helps with their mental well-being to know there is someone in the world who understands their challenges and their victories, whether they're in a mud hut in sub-Saharan Africa, in Southeast Asia, or Latin America.
Peace Corps: What have been some challenges of the program?
Clintandra: It's very grassroots so there aren't many hard and fast challenges. Perhaps the biggest challenge is getting Black RPCVs to participate because they're immersed in their lives. And some of them have families, some of them are trying to navigate careers. American life can be so much busier than Volunteer life. So, corralling enough Black RPCVs to step up and step in has been challenging.
Peace Corps: The 2021 Black History Month theme is "The Black Family: Representation, Identity and Diversity." How do you think this applies to your service and to Adopt a BPCV?
Clintandra: Peace Corps' Third Goal is to talk about the world to an American audience, and part of that is also making it easier for future Volunteers to leave for service. If their families know about the Peace Corps and the countries in which they serve, they may be more supportive of their own children and friends' decisions to go. So, I think that Adopt a BPCV helps create a greater awareness of what the Peace Corps is – and is not—for the Black family.