Short-term virtual projects produce long-term benefits
One mention of the Peace Corps and Megan Youness' eyes light up. "It was honestly the best decision I ever made."
Growing up, Megan's family hopped from country to country due to her father's career as a teacher on various military bases. Megan pursued the same career as an adult and her teaching role has taken her and her two sons to Turkey, Iceland, Japan, and today, Germany.
"I love my job, but I have been missing Peace Corps a lot in the last couple of years, which is why I decided to try Virtual Service," said Youness, who served as a Volunteer in the Central African Republic from 1994 to 1995 and Togo 1995 from 1997. "I felt like if I can't go there myself, this is the next best thing."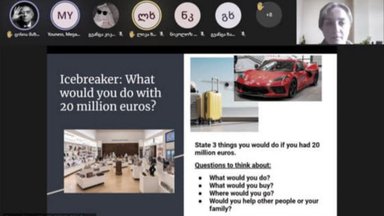 With her two dogs, Sissi and Chewie, curled up at her feet, Megan met virtually with her Georgian counterpart, Nino, for one hour each week. Together, they planned lessons for their newly formed Khashuri Critical Thinkers Club before breaking off to work independently on that week's presentation.
"My counterpart was brilliant – she taught me so much! There were some things we did that I started incorporating in my own classes like the Harkness teaching method." Megan said about Nino.
Megan felt equally inspired by the club's 9th graders. Despite English being their second language, the 14 year olds conducted high-level group discussions on topics such as bullying and cognitive bias. They were so invested in the club that these discussions often lasted two hours. Megan didn't mind, but then again, she has never shied away from putting in extra time.
"The project was supposed to go until July, but school ended in June. It would have been easy to say 'okay kids are done so we're done,' but we used that extra month to go back and evaluate what went well, what didn't, and how to take the lesson one step further in the future."
This time to self-reflect allowed Megan and Nino the chance to build a Google Drive resource bank, which organized their lesson plans, video links, and other resources. Today, Nino is not only using this resource to run the club for the school's 10th graders, but she has also shared their work with other local teachers.
"Even though I only interacted with one group of students, what I did is now being disseminated in classrooms all over Georgia," Megan said with a smile.
After 13 weeks, the virtual engagement came to a successful end, but not before Megan presented their project work to the U.S. ambassador in Georgia. And while Megan remains just a Facebook or WhatsApp message away from her former counterpart-turned friend, she's confident that Nino will continue the work on her own.
"We're both co-teaching, and then, little by little, you kind of step back. Backing off isn't a bad thing, it's empowering your counterpart."
After witnessing the positive impact her short-term, remote support had on a local community, Megan knew she wanted to donate her services to another Virtual Service opportunity; this time with a partner in Cameroon. Megan has a particularly soft spot for the west-central African country because when she was reeling with the emotions of being evacuated from her first Volunteer post in the Central African Republic, the people of Cameroon embraced her during a temporary, one-month stay before she departed for a new post.
Even though I only interacted with one group of students, what I did is now being disseminated in classrooms all over Georgia

Megan Youness
"I love that I can give back to Cameroon and work with Presse Jeune Développement (PJD). I have never met a more hard-working, dedicated, kind, or smart group of people that just want to make things better in their country."
Her current gender education and empowerment project was set to finish this December, but she and her counterpart, Julie Ndoumbe, will continue until June. Megan is helping PJD obtain funding from international nongovernmental organizations to finance their gender and youth strategy. This action plan, co-developed by Megan and Julie, focuses on educating girls ages 14 to 24 on reproductive health and providing income-generating skills training. Once the action plan is finalized, they will organize workshops to train Cameroonians who are interested.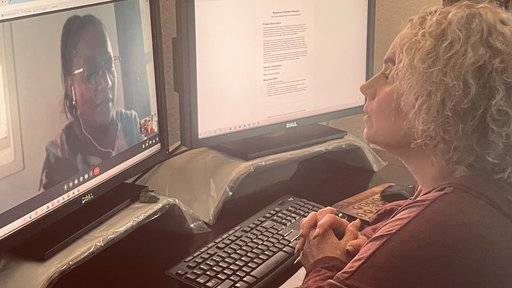 "It's a great opportunity working with a Peace Corps virtual [Participant]," Julie said.
Megan helped Julie apply for their first in-person Response Volunteer, who will carry on some of Megan's work on the strategic action plan.
Megan and Julie have grown quite close during their five months together. In fact, they plan on having a virtual celebration to honor their birthdays, which are just a few days apart. "One day, I hope we can celebrate in person together. It's like I found my sister from another family."
If you're considering participating in Virtual Service, Megan argues that there's a few things you should know first, especially about the 5 to 15 hours of donated time. For one, not every project (or every week for that matter) requires the full 15 hours. She also points out that the total weekly hours are not all spent online with your counterpart – there's a lot that can be done independently around even the busiest of schedules.
"We say we're so busy, but how many times do you sit on the couch scrolling social media? Those two hours you could have been supporting a partner."
So, if you stumbled upon this story while aimlessly scrolling, Megan urges you to express interest in an engagement and put that online time to good use. "RPCVs will get as much as [they] put into the experience."