Sharing Worlds: A snapshot of the Asian American experience in Georgia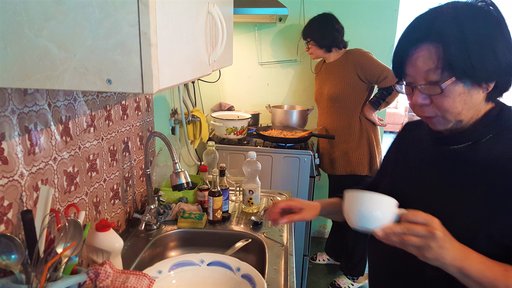 SHARING FOOD 
The local market in Tbilisi, Georgia, buzzed with holiday activities. Amidst the heavy wafts of spicy delicacies, families fluttered around chatting in Georgian as I tried to decipher the supermarket labels — it was complete sensory overload. This day, in particular, was even more challenging because I was trying to locate Chinese spices, sauces and ingredients in a Georgian market.  
Last November, when my mom visited during my Peace Corps Response service, my Georgian host family graciously invited us for a weekend trip to their home village of Lagodekhi, located at the foot of the Caucasus mountains. We decided to share our culture through food and prepare a Chinese meal for our hosts. After cracking the code in the market on the Chinese sauces, we piled into the car and drove to Lagodekhi. As we approached the house, my host Bebo, or grandmother, greeted us heartily. Bebo spoke no English; my mom spoke no Georgian nor Russian. But Bebo conveyed enormous hospitality by preparing a supra, or dinner party, complete with baked chicken, pickled peppers, deviled eggs, lobio (beans) and fresh puri (bread). 
The next morning my mom and I started cooking. My mom began whipping up ginger oil chicken, moo shu pork wraps and fried rice. Gradually, Bebo joined in the flurry of preparations. They exchanged no words — just wild gestures and broad smiles. The kitchen brimmed with energy, my mom chopping vegetables, Bebo stir-frying rice at the stove and me, trying furiously to keep pace by washing stray dishes.   
I look back at these two days with great fondness and warmth. It was an experience of openness, exchange and a willingness from both families to see common ties. 
This picture is rosy. However, daily life was not always as ideal as this single weekend.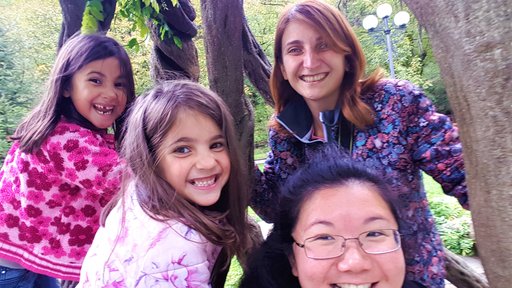 SHARING LANGUAGE 
I was able to use my newfound Georgian language skills to engage the community, conveying who I am and why I was volunteering in Tbilisi. I discovered that my simple phrases, even if limited, found a welcoming reception, with compliments and support for the work of the Peace Corps (albeit surprise that I spoke Georgian!). Through conversations, I was able to turn curious strangers – the older lady selling flowers at the Didube Metro Station, the tonis puri baker with flour handprints on his apron, the #109 marshutka bus driver who smokes as he drives – into friendly faces. 
View all Peace Corps Response openings here.
But being Asian American in Georgia came with challenges and opportunities. In my daily routine, I was an obvious outsider as Georgia has a small minority population. Georgia opened its borders more widely in the past two decades, which has led to more diversity; however, strangers assumed that I was from China. While the majority of inquiries were based in genuine curiosity, there were a few founded in hostility. And while I never felt in danger, certain choice words, stares and actions took me out of my comfort zone. But out of the curiosity, or sometimes adversity, came opportunity. In an effort to maximize language as a gateway to the community, I continued to study Georgian with small group tutoring. Under the guidance of an incredible language teacher, the puzzle pieces of language and culture began to take shape, which was empowering in times of curiosity and adversity.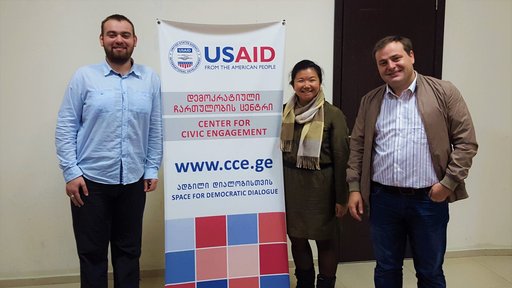 SHARING MISSION 
The everyday and ordinary interactions with the Georgian people breathed life, color and richness into my service. In total, I spent six months in Tbilisi as a Peace Corps Response Volunteer, serving as an organizational development consultant for the Network of Centers for Civic Engagement (NCCE), under the East-West Management Institute ACCESS Project. 
NCCE has a noble mission to provide neutral and accessible space for democratic dialogue via 10 regional centers throughout Georgia. My Georgian counterparts and I worked hand-in-hand, refining and building out the organization's internal infrastructure and external reach, with the ultimate intent to increase capacity, transparency, and accountability. We designed a professional development system that impacted 22 NCCE staff, developed an internship program that delivered opportunity to 13 Georgian youth in its first four months and produced strategic engagement materials to diversify potential partners and funders. 
Through this work, my Georgian friends and I shared our backgrounds, motivations and aspirations. I shared my mom's immigration story from Macau to the United States, and my Japanese American family's history in World War II, where my grand-uncle fought in the 442nd Japanese American Regimental Combat Team, amid the U.S. government's internment of Japanese Americans throughout the country. Likewise, my Georgian friends recounted narratives of physical displacement from their homes, child bride kidnappings and adverse living conditions, such as rolling power blackouts. With intertwining stories of both struggle and joy, we solidified our mutual understanding and strengthened our resolve toward the mission.    
SHARING MEMORIES 
This May, as we celebrate Asian American and Pacific Islander Heritage Month, I am especially thankful for my Peace Corps Response experience. The privilege to exchange cultures and gain new perspectives on my own identity and experiences, while learning from my Georgian friends, are lessons that will stay with me for a lifetime.