Reviving sustainable aquaculture in the Philippines
In 2020, the world was thrust into a pandemic, which caused more than 7,000 Peace Corps Volunteers to suddenly return home from their adopted communities around the world. I was one of them.
"The days are long, but the months fly by." This phrase is common in the Peace Corps, and this year it seemed more appropriate than ever.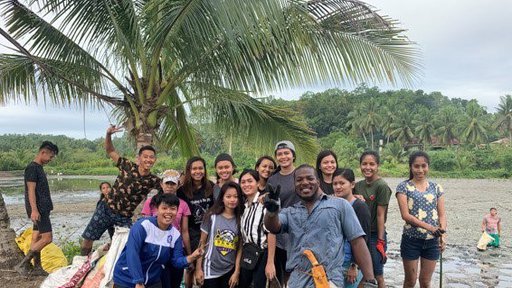 During my first Peace Corps assignment from 2014 to 2016, I served as an Education Volunteer in South Africa. After service, I went to graduate school at the Scripps Institution of Oceanography in San Diego, studying marine biodiversity and conservation, and earned a master's degree in June 2019. When I boarded a plane to the Philippines later that year for a Peace Corps Response assignment, I was heading down an entirely new career path.
I volunteered to be an aquatic resource management specialist and I was eager to be a champion of the marine environment. I was also thrilled about joining a community interested in sharing ideas about conservation. It was exciting—it felt like the right time to venture out of my comfort zone and I knew that's what was in store for me. I was sure I'd stick out as the sole African American ecologist in a country known for its beautiful beaches.
My assigned site was Leyte, which is nestled on a bay frequently visited by whale sharks, the largest fish in the world. I was tasked with teaching at a small technical university with only a few hundred students. This remote campus focuses its academic curriculum on marine biology, life sciences, and agriculture. It also provides the community with organic vegetables, compost, seaweed and, previously, fish, at a discounted rate. The campus boasts nine fish ponds, which range in size from a football field to a basketball court. The ponds are sprinkled with nipa palms, one type of mangrove, and some other species of red mangroves. Egrets line the banks, hungrily looking for mussels or small fish to eat.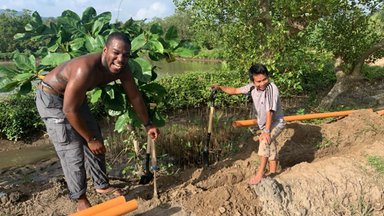 The ponds were certainly beautiful, but had deteriorated after years of neglect. At a marine science school, it's critical that students get their hands dirty and learn about aquaculture, an important part of the economy in the Philippines. We decided it was necessary to rehabilitate the ponds to improve hands-on learning for the students and to increase the number of fish available for the community to buy.
The first problem we ran into was a need to install a submersible pump that would allow the ponds to fill when the tide was too low. The phrase, "the days are long, but the months fly by," holds true for drawing up plans to rehabilitate a fish pond, too. Fortunately, our school was very organized and there was always food to keep us going—usually sweet spaghetti, rice, or lumpia. Getting the project going was a different story, though. It took many long hours to make progress.
It did move, though, and what started out as an idea slowly became a reality. We received a Peace Corps Partnership Program grant from a generous donor and were able to purchase the parts and equipment we needed. In the Peace Corps, nothing gets done without the help of counterparts we work with to reach communities. I don't think my counterpart anticipated labor-intensive work when this project was proposed, but we ended up carrying about 400 feet of PVC pipe to the ponds, which were about 100 yards from the delivery site. Digging out trenches to lay pipes in 80 percent humidity and stifling temperatures was exhausting, but we got it done.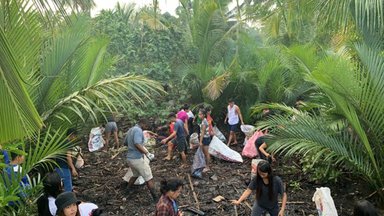 One of the biggest challenges was that high tide would cause the adjacent canal to fill partially, causing garbage and other debris to clog the channel. After building screened gates—called dykes—at each entrance, we were able to prevent new debris from entering the ponds. Then we had to clean the remaining garbage from the area. We couldn't do that alone, so we enlisted the marine biology students to help.
We began the arduous process of clearing trash out of the ponds before dawn to avoid the midday heat. Trampling through the mud to get trash out was both humorous and unpleasant. Every step we took, our feet sunk about a foot in the mud, so we laid boards and stiff palm leaves to make impromptu "bridges" and as handholds to help us balance. Even though it was really early, there was nothing but laughter and smiles from the students and, slowly, we removed all the garbage and debris.
Once we cleared the ponds, built the gates, and laid the pipe, it was time to test the system. Since it was attached to a pump that had been sitting for five years, we needed to make sure it worked. My counterpart was adamant about this project and swore that our pump worked. I was sure he was right. To our surprise, it didn't work. One of the battery capacitors was defective, and the entire pump had to be taken apart and rebuilt. Retrofitting a submersible pump and building a cage around it was no easy feat, but we had to prevent trash from being sucked in. As the days passed, we moved closer to our goal. After months of hard work, everything was in order and we finally filled the ponds.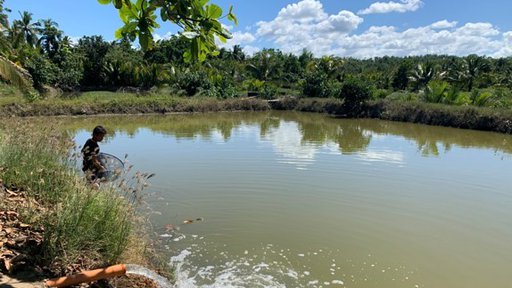 We stocked the ponds with milkfish, locally called bangus. This bony fish lives in brackish water and is a popular fish eaten in the Philippines. Bangus is usually farmed in fish ponds, but can be grown in open water. In our ponds, it did extremely well. We could gaze out at the ponds and they would look calm and idyllic, until feeding time. Once food arrived, thousands of fish converged on the surface and created their own waves in a feeding frenzy.
I wasn't able to see the fish grow up because, due to the COVID-19 pandemic, all Peace Corps and Peace Corps Response Volunteers worldwide were evacuated from their sites about a week later. After leaving the Philippines and beginning my adjustment back in the United States, I began seeing posts on Facebook about the university selling fish from our hard-won fish pond.
Knowing that the pond we rehabilitated during my service was increasing their bangus productivity for the community—especially during the pandemic—was a gift to me. I love knowing that my counterpart and I, along with the hard-working marine biology students, helped the people in the community. Seeing pictures and videos of the ponds elicited the same happiness I felt when I gazed out at them in person.
In this unusual and unusually uncertain time, seeing the thriving ponds gave me some measure of certainty that the people in my small community, the people who took me in, have improved access to a steady protein source. Even though the pandemic cut my service short, Peace Corps Response allowed me to make a long-term impact during a short-term assignment. I'm grateful for that and, when the world returns to normal, I'll do it again.