Retiree finds a more fulfilling journey through the Peace Corps
A dream 40 years in the making will finally be realized when I depart for the Kingdom of Estwatini as a Peace Corps Volunteer in February 2023. I can't believe it's finally happening.
College was the first time I thought about joining the Peace Corps. One of my professors at Babson College in Wellesley, Massachusetts, served as a Peace Corps Volunteer and he expressed a genuine gratefulness that he had joined. At that point in my life, I had no international experience, no service experience, and a fairly protected life. I wanted to contribute globally in a meaningful way, and expand my small world. The Peace Corps seemed the perfect opportunity for me — a way to explore international service and expand my cultural experience.
However, I didn't apply for the Peace Corps at that time. As graduation approached, more conventional needs — mostly centered around financial independence and building a career, were my focus.
Over the decades, I have led several different companies and divisions. Most notably, I was CEO, president, or COO of Ann Taylor, Justice, Learningsmith, and Ascena Retail. I also held senior leadership roles at Gap and Walt Disney. Throughout my career, I have been fortunate to work with and learn from many talented individuals. I learned the value of creating an environment that attracts and nurtures talent. I also gained the wisdom that it takes a team to really succeed, both in the United States and in global divisions. I learned lessons about understanding and respecting the cultures where we operated in order to positively connect with the employees and customers in those regions.
My success in business gave me many opportunities to give back financially, but I always wanted to make a more significant impact by dedicating more time working within a community abroad. It wasn't until my retirement in 2019, with my children grown and out on their own, that I felt I could take that leap. I do my best work when I'm all in and it was always my plan to jump in and make a full commitment to the Peace Corps.
My spouse, Robin, knew about my desire to serve and my admiration of the Peace Corps. She knew I wasn't ready for a leisurely retirement. We had discussions about my doing something less involved, but she was also very supportive of my need to be fully immersed in service. With her support, I applied to the Peace Corps in the fall of 2019. The application process was straightforward. I selected a country and sector, had my interview, and thought I was on my way.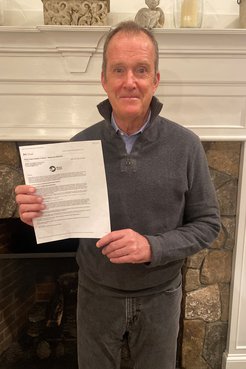 The COVID-19 pandemic put my plan on a sudden hold. The Peace Corps evacuated Volunteers in March 2020 and, for two years, paused sending Volunteers to service abroad. During that time, I remained committed to a future Peace Corps journey. Three years later, I received an official invitation to join. As disappointing as the delay was, I knew my time had finally arrived, and, after 40 years of waiting, I wasn't going to let life get in the way a second time. In fact, I wrote a letter to my recruiter stating I was willing to go to any country for any need to help jump-start my candidacy.
My future role as a Youth in Development Volunteer will present a lot of new challenges for me, which is both exciting and a bit overwhelming. However, this is where my career and age may serve the Peace Corps' mission well. I have international business experience where learning and respecting the local culture were critical to meaningful success. I built my professional career by promoting teams and helping disparate individuals rally around a common goal, I learned how to listen and be a better coach, and I helped raise three wonderful children, which may be the most important training I've ever received. The skills I developed as a parent, including patience, selflessness, true compassion, and limitless commitment will serve me well.
I am eager to learn about the culture of the Kingdom of Eswatini and the surrounding countries in Southern Africa. As a Youth in Development Volunteer, I hope to positively impact children's lives though sharing my experiences and helping to unlock potential wherever it exists. It's hard to imagine how much we are all going to learn from each other during my service.
In my experience, retirement is far from nirvana. Life is an incredible asset that doesn't need to be put on pause when a career ends. Continuing to share your talents in a different way, regardless of who and how many people you help, may be the most rewarding contribution you make in your lifetime — that's what I'm counting on.
We're not just citizens of the community we live in. We should really try to learn about the larger world, experience it, and add to it. Lastly, for those thinking about retirement — you're probably not going to get much better at golf, so maybe it's time to think about an alternative retirement plan.