Resolve to be the first: Q&A with a first-generation college student who served in Nepal
This is the first in a series of Q&As with returned Peace Corps Volunteers who identify as first-generation college students and/or new Americans. Learn how they navigated the challenges of the decision-making process and service abroad.
Rachel Yayoi Satoh served as a health extension Volunteer in Nepal from 2015-2017. She is the first in her family to attend college.
"I grew up in Japan until the age of 16. My American mother and Japanese father divorced when I was eight and then I was raised by my mom and her female partner; I had what was an unconventional upbringing in Japan at that time. To keep us afloat, my mother took on many freelance projects while also working a full-time job. Regardless of our financial hardships, she managed to enroll me in a private and very prestigious American K-12 school. Sadly, my mom's partner got ill and died as I entered 11th grade, so we moved to California to be closer to my mom's family, leaving behind our life in Japan."
How did you first learn about Peace Corps?
I first met a Peace Corps recruiter during a career fair in college, but didn't really consider applying then. After graduating I joined AmeriCorps and met many returned Peace Corps Volunteers during that time. That's when I made the decision to apply.
What helped you in your journey to become a Volunteer?
Talking to returned Volunteers and watching a lot of online events got me more excited about applying. Once I was accepted, connecting with the Nepal cohort of Volunteers through Facebook was very helpful. We all supported each other. I was also in constant communication with two currently serving Volunteers in Nepal through Facebook and was able to ask them many questions.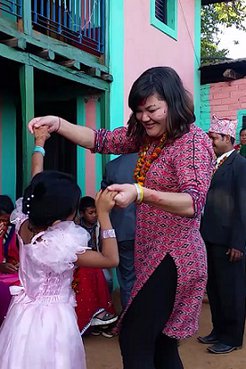 Did you face challenges in reaching your goal?
I couldn't gain the experience I needed to qualify for Peace Corps during undergrad; I was too busy going to school and working part-time to be able to volunteer or get involved on campus, so I decided to do AmeriCorps immediately after graduating.
My parents were on welfare, so I knew I would not be able to depend on them financially. I was working two jobs to make sure I had some savings before joining Peace Corps.
While my mother was very supportive of me, my father wasn't. As a Japanese citizen living in Japan he didn't know much about Peace Corps. I explained that Peace Corps is similar to the Japanese International Corporation Agency (JICA), but when he found out how little we got paid as Volunteers he became even more critical of Peace Corps; he didn't want me to end up poor like him and my mom. I fully understood his perspective and wasn't even sure what benefit I would get from being abroad for two plus years. But ultimately I felt the uncertainty was worth it and decided to serve.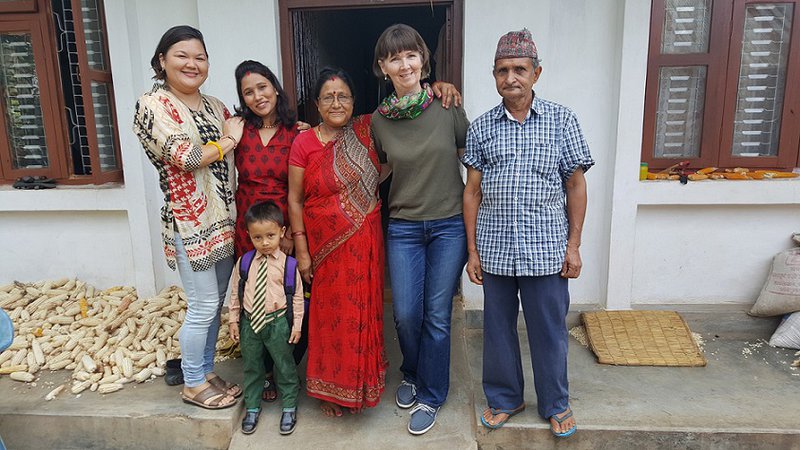 How did you get support while serving as a Volunteer?
While serving as a Volunteer, I received so much support from the Peace Corps Nepal staff, especially in the case of a serious medical situation with my father. I was also a member of the Inclusion and Diversity Committee at my post, which addressed diversity and inclusion among Volunteers and within Nepali society.
Did you keep in touch with family during your Peace Corps service?
My mother visited me during my second year, which was a very special time. She was able to meet my host family and friends and got to see the projects I was working on. Although my father wasn't initially supportive, he ended up getting very involved in my projects, specifically a shiitake mushroom training. He sent me a care package with dried shiitakes (so community members could taste them), some plastic drills and a net to dry food.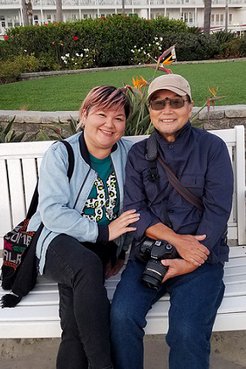 How has Peace Corps benefited you?
The 48 days of leave was a tremendous benefit for my overall health and satisfaction as a Volunteer; I needed some breaks from village life and the ability to go into bigger cities to go grocery shopping. It was also great to have family and friends visit in my second year.
The student loan deferment program was also a huge benefit for me. I didn't have to make any payments during service, and after I returned I used the income-driven repayment plan. I didn't start work until a few months after service, so under the plan I didn't have to pay anything on my federal loans during that period. Meanwhile, the readjustment allowance helped me pay off a portion of my student loans and credit card debt, and helped pay my expenses while visiting my father in Japan on my way back to the States. I didn't do any major traveling aside from this.
The non-competitive eligibility (NCE) status I gained following completion of service helped me get a contract job with FEMA, and following that I got my current job as a recruiter with Peace Corps.
Knowing I could receive graduate school benefits after Peace Corps service through the Paul D. Coverdell Fellows program was a great comfort as a first generation college student. I will attend graduate school next year as a Coverdell Fellow in the School of International Service at American University in D.C
Advice for other first-generation Volunteers?
Whether you are a first-generation college student or from a working class family, Peace Corps is an opportunity for everyone and there is support available. The adversity you face now will likely lead to a valuable Peace Corps experience later. Where there is a will there is a way!