Ramadan in Tunisia: Faith, food, and lifelong friendships
Peace Corps service as a Volunteer, reflected in the vignette that follows, changed my life in so many important ways. Often, it is not the task you are assigned as a Volunteer, but the culturally-interactive experiences that happen as a result living within a new community, that change your approach to your volunteer service and life journey the most.
Fasting during Ramadan helped me gain the respect of my Tunisian colleagues and helped me better assimilate within my Tunisian workplace and community. After returning to the United States, my service and experiences in Tunisia also reaffirmed and shaped my commitment to a life of service as a public school teacher, mental health worker, and professional musician.
Influenced by music of Tunisia, which I learned as a part of my project, I wrote, recorded, and performed socially conscious songs at public venues and on television in the U.S. I chose career pursuits, sometimes called day jobs by musicians, as a result of my Peace Corps Volunteer experience.
Inspired by my service, I also sought philanthropic and educational travels, including being selected as a Fulbright Memorial Fellow teacher to in Japan, and selection as a Citizen Ambassador to Cuba, which was sponsored by the Peace Corps, then-President Jimmy Carter's Friendship Force, and the University of Kentucky. The first goal of Peace Corps comes from the project you are assigned to do in your country, but it is the second and third Peace Corps goals that often arguably last longer and may be the most significant to those with whom you lived and worked in your host country and, after your Volunteer service is completed, to your fellow Americans.
Running on empty at the start of Ramadan
Sfax is a large fishing village on the east coast of Tunisia in North Africa. Boats of all sizes — some mechanized, some still rowed as they were centuries before — create a cacophony of sound as they cruise in and out of the harbor. On successful days, the fishermen laugh and enjoy offloading their catch of the day from their sky-blue wooden vessels. When the fish are plentiful, life is good in Sfax. Shouts of "Allahu Akbar!" (God is great) and "Mabruk" (congratulations) are frequent and add points of light to the canvas of the day; already full of color and activity.
As a Peace Corps Volunteer living in Sfax, I chose to fast with my host family during Ramadan my first year. I got up early to run the first morning of the 30 days of Ramadan. I wanted to try to beat the searing, Saharan heat and avoid the neighborhood children who sometimes threw rocks at me on their way to school in Manouba, a suburb of Tunis, and my Volunteer site. Running was not a familiar exercise in Tunisia; soccer yes, jogging, not so much, and they often sought to gain my attention with a rock thrown in my general direction as I passed by.
I did not drink or eat anything before I left for my run, not because it was the first day of the fast, but because I overslept and didn't want to be late to lead my music and drumming activity with the children at the orphanage where I worked. Known by its French name, my place of work was, L'Institut de la Protection de la Enfance. So, off I went at 5:00 a.m.
I began my run from my second-floor flat. I turned right onto Sharah Huriya after passing an apartment building that had been in the process of construction for nearly a year without much visible progress. I kicked up dust as I began my run but saw no one. I could smell the bread being baked at the bakery across the street. I could feel a sense of hunger stimulated by the savory aroma of this bread that would be consumed after the sun went down later today when the fast ended. I was hungry already, but not yet cognizant of the fact that I couldn't eat, or drink, until after 8:30 that evening.
I ran past the mosque that served Manouba's faithful, and then continued nearly four miles to the ruins of the beginning of a Roman aqueduct that stretched all the way to Zaghouan, almost 40 miles away.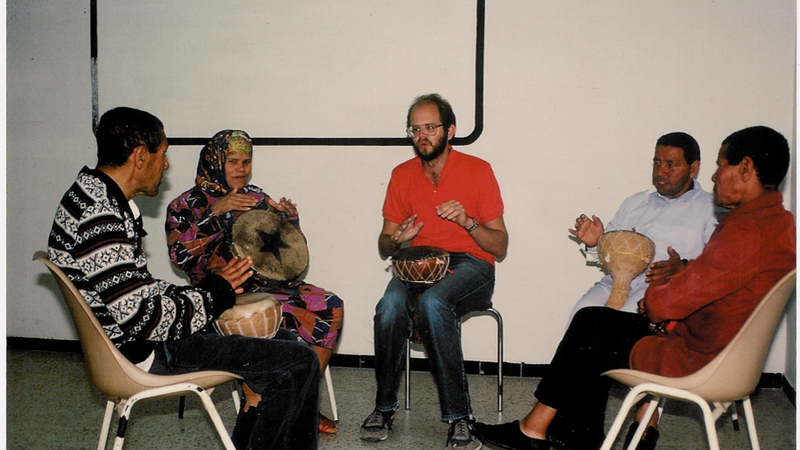 I turned around and tried to complete the return to Manouba in a negative split, which is runner's lingo for completing the return run faster than the outgoing portion. I was sweating profusely but feeling great about my effort. As I turned the corner and saw my house, I slowed my pace when I saw three boys playing soccer. I didn't want to disrupt their impromptu match by running into their soccer pitch, but they noticed me anyway. They fired a soccer ball and a rock at me. I caught the ball and dodged the rock. I heard the oldest boy, approximately 12 years old, call emphatically to his younger brother, "Yizzi, ya xuya!" (Stop, my brother). I rolled the ball back to them and said, "Itfadhil. Yahlabu." (Please, play on). When they heard me speak Arabic, they stopped, and their jaws dropped with mouths opened wide.
As he recovered from the surprise that I spoke Arabic, the older brother, who held the ball at waist level still frozen in his stance, spoke to me, "Inti Tunsi?" (Are you Tunisian?). I replied that I was not, but lived and worked here with the children from the orphanage down the street. I told him my name was Lazhar, the name I had been given during our staj (training) by one of my Arabic teachers, Hedi, who gave me my first darbouka (Tunisian hand-drum) lessons. The boy in front of me now told me that his name was Sami, his little brother was Mustafa, and their friend was Brahim.
"Inti Muslim? Tsum fee Ramadan," (Are you Muslim? Are you fasting for Ramadan?) Sami asked. I said I was not Muslim but was trying to honor the faith by fasting during this holy season.
Mustafa pointed at the cross he had seen fall from the collar of my shirt when I jumped to catch the soccer ball and exclaimed. "La. Huwwa mehseehee!" (No. He's a Christian.) He spit on the ground as he said it..
Sami tapped his little brother on the back of the head. He chastised him, "Lazhar respects Islam more than you and he is Christian," he said in Arabic. He then quoted the phrase that reminded Mustafa that Islam, especially during Ramadan, was about caring for others, "Lakim deenikum, welliya deenee."
Mustafa's brow raised as he understood his brother's reminder of what their faith required. The little boy looked up at me and aploogized, "Sahmahnee." (Please, forgive me).
I smiled and offered the water bottle I carried to rehydrate when the run was finished. A conciliatory gesture on my behalf, since it was already 85 degrees Fahrenheit early on this June day.
"La, la, la," Brahim said as he reached out to stop the exchange of the water bottle. "Sumna fee Ramdan oo inti zada, ya Lazhar!" (No, no, no … We are fasting for Ramadan and you too, Lazhar).
It was then that I learned I could not eat or, more importantly to a dehydrated runner, drink water until the fast was broken with the sunset prayer. My new Tunisian friends then showed me how I could swill water around in my mouth to alleviate dry-mouth and keep the fast.
As the day progressed, the hunger pangs increased. By the time I sat down to break the fast and consume the evening meal with my hosts, the Achours, who lived below me, the pangs were raging. As the beautiful, ethereal sound of the first al-adhan prayer signaled that the first day of fasting was over, the sounds of eating were omnipresent at the Achour table as I hurriedly grabbed my glass of water. My host axi (brother), Saddiq, 19, laughed and advised me to slow down my drinking. "Maybe you shouldn't run until the evening," he said in Arabic.
I replied to Saddiq, "Fikra baheeya, ya xuya! (Great idea, my brother!)" The room filled with laughter as I grasped the enlightenment that was intended by Ramadan. ­It was an experience that would temper my behavior for the rest of Ramadan. As my thoughts drifted back to the present, it occurred to me that the poor must do this always and it was my spiritual obligation to alleviate their suffering today and throughout my life's journey.
At the end of the month of fasting, the city became especially busy. It was Eid al-Fitr, the holiday that ends the Islamic holy month of Ramadan. For the Sfaxians, it is a wonderful time to celebrate their faith with those they love. Muslims here and around the world, have fasted for the entire lunar month to remind them of the importance of caring for those who suffer poverty, including the pain of hunger.
Enlightenment is central to this holy month in Islam. It is, Muslims believe, the month that Muhammad received the writings of the Quran from Allah (God) and therefore, then and now, a glorious time filled with spiritual remembrances, exploration, and enlightenment. After this test and demonstration of faith, the beauty of a crescent moon with a distant star appearing in its center, signal that the festivities are about to begin. From sundown to the beautiful amber sunset of the next day, they will be eating, drinking and celebrating the end of the physical and spiritual challenges they have persevered during this profound time meant to redirect them to the Seerata Mustakeem, or straight-and-narrow path to a righteous life.
In a month that is meant to connect Muslims with the arduous journey of the poor — those who suffer the indignities of poverty and struggle to feed their families — this holiday is meant to remind everyone to be thankful for what they have and especially to care for a world in need. When you hunger and thirst after fasting during the daylight hours — this year, 1987, was especially challenging, since Ramadan occurred during the scorching days of a Tunisian June where the climate is affected by the Sahara desert — you appreciate what you have.
My counterpart, Driss, at whose home I was celebrating the holiday, introduced his father, who kissed me on both cheeks, made sure that I was in good health, and confirmed that my extended family was also healthy and happy, even though they were in the United States and had never met. I was reminded again of how the Quran positively affects how Tunisians treated guests.
There is a Surah, or prayer passage, in the Quran that states, "Lakim deenikum, welliya deenee…" or "To you, your religion, and to me my religion." It's a statement of religious tolerance that Muslims believe instructs them to accept visitors as members of their extended family to be treated with kindness and respect. As their guest, they were obligated by their spiritual belief to treat me as their beloved son. The positive welcome was a gift of kindness that gave a sense of security and value in a beautiful, but, after a year, still somewhat unfamiliar land. My fast during Ramadan reminded me of the ever-growing respect I had for the people and culture of my adopted home, Tunisia.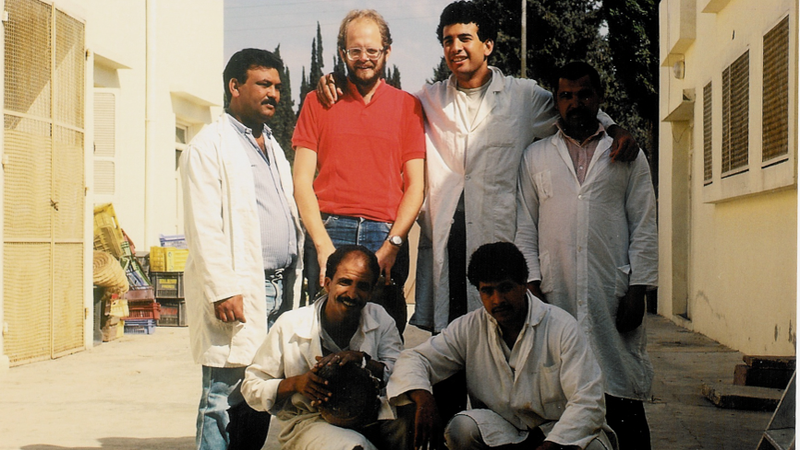 Then, the magical moment arrived, the ethereal melody of the chant-like al-adhan, or sunset prayer, could be heard emanating from Sfax's mosque. It was as if the entire city had suddenly fallen silent. As the sun set, we heard the mu'adhan, or cantor, sing the fourth prayer call of the day, il-maghrib (the West), where the sun sets and rests after a long day of providing its life-giving function.
It is this prayer that ends the fast, and begins the meal known as iftar. As physical survival depends on air, it was as though everyone's soul had an absolute need to hear these blessed words confirming the reverence of the moment that ended the final day of this monthlong journey of spiritual enlightenment. With these words said in unison — "Allahu akbahr! Bismillah! Saha! (…God is great! …In the name of God! … To your health)" — the month of fasting finally ended and the well-earned meal began. And, for a few moments, the first day of the fast in early June drifted back into my consciousness.
The Third Goal of the Peace Corps Volunteer experience – to help Americans gain a better understanding of the people and communities we serve around the world – was fulfilled yet again.
---