Pursuing dreams, from the Peace Corps to professional modeling
When Pooja-Accamma Somaiah started a club to inspire Ghanaian girls to follow their dreams of becoming teachers and doctors, she never imagined that those girls would inspire the pursuit of her own professional dreams.
The daughter of Indian immigrants, Somaiah grew up in a mostly white, politically conservative area in Orange County, California, and always downplayed her Indianness among peers.
"I stayed away from the few Indians in my school. I always bought food at school because my peers thought that Indian food smelled weird. I never talked about my culture. Even though I grew up on Bollywood, I told people I liked Brittney Spears," Somaiah said.
After her father passed away during Somaiah's sophomore year in college at California State University, Long Beach, the family struggled. Somaiah played a key role in helping her family manage, yet also yearned to do her own thing.
"As the oldest, I was kind of raised like a son. I worked and paid bills from a young age and took care of my sisters. I was also very independent and rebelled all the time," she said. "Yet, I also did not want to disappoint my mother. For her sake, I pursued an engineering degree in college."
Serving in the Peace Corps was something that Somaiah dreamed of doing, from early on.
"As the daughter of immigrants, I never took for granted what I had here in the U.S. I was always going back and forth between the U.S. and India, visiting my cousins and grandparents, and could see the disparities. I was curious about rest of world and felt a need to help people with fewer resources."
When she was invited to join the Peace Corps as a senior in college, Somaiah decided to accept, over the objections of her mother and sisters. She was assigned to serve as an Education Volunteer in northern Ghana in 2018, where she established a weekly after-school girls' club.
"As the only female teacher, I created the girls' club as a safe space to provide information about taboo subjects like sex. The north was very traditional," she said. "I also focused on empowerment. I encouraged them to believe in themselves and go after their dreams. Most people were farmers in that area and so young people didn't imagine other possibilities for themselves."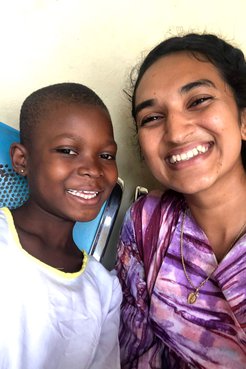 Somaiah loved her community, but was evacuated for safety and security reasons, along with 40 other Volunteers, after one year. She was relocated to the south, where she learned a new language and integrated into a new community and culture. The move was difficult. She was assigned to teach at the elementary school instead of the junior high level and managed a larger, more energetic group of students.
"The community was initially not very accepting of me, and I really had to earn their respect. I cried every night," she said. "But, as a college student in a major I never wanted, I had learned to persevere. I focused on my commitment to serve. I showed up every single day, even if only five students seemed to care. Slowly, attention grew.
"One day, I walked in the room and all 60 students sat at attention, ready to learn. After that, I began evening classes. I created seven different lesson plans in computer technology and math to accommodate a range of levels. I tutored three students with the worst grades who eventually ended up teaching the rest of the class. I barely slept during that last year."
In March of 2020, Somaiah was evacuated from Ghana along with over 7,000 other Peace Corps Volunteers around the world due to the COVID-19 pandemic. The shutdown gave her time to reflect.
"I thought, 'Pooja, you can't give these speeches to young girls and not pursue your own dreams.' They gave me the courage to pursue professional modeling, a dream I had from a young age," she said. "In 2015, I won Miss Placentia as part of the Miss America competition, the first Indian American to win the title in my city."
Somaiah feels that the traits and skills she cultivated in the Peace Corps will be essential to her success as she pursues modeling.
"You have to be resilient in modeling. You need to keep showing up despite how many times they say 'no.' Adaptability, a skill I drew upon during my relocation in Ghana, is very important in modeling, as the industry is always changing," she said.
"Cultural awareness is key. The culture in the north of Ghana was entirely different from that in the south. Also, in Ghana it wasn't appropriate to ask all sorts of questions right off the bat. I was recently in London for the British Fashion Awards. In the U.K., people are more reserved, so I learned to restrain my natural desire to ask a lot of questions. You have to be quiet and observe how people do things first."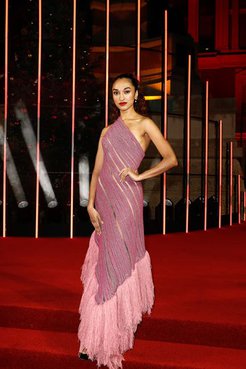 Since a young age, Somaiah has overcome obstacles to pursue her own unique vision. She urges other South Asian Americans wanting to follow the same path in modeling to believe in themselves, even if it takes more effort.
"I also advocate for not using fast fashion. In Ghana, you see what fast fashion does to a country. Western used stuff gets dumped in Africa, causing local tailors to lose business," she said. "I encourage aspiring models and friends around me to use [online rental services] or to shop at thrift stores to come up with unique outfits that draw on the history of fashion."
For those considering Peace Corps service, Somaiah, not surprisingly, encourages everyone, including South Asian Americans, to follow their dreams.
"Your parents may not initially support you. … But the Peace Corps is great preparation for the next part of your life. It gives you skills you cannot get going straight into a career," she said. "You may be living a different life than your friends, but know that it's okay. Believe in yourself and keep going after it. When you come back, everyone will be jealous. Not many people have the Peace Corps on their resume. In the end, my mother was very proud of what I did and felt that I gained a lot through the experience."
---