Preparing for the stresses of Peace Corps service
Your understanding of your responsibilities as a Peace Corps Volunteer, coupled with the day-to-day realities of service, may vary from what you first imagine.
Have you ever thought about applying to the Peace Corps? Perhaps you may have spoken to a Peace Corps recruiter, or to someone who had previously served as a Volunteer. You may have heard volunteering with the Peace Corps can be "the toughest job you'll ever love."
Life as a Volunteer can be tremendously rewarding and challenging. Peace Corps Volunteers live and work in more than 60 countries around the world, so no two Volunteers' services are quite the same. What Volunteers share, however, is a sense of accomplishment.
Prior to applying, consider how you have encountered and handled stress in the past. Think about how your responses to stress might differ in a potential country of service. Your understanding of your responsibilities as a Peace Corps Volunteer, coupled with the day-to-day realities of service, may vary from what you first imagine. During the early stages of your application, consider how your past experiences have shaped you, and what you have taken from them. Candidates are encouraged to reflect on their past actions to demonstrate how they may respond to the stresses of service.
Keeping this approach, and the overall Peace Corps mission statement in mind, here are several strategies that can help when considering, preparing for, or departing for Peace Corps service. The strategies and ideas mentioned below are by no means a comprehensive list. They are simply places to start, from one returned Peace Corps Volunteer (RPCV) to any hopeful applicant, or invitee.
Identify important connections
Sometimes there is nothing better than talking to someone else when you're feeling stressed. Whether that be in person or remotely, human contact can be incredibly helpful to relieve stress. As you prepare your application, think about people you want to maintain connections with. Have frank and honest discussions with them about how you will maintain communication, even when technology is limited. Part of a successful service is balancing old connections with new ones. What do you need to do to approach service with a spirit of integration and open communication? How can you prepare yourself to establish meaningful relationships with host country nationals and new Peace Corps friends? Answering these questions ahead of time will help you during service.
Challenge your perspective
Perspective and understanding are key to dealing with any stress-related issues. Peace Corps will put you in new and stressful situations where you have little to no previous context. Finding ways to reflect back on where you've been, where you are now, and where you might be going can be a huge help in maintaining motivation and drive throughout your service. Remember that expectations for behavior differ from culture to culture. For example, being emotionally vulnerable in front of a coworker, which is uncommon in the United States, may be a perfectly normal and acceptable behavior in a country of service.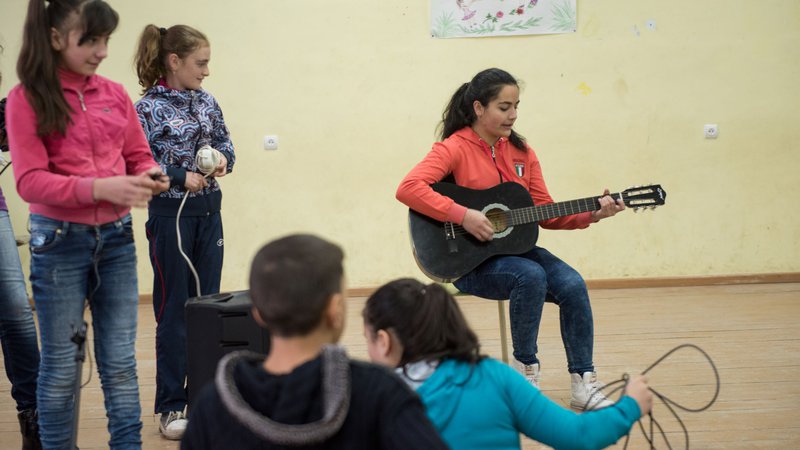 Create enjoyable routines
Seeking out repeatable tasks or hobbies that are simple can help you cope with decreased access to technology and connectivity. Anything from journaling to gazing at the stars can help alleviate stress. Many Volunteers have brought an instrument or toy they use to both relax and connect with their new communities. Throughout the application process and beyond, you may want to find information that explains the lifestyles of Volunteers in a particular country of service. Having that information may help you answer questions in your application, as well as in a possible interview.
As you embark on your Peace Corps journey, there are lots of resources available to you. In addition to the strategies mentioned above, there are a number of blogs on the Peace Corps website that cover stress during service. Familiarizing yourself with some of these experiences may help clarify which stresses a Volunteer may face during service.
Part of addressing and preparing for stress is understanding and coping with change. If COVID-19 is one of your concerns related to Peace Corps service, read this excellent blog, which addresses the changes that have been made to the application process to better meet the needs of applicants. Potential applicants may also want to visit our COVID-19 page, which details the agency's response to the pandemic, as well as a number of helpful resources and FAQs. If you are interested in volunteering with the Peace Corps, consider starting an application, or reaching out to a recruiter.