Peace Corps Gave Me Questions, and Some Answers, Too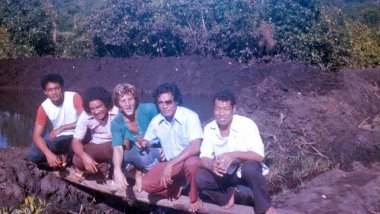 Nov. 19, 2020
In researching all the possible things I could do upon graduation, the Peace Corps always rose to the top of the list. What excited me about the Peace Corps was that, in addition to offering the chance to experience another country and culture, the Peace Corps offered an opportunity to work on real-world needs to the fullest extent of my abilities.
I'm an oceanographer. I study the tiny, microscopic plants in the ocean called phytoplankton. I study them from space. I work at NASA. I do this because of the time I spent in the South Pacific as a Peace Corps Volunteer.
The work I do produces images that depict the distribution of the plants on land and in the ocean—plants that ultimately support all life on this incredible planet we call home. My motivation to do this work stems directly from the time I spent bobbing around in a little dugout canoe in the middle of the South Pacific during my time as a Peace Corps Volunteer in Western Samoa. I know this all sounds pretty crazy, so please bear with me while I take a step back and explain how I got here.
I have reached a point in life where I can look back in time and see the events that raised the questions that shaped my thoughts which in turn, became the motivators for how I have spent my professional career trying to answer. To put it simply, the questions I have been fascinated with for as long as I can remember involve a curiosity about the life in the ocean and specifically, why are some parts of the ocean more productive than others?
It is safe to say that my interest in the ocean began during the first few summers of my life. I grew up in New York City and during the summers, my parents would rent a small bungalow with another family in the little beach community called Rockaway. One of my earliest memories of those times was getting up before dawn and going out on the beach at sunrise with my grandfather, who loved to fish.
We'd walk along the beach and stop where the water met the shore, and he would cast his line out into the surf where it would sink beneath the waves. I can still remember the excitement I felt whenever he would catch something and reel it in. I could not believe the incredible array of truly bizarre looking creatures hidden from view just below the ocean's surface. Flounders as flat as a pancake with their eyes on top of their heads. Sea robins with fins like enormous wings that made them look more like birds than fish, and spiny dogfish, my first—but not my last—close encounter with a shark. Each new fish he caught fired my imagination—I tried to understand how they could live under the sea, why they looked the way they did, and what else might be down there that we couldn't see. Thus, that main question about the nature of life in the ocean —my number one question—was formed.
I was a student at Brooklyn Technical High School where, in addition to the standard academic courses, we were taught some very practical skills like architectural drafting and wood and metal shop. Little did I know how important these skills would be during my time in the Peace Corps. By the time I reached college I knew I wanted to do something that involved the ocean, but I really didn't know exactly what that could be. I was determined to get as much hands-on experience in as many different aspects of ocean studies that I could.
I was fortunate in that the school I went to, State University of New York (SUNY) at Stony Brook, had a wonderful graduate program offered by the Marine Sciences Research Center (MSRC). Starting in my sophomore year, I was allowed to take all of their courses along with the mandatory undergraduate requirements. In addition to class work, I participated in many of the MSRC's research cruises aboard their little 40' research vessel which we used to explore Long Island Sound and the New York Harbor. I'll never forget spending twelve hours, steaming non-stop, back and forth across the entrance to the New York Harbor, dodging freighters, tugboats, and barges in order to measure the changes in water properties over the course of a tidal cycle. That in itself was memorable enough, but what sticks with me is the memory of being sealed within that tiny cabin with a cigar-smoking captain and­­ a pipe-smoking chief scientist whom seemed engaged in some kind of contest to see who could best mimic an ash and smoke spewing volcano. Such was the life of an aspiring ocean-going scientist in the early 1970's.
As I entered my senior year, I began to think about what I should do next. Nearly everyone in my class appeared to be following the traditional route of applying to a graduate program to earn that coveted and, in the sciences, generally obligatory, advanced degree. Most planned to then search for a post-doctorate position at another university or research center. However, I decided that rather than keep going to school to learn to do things, it was more important for me to actually work and get things done. By doing so, I knew I could really make sure that I wanted to devote my life to the study of the oceans.
In researching all the possible things I could do upon graduation, the Peace Corps always rose to the top of the list. What excited me about the Peace Corps was that, in addition to offering the chance to experience another country and culture, the Peace Corps offered an opportunity to work on real-world needs to the fullest extent of my abilities.
I didn't have a preference for a country or region of assignment, but the Peace Corps application I submitted did include a request to work in a job related to the oceans or fisheries. I settled in to finish my senior year, confident I was on the right course. And then…I remember getting a letter from the Peace Corps expressing their regret that, "at this time, there are not any openings related to my field of interest," but that they would keep my application on file in case a position opened up in the future. I wasn't sure if this was their polite way of saying I was not what they were looking for but decided to take them at their word.
Disappointed—and without a Plan B—I decided to focus on getting through my last semester of classes. In March 1974 I took a volunteer opportunity aboard the R/V Albatross IV for a three week fisheries research cruise into the North Atlantic with the National Marine Fisheries Service. For those of you who have never been out to sea, the North Atlantic in March is often true to its depiction in the movie "The Perfect Storm." We carried out our work under a wide variety of sea conditions, including times when the deck was awash with waves breaking onboard. I remember many times when I had to leap onto the fish sorting table where, surrounded by a veritable bouillabaisse of ocean creatures, I could at least avoid getting soaked. Much like the excitement I felt when fishing with my grandfather, each new net haul presented an incredible array of ocean life that, once again, reaffirmed my desire to make my life's work the study of this vast and enigmatic realm.
That experience also convinced me of the truth behind the words of that old Breton Fisherman's prayer engraved on a plaque John F. Kennedy kept on his desk in the Oval Office. "O, God, thy sea is so great and my boat is so small." Those words made me think, "How could one possibly hope to fully understand the oceans? They are so vast, so hostile to our presence, and they change so rapidly. How can we know them by just blindly dipping our nets in places from time to time? This is where my second question was born.
Back at school, and not completely sure what was going to happen next, I was surprised when I received a call from the Peace Corps. The recruiter asked if I would be interested in a position as a fisheries biologist—exploring the feasibility of developing a sea turtle farm in Western Samoa. They needed my answer immediately. At the time I had neither the presence of mind to ask why a position had suddenly become available nor the geographic recall to know where Western Samoa was. With those two questions unanswered and my decision required, I immediately said "YES." The recruiter said they would send me the details in the next few days.
The next few months flew by, and in early July I boarded a plane to San Francisco where I rendezvoused with the 21 other members of Western Samoa Peace Corps Group 14. The next day it was on to Hawai'i for a couple of days where, in the words of Arlo Guthrie, we were "injected, inspected, detected, infected, neglected, and selected." After that, we boarded a very long flight and, finally, we landed at Faleolo airport. We were dazed, confused, and jet-lagged and herded onto a bus for an extremely bumpy trip across the island of Upolu to the Hideaway Hotel on the south coast. There, we spent fa few days of acclimating and recuperating. After that, there was a ten-day stay in the village of Falefa, and then three weeks living with a wonderful family and the accompanying immersion into the realities of life on the island—no electricity or running water. It was a deep immersion into the fa'aa Samoa the Samoan way.
After training and swearing in as Peace Corps Volunteers, I was assigned to the Division of Fisheries. Just prior to my starting work, I visited the existing turtle hatchery in Aleipata, a beautiful coastal region on the southeastern tip of the main island of Upolu.
I spent a great deal of my time out on the ocean during my years in Samoa. I went fishing almost every day in order to gather food to feed the hundreds of baby sea turtles we were raising in the turtle hatchery. I also jammed into a 28-foot catamaran with tuna large and small flying through the air as fast as we could catch them as part our very successful batfish trials. Perhaps most memorably, I was introduced to the rather unique way that Samoans have used for centuries to fish for sharks.
Each time I would be out on the water, many times far enough offshore so that even the tall mountains of Samoa were barely visible on the horizon, I was struck by the realization that, no matter what direction I looked, one part of the ocean was pretty much indistinguishable from another. However, without fail, there were certain areas where we could almost always find fish, and others where we just couldn't. Try as I might, I was never able to observe anything unique or different about any particular place to explain why. It's true that my vantage point was somewhat precarious, being right on the ocean's surface with nothing but a rather tired, battered hull of a little dugout separating me from the surface and the 10,000 foot descent to the ocean floor. But the fish seemed to know something about why one part of the ocean was better for them others. Why couldn't I see it? Maybe it was like that old saying, "you can't see the forest for the trees." Maybe I was too close to the answer to be able to see it. Maybe I needed to step back, in fact, maybe I needed to step way back into space and look at Earth from that distance to see. That was the first formation of my third question; why are some parts of the ocean more productive than others?
That realization—the one that I hit on in Samoa, ultimately led me to NASA. My work here has given me the opportunity to observe the oceans from space for nearly 40 years. Not a day goes by that I do not see something new. I am continually in awe of the beauty, concerned by the fragility, and encouraged by the insights we are gaining into the workings of this incredible planet we call home.
What lessons did I learn and carry with me after my three years in the Peace Corps? The first was finding the question that drove my choice of career, the answer to which I have so enjoyed seeking for all these years. The second was the self-confidence I gained that allowed me to believe I could go anywhere and do anything I set my heart and mind to. The third lesson was that, in order to succeed, especially in another culture, openness and flexibility are two key qualities a person must have. Finally, I hope that I gained at least a small degree of understanding of what it feels like to truly be an outsider.
My Peace Corps years were the first time that, because of where I came from and the color of my skin, I could not blend into a crowd. I was often stereotyped because of what I looked like on the outside, rather than who I was on the inside. By learning the language and, through that, gaining a deeper understanding the Samoan culture and people, those initial stereotypes were overcome. Once they were broken down, I formed friendships that continue still. The Peace Corps was one of the most significant experiences in my life. Not a day goes by that I am not reminded of something from that time, and I am so very grateful to have had the chance to learn about and to have been able to live so fully within another culture and to challenge myself far beyond the limits I ever thought possible.