My shifting identity as a bicultural Volunteer in Nepal
I was raised in Japan in a bicultural household. My father is Japanese and my mother is Caucasian-American. I knew that my cultural and ethnic identity would play a big part in my service as a Peace Corps Volunteer in Nepal.
Many people who are mixed race or bicultural share a common narrative. We often navigate two cultures. Sometimes we feel a strong sense of belonging, and sometimes we don't quite feel at home in either culture. We develop the ability to talk openly about our cultures because, while we are often perceived as "ethnic," our heritage is not often immediately obvious.
Soon after I arrived in my village, I began to feel a connection to the Nepali people. While I struggled a bit with the language, I picked up gestures and mannerisms with ease, and found the grammar and the honorifics used in Nepali to be very similar to Japanese. I looked at the Magar people in my village (an indigenous minority group in Nepal) and saw reflections of my father, uncles, and aunties from Japan. When I got my nose pierced like Nepali women do, community members said, "Wow, Radhika (my Nepali name) got her nose pierced! Now she really is Nepali!"
Despite feeling connected to the Nepali people, as a mixed-race person, I didn't always feel totally at ease. I often fielded questions like, "Are you really American?" and frequently spoke about my racial and cultural identity with those in my community. When I told villagers, "I am a U.S. citizen, but my father is Japanese and my mother is Caucasian and American," they would conclude that I was Japanese.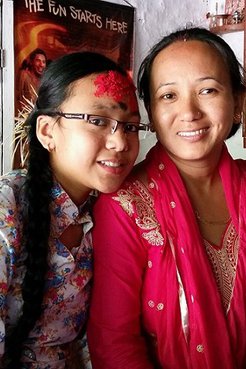 At one point during my service, however, I had a conversation that would change how I felt in Nepal.
I first got to know Bishnu at the marketplace where he owned a restaurant. I'd run into him and we'd casually chat about this and that. Little by little, we got to know each other. His adolescent daughter became a student in my weekly English class. Then I brought her and a few other students to a youth empowerment camp in a nearby town. Through my ongoing connection to his daughter, I started to become good friends with Bishnu.
One day, I stopped at Bishnu's restaurant for a cup of tea. As we talked, he said, "Radhika, you have been here for almost a year. At first, we really weren't sure about you and what you were here to do, but you have become like a sister for me, and so many other villagers think of you as their own.
"I know you are American, and you are also Japanese. From the first day we saw you, we felt at ease approaching you and talking to you because you also look like us — the Magar people," he said. "Whatever you do, I want you to always remember how easy it has been for us to talk to you. We are happy you are living here in the village with us."
Bishnu's words are etched into my memory. His words made me feel seen and valued. Bishnu probably didn't realize what an impact our conversation had on me. Perhaps not all the villagers felt comfortable with me, but at that moment, it felt like being in that rural village in Nepal was exactly where I was supposed to be.
Though my sense of belonging in Japan and in the U.S. had constantly shifted throughout my life, in that moment, in Nepal, I felt a true sense that I belonged. I thank Bishnu for giving me that gift that I carry with me wherever I go.