Meet the women encouraging self-care in rural Jamaica
In rural Jamaica, one Environment Volunteer shows her young women's group that self-care can build confidence, inner strength, and sisterhood.
Jenni Odom does a lot. From helping her local farmers' group produce honey, to helping the women in her area write resumes and sign up for local job-training classes. Mainly focused on projects in environmental and agriculture sustainability, Jenni has also been selected by the staff at her Peace Corps post to assist as a peer counselor for her fellow Volunteers who may need extra support during their service in Jamaica.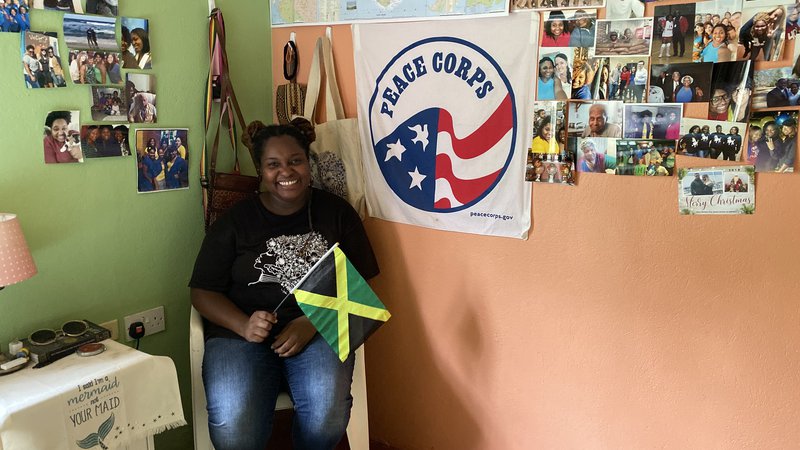 The former research assistant knows that progress can't be made at the grassroots level until those taking care of their neighbors, friends, and communities take care of themselves as well. It was in this spirit that Jenni and the women she works with decided to band together to form a young women's group. Together, the women work to better themselves and their community through development projects, attending professional trainings, and supporting each other.
One of the group members, Anastacia, has seen a change in the women in her area since Jenni's arrival. "I think she has been a good addition to our community," Anastacia said. "With her encouragement, we have felt empowered."
Now, the group is branching out a bit. From crafting bracelets to making hair and face masks, these motivated ladies have taken a step back from all that they do in order to celebrate themselves. In fact, the crew has been so successful in crafting their own self-care products that they have started to work on establishing an income-generating business. Using only the mineral-rich blue clay they found in their local riverbank and other locally available materials, they may be on to something.
"Working with these young women is special because they remind me of myself when I was younger," Jenni said. "They are outgoing, they teach me about their language and culture, and their energy keeps me going when things are slow in the community."
One of the members of the group, Sherika, plans to help the next generation of girls when Jenni eventually leaves their rural community. "Jenni has taught me how to be a leader. When she is gone, I will help keep us going."
Although the young women in the group have a lot of kind words for their Volunteer, Jenni has also learned a lot from them.
Serving as Jenni's counterpart and mentor, community member Mac said, "I have taught Jenni how to get along well and integrate with community members, and I've taught her patience for when things don't go according to schedule. But she has also taught me things. And even thought she is younger than me, Jenni is a source of inspiration and encouragement."