Life is patience: a Peace Corps counterpart's journey to America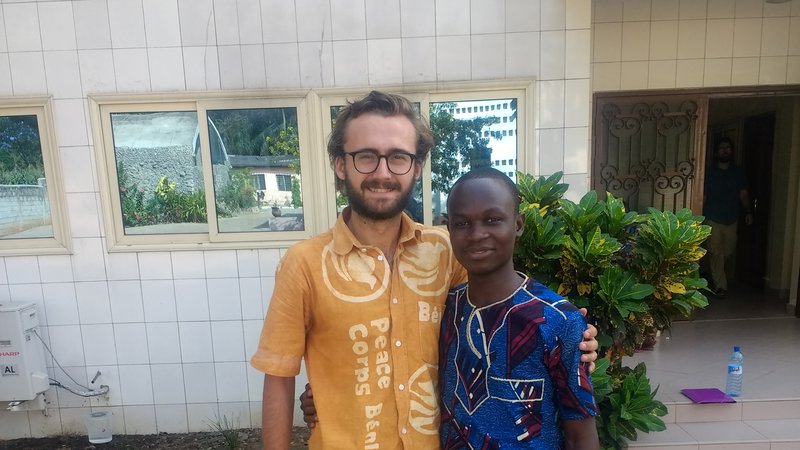 July 10, 2019
In Benin, a small West African country, we live by the motto "life is patience."
When the rains come a month late, we wait. When a taxi driver doesn't leave on time, we wait. And when things get tough, one must only wait, and inevitably, they will get better. Around here, good things truly come to those who wait. As a Peace Corps Volunteer, I quickly learned that patience is a legitimate survival skill. This is one of the most important lessons my work partner, Rousseau, helped teach me during my time here — the power of patience.
Rousseau is a remarkable example of the potential and capabilities of the Beninese. In a country where few people have the resources or opportunity to receive a formal education beyond a grade school level, Rousseau has earned his high school diploma, teaching certificate and master's degree all by the age of 25. He's chosen to apply himself to create positive change in his home country and was employed by the Beninese Ministry of Education as a full-time English teacher. In this role, he was sent to a remote, rural community where I initially had the great pleasure of meeting him.
As an English education Volunteer, I was assigned to a small village, roughly 350 miles and 14 hours away from the capital. To get to this community, it takes patience. Living in this community takes patience. Teaching English in this community takes patience. Rousseau is extremely patient, but also motivated and excited to teach and impact his students. In a place with little to no teaching resources, he engages his students with creative songs, dances and games. In a country where memorization is often viewed as the most important aspect of education, Rousseau uses techniques that help his students learn and understand, not regurgitate. Through working with him, I learned how to manage classes of 30 teenagers, motivate struggling students and, above all, remain patient through it all.
One of the core goals of Peace Corps Benin's English education program is to work with Beninese educators to build capacity, share skills and encourage student-centered teaching. After a short time working together, I realized that I had much more to learn from Rousseau than he had to learn from me. We began to look for opportunities for him to leverage his education, skills and motivation to improve his ability to effect change in Benin. He wanted to find ways to create institutional changes in a system tainted with shortcomings and flaws he had experienced firsthand, as both a student and an educator.
Last fall, I received an email about YALI (Young African Leaders Initiative), and their flagship program, The Mandela Washington Fellowship. YALI is a United States Department of State initiative that identifies young leaders across Africa, brings them stateside and pairs them with American universities and mentors for a rigorous six-week professional development program. Upon reading the program's goals and requirements, I immediately thought of Rousseau.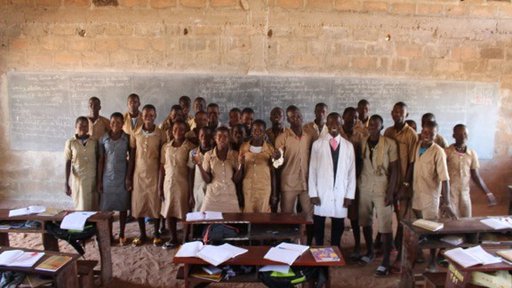 Rousseau is a rock star, a shining example of a young African leader. When I told him about the program, his eyes lit up. The idea of going to America to develop his skills and professional competencies excited him to no end. Working together, we crafted his first-ever resume, highlighting both educational and professional achievements. In the application, he wrote about what being a leader meant to him, ways he would bring what he learned in the U.S. back to Benin, and proposed a specific project he wanted to implement in his home country — a systemic update in instruction techniques and curriculum for the Beninese public education system.
This year, in Benin alone, over 1,000 candidates applied for 12 fellowships. We revised and polished his application over a series of days, sent in his materials, then practiced patience. Months later, Rousseau was informed that he had been selected among 100 other candidates to participate in group interviews in Benin's capital. We spent several days doing interview preparation, including a 30-second "elevator pitch," professional presentation techniques and mock interviews. After the interview, we again practiced patience.
Eventually we received word that he was among the 43 candidates that had been selected for a final, one-on-one interview. Again, he traveled the 14 hours to the capital. He walked away cautiously optimistic. At this point, the importance of patience became vital.
Weeks later, Rousseau was informed that he had been selected as an alternate for the program. As I told him, this was an immense honor, and something to be extremely proud of. He remained hopeful for the next three months, waiting to hear from the U.S. State Department. Finally, after months of anticipation, Rousseau received a phone call informing him that he had been selected to participate in the fellowship. Hearing the news from him was one of the happiest moments of my life; he was crying with joy and brimming with excitement for what laid ahead.
Right now, Rousseau is in Alexandria, Virginia, where he is studying with 25 other YALI fellows at Virginia Tech University. There, he is participating in the Leadership in Public Management Institute. He sends me daily messages and photos of his first American experience — the things he does, foods he tastes and people he meets. During his six weeks in the U.S., Rousseau will grow immensely as a person, both as a professional and as a global citizen. This is a life-changing experience for him, and will surely open many doors for him upon arriving back in Benin. In the near future, I can see him working as a reformer in the Beninese Education Ministry or for a Benin-based Education NGO. In any case, he is indubitably on the road toward creating positive change in his home country for many years to come.
Working with Rousseau has been one of the most enriching aspects of my Peace Corps service. He has shown me the impact that we, as educators, can have on the lives of our students. He has taught me what I can accomplish, as long as I work hard and practice the art of patience. He has inspired me to be a better person, to think of others first, and to do everything I can to positively impact the world around me. Rousseau is a role model for his students, a change-maker for his country, and a life-long friend for me.