I was working in an air-conditioned fish lab late one afternoon, under bright fluorescent lights, the acrid smell of newly preserved specimens in the air. During that 1979 spring semester, I was a graduate student at Corpus Christi State University (CCSU) in Texas, and I was taking an ichthyology class for my anticipated research project on coral reef fish off Veracruz, Mexico. My lab partner told me he was just rejected by the Peace Corps for a job setting up a marine park in the Caribbean. Unfortunately, he did not have two years of marine research experience and he was not an advanced scuba diver.
"I have both of those qualifications. I'm going to apply," I said.
Though I had the required scuba diving qualifications, my application was rejected because the Peace Corps recruiter thought I did not have enough time in marine research activities. Undaunted, I sent the recruiter a five-page letter documenting my 27 months of marine research work. With all the detailed evidence, the recruiter agreed I was qualified. The Peace Corps offered me a marine park assignment in Dominica or a fish-farming assignment in Thailand. Given my interest in coral reefs, I chose Dominica.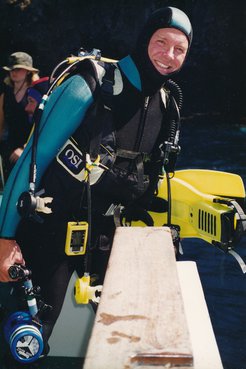 I completed my classes in August and took a leave of absence from CCSU. I arrived in Miami in early September with lots of diving equipment and a large library of coral reef ecology references. I experienced the Peace Corps' vaccination program by being vaccinated for all types of diseases and threw myself into the wellness sessions, which consisted of laying on the floor with the lights turned off saying "I'm well" over and over, while holding hands with other recruits.
While I was being vaccinated and chanting about how well I was, Hurricane Fredric slammed into Dominica with winds over 100 miles per hour that devastated the island and littered it with fallen trees.
Bob Barnes, then the Peace Corps director for the Eastern Caribbean, pulled me aside and said they didn't need my marine park skills. Instead, they needed people who could operate chainsaws to help with the cleanup effort. "Unfortunately, we're sending you home," he said.
I looked Bob in the eye and said, "Wait a minute here, sir. I just quit grad school, sold my car, and gave my two dogs away. You need to find something for me to do. I'm not going home."
After conferring with his staff, Bob returned with a new assignment. "We're going to send you to Barbados. They also want a marine park and you're a good fit for the job," he said. I was relieved and felt ready to take on challenges there.
After in-country training and living with a local Barbadian family near the capital of Bridgetown, I was ready to get started on the marine park project. In October, I met with Iris Bannochie, chair of the Barbados Parks and Beaches Commission; nine other members of the Commission; Donald Grant, manager of the commission's staff; and Albert Lynch, Mr. Grant's assistant manager. They welcomed me and clearly had great expectations. The commission wanted a marine park and a museum opened in a year. Though I did not have any specific experience setting up a marine park or a museum, I was determined to meet their request.
The commission would be responsible for approving all actions. The Underwater Park Committee, co-chaired by Dr. Finn Sander, of McGill University's Bellairs Research Institute, and Dr. Euna Moore, of the University of the West Indies campus on Barbados, would review proposed actions for scientific merit and make additional recommendations. Mr. Grant and Mr. Lynch took me on a tour of Folkestone House and the surrounding recreational facilities where they wanted the park headquarters and marine museum to be situated.
The 18th century house was a beautiful, pink, two-story building with bright blue doors and trim. The walls of the house were made of large, quarried blocks of ancient coral stone. Folkestone House was set back from an idyllic beach looking west on the Caribbean Sea. I was asked to plan renovations and improvements to portions of the building for the museum facilities and make recommendations for staff positions.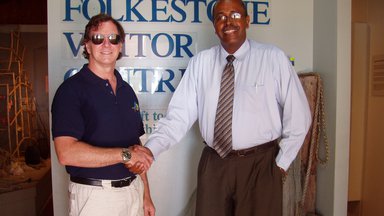 The commission wanted to include coral reefs in the marine park. Originally, they only wanted the Vauxhall Fringing Reef, covering about 50 acres south of Holetown in St. James Parrish, to be protected. Another component of the marine park was the wreck of the SS Stavronikita. The 365-foot derelict ship was salvaged by the Barbados Government and sunk in November 1978 by the U.S. Navy for scuba-diving tourism. The deepest part of the ship lies in about 130 feet of water.
Based on my research and written correspondence with marine park managers in other countries, the commission and the Underwater Park Committee agreed to increase the marine protected area tenfold. The expanded area would cover more than two square kilometers, which included Vauxhall Fringing Reef (Recreational Zone), Bellairs Fringing Reef (Scientific Zone), offshore Dottin's Bank Reef, and two watersports zones to accommodate local marine tourist activities.
The commission hired three enthusiastic park naturalists and two dedicated administrative staff members. I trained the park naturalists in the fundamentals of coral reef ecology, specimen displays, slide and movie presentations, how to give tours of the museum, and scuba diving activities.
The museum consisted of beautiful wooden display cases that were custom-built by a local craftsman, Leon Phillips; aquaria with live fish and invertebrates; a 16-by-4-foot wide mural of a reefscape painted by local artist Joyce Davis; a slideshow and movie viewing room; a conference room; a lab for scientific work; office spaces; and equipment storage. The wreck of the SS Stavronikita was both a significant component of the marine protected area and the subject of "The Ship That Was Sunk On Purpose," a promotional movie shot in 1980 by famous underwater filmmaker Stan Waterman.
As requested by the commission, the Folkestone Marine Reserve and Museum was opened on November 30, 1980, also Barbados' Independence Day. The Deputy Prime Minister, members of the commission and Underwater Park Committee, local business owners and residents, the U.S. Ambassador to the Eastern Caribbean, and the new Peace Corps co-directors for the Eastern Caribbean (Thomas and Caroline Crawford) attended the ribbon-cutting ceremony.
During the remainder of my work at Folkestone, I coached the park naturalists to improve their skills in operating the museum and, together, we evaluated reef areas on scuba dives. Hundreds of Barbadian school children, island residents, and tourists visited the museum. Untold numbers of Barbadians and tourists enjoyed the beaches and reefs of the marine reserve area. Of course, we had our challenges as the park dealt with growing pains. Whenever I needed it, I always had strong support from the Peace Corps for my work.
The positive results of the marine park and museum, still in operation today, enhanced educational opportunities for residents and tourists about coral reefs and promoted conservation of coastal and marine resources. The establishment of the Folkestone Marine Reserve and Museum is a valuable and continuing environmental legacy for Barbados and the Peace Corps. Leave it to a hurricane to create an opportunity.