I met her at the soccer field next to the primary school. She stared at me with big, bright eyes. "You are China and lekgoa," she said.
I laughed uneasily, surprised.
I live in a rural village in Botswana. It's common for children to greet me by shouting, "Lekgoa! Lekgoa!" Lekgoa meaning white person. A jarring but innocent greeting, the label carries no animosity. They are simply pointing out the obvious: You are different. You are Western. Sometimes, I am called "China," but the descriptors are rarely used in conjunction.
Like in the United States, I am subject to prejudice in Botswana because of my Asian minority background; however, in Botswana, I am also privileged because I am American, because I am lekgoa. Two identities, one person.
Three weeks ago, I entered a shop hoping to purchase curtains for my home. The owner, a Chinese female, took a special interest in me. After the lengthy process of explaining I was adopted by American parents, she insisted I come with her to China to look for my birth parents, my "real" parents. This conversation continued for longer than I had hoped, but in no way was I burdened by it.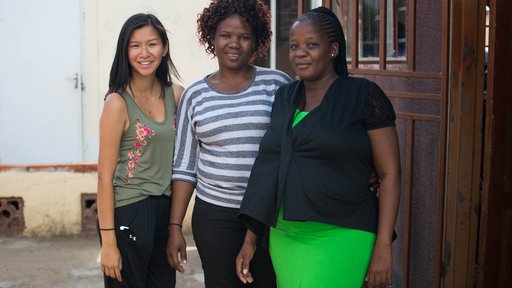 Three Batswana women overhead our conversation while shopping. "Stop bothering her," they told the shop owner. "Leave her alone."
"She is Chinese. We are talking."
"She is Motswana," they retorted. "You are bothering her. Laone, come with us."
The implicit statement was obvious. Laone is one of us. You are not.
In that moment, I understood that my American accent, my American clothes, and my American Peace Corps status gave me privilege that the Chinese shop owner did not have. My American identity overshadowing my Chinese identity.
I am a girl in transition. Not just an American in Botswana, but a Chinese American in Botswana.
I tell the children, "Ga ke China. Ga ke lekgoa. Ke Laone."
I am not China. I am not lekgoa. I am Laone.