Human connection: the magic behind the Peace Corps experience
Christine "Chrissy" Palumbo first learned the importance of counterparts during her two-year service in Sierra Leone.
"I realized right away that my results would be in the relationships that I made with my counterparts," Chrissy said.
When she wasn't co-teaching at either the Mokanji Learning Center or Mobimbi School, she was securing book donations for a library that both the local teachers and students could use. At just 21, Chrissy was acutely aware that her site in Gbangbatok, Salone, – a 14-hour bus ride away from the capital city of Freetown – may not receive another Peace Corps Volunteer. For this reason, Chrissy wanted all the work she did with the community to be sustainable. She identified each teacher's strengths and had them develop a workshop around those strengths to facilitate for their peers.
"I was more of a program manager. Every two to three months, we would arrange another workshop. I would use my [Peace Corps stipend funds] to provide food as incentive [for attending]. It was hot and some teachers had to travel far, so feeding them was important."
Chrissy recommends Peace Corps service to everyone, which is why she was delighted when she discovered her nephew was applying to serve in Paraguay. As she helped him with his application, Chrissy stumbled upon an exciting, yearlong Peace Corps Response project in Costa Rica. Four decades after she first volunteered, Chrissy returned to advancing the Peace Corps mission herself – this time armed with a Ph.D. and substantially more professional experience.
In Costa Rica, she lent her linguistics and teacher development expertise to the Ministry of Education's macro-testing unit, shaping the national English exam's theoretical framework alongside her counterpart.
"The Peace Corps is where I learned to be who I am. As a Response Volunteer, I got to relearn it," Chrissy said.
Chrissy discovered her Peace Corps Response service in Costa Rica (2018-2019) was quite different from her time in Sierra Leone. For one, dedicated counterparts were identified prior to her arrival. However, they were just as essential as they were during her first Peace Corps experience.
"My counterparts guided me the entire time and humbled me. Nothing was going to run without them. I often thought I don't know why, and I don't know how, but somehow, I know we're connecting."
Having had two positive Peace Corps experiences, Chrissy did not hesitate to express interest in Virtual Service last year. Over the course of five months and without leaving home, she mentored future English teachers in Timor-Leste alongside Universidade Oriental Timor Lorosa'e (UNITAL) Language Center Coordinator and Lecturer, Maun Chiquito Soares.
The 90-minute class took place at 5:00 p.m. Pacific time; 9:00 a.m., in Timor-Leste. The Southeast Asian country is a full day ahead, a unique challenge that became even trickier with daylight savings. Despite this, Chrissy said it was all worth it.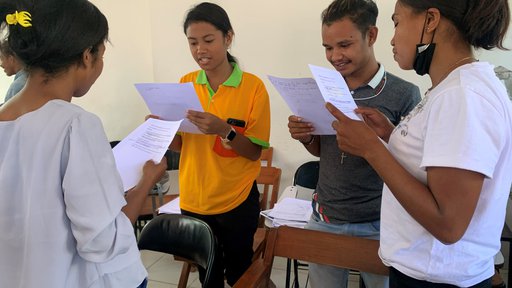 "I started the class after an eight-hour [work] day, and I often thought, 'can I do this?' And I'll tell you what, I was so happy after that class," Chrissy said.
Additionally, internet connectivity is sparse throughout Timor-Leste. A fact that, surprisingly, did not dissuade the incredible post staff from giving Virtual Service a try. In fact, a staff member drove a projector to UNITAL every week, so that the participating teachers-in-training could all see Chrissy.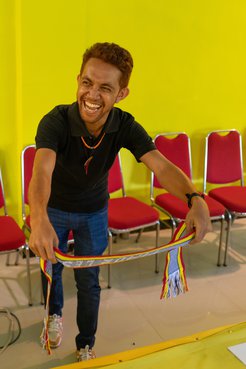 And what helped Chrissy remain committed to the project despite these obstacles? Her counterpart, of course.
"I was blown away every class by my counterpart. He's everything I would like to be if I were there. He's taking what I've given him, and he's moving around the classroom to work with each student," Chrissy said.
Together, Chrissy and Maun Chiquito discussed the Sheltered Instruction Observation Protocol (SIOP) and Bloom's Taxonomy teaching models with the students. Using engaging learning activities, they also taught general classroom management skills. It was important to Chrissy that the young teachers understand their significant role in their future students' lives – a lesson that made an impact on her counterpart, too.
"I learned that teachers are motivators and [need to] to be patient with the students," Chiquito said.
When asked how all three of her Peace Corps experiences are similar, Chrissy said, "It's about human connection. It's not what we know or what we bring to the table, it's what we bring from our heart."
The post staff in Timor-Leste are working on long-term solutions for the country's internet and connection challenges. As for Chrissy? Don't rule another virtual engagement out.
"We all have a responsibility as global citizens, no matter where you are, to look at what's really going on in the world and to see where we can help. Peace Corps service is one way to help other nations."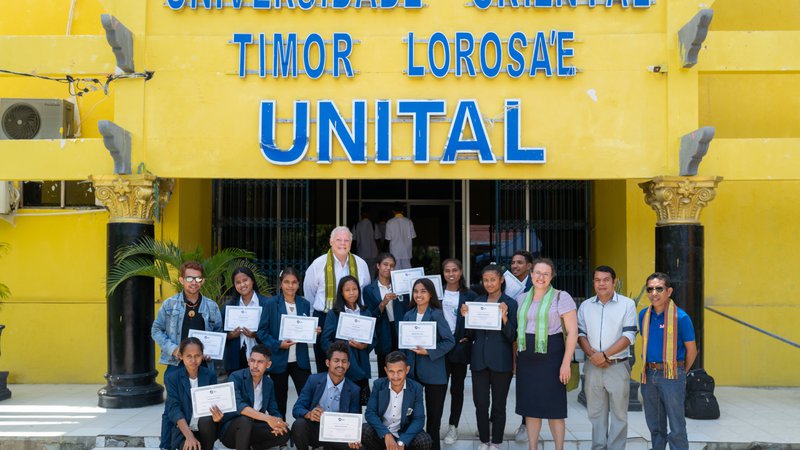 ---